Insights
Pulse Insights
Jun 29
Altcoins Heating Up - Which Ones Should You Have on Your Radar?
One of our favorite metrics to keep an eye on as we analyze market health is active addresses vs. active deposits. When address activity is high and deposits are staying low, this is a good sign that prices can naturally grow.
As you would imagine, the numbers aren't just all in the ratio between these two metrics. We also want to see address activity in general moving up, even if that means deposits are moving up along with it. Here's a look at 3 great, as well as 3 not so great, candidates:
Looking Healthy:
Ethereum ($ETH)
The Graph ($GRT)
Sentivate ($SNTVT)
Looking Unhealthy:
Loopring ($LRC)
Crypto-Com ($CRO)
Skale ($SKL)
Apr 5
Active Addresses vs. Active Deposits - Which Assets are Seeing Nice Upticks?
We recently posted about Ethereum's return above $2,000 this past week, and our explanation on one of the key contributors to why.
When active addresses move up over time for a crypto asset, while active deposits move down, it's a reliable indication of a token seeing growing utility without funds moving to exchanges for potential sell-offs. In other words, this is a very bullish pattern our pro traders look for often.
Our new Daily Active Deposits & Non-Deposit Activity Sansheets Model easily identifies which assets are developing patterns similar to Ethereum's. Here's a snapshot of which activity vs. deposit ratios are rising vs. their 3-month resting averages:
Here are some of the largest bullish divergences, according to this model. We look for high green bars (indicating large activity/deposit ratios), and large green dots on the above model, and rising orange lines on Sanbase here:
Skale ($SKL)
Enjin Coin ($ENJ)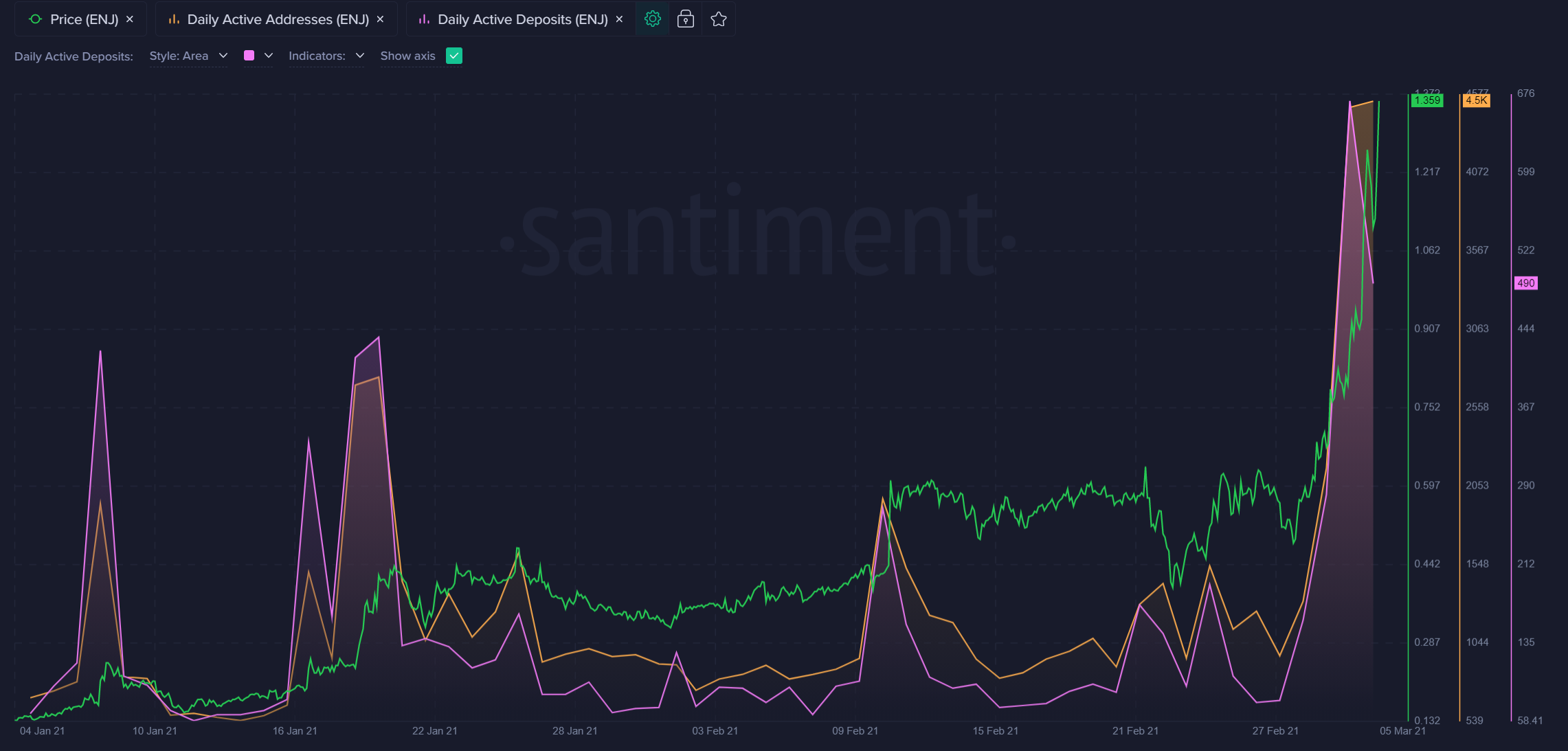 Decentraland ($MANA)
Matic ($MATIC)
Sentivate ($SNTVT)