YFI - Oh my....
Price
What an amazing price run for a coin that's supposedly worth $0 - Hitting an all time high of $38,404 USD and currently trading above $30,000. All this, in less than 2 months.
And +1482.54% since we first covered it here. Congrats to everyone that farmed/bought it and hodl till today.
Where's all the YFI atm?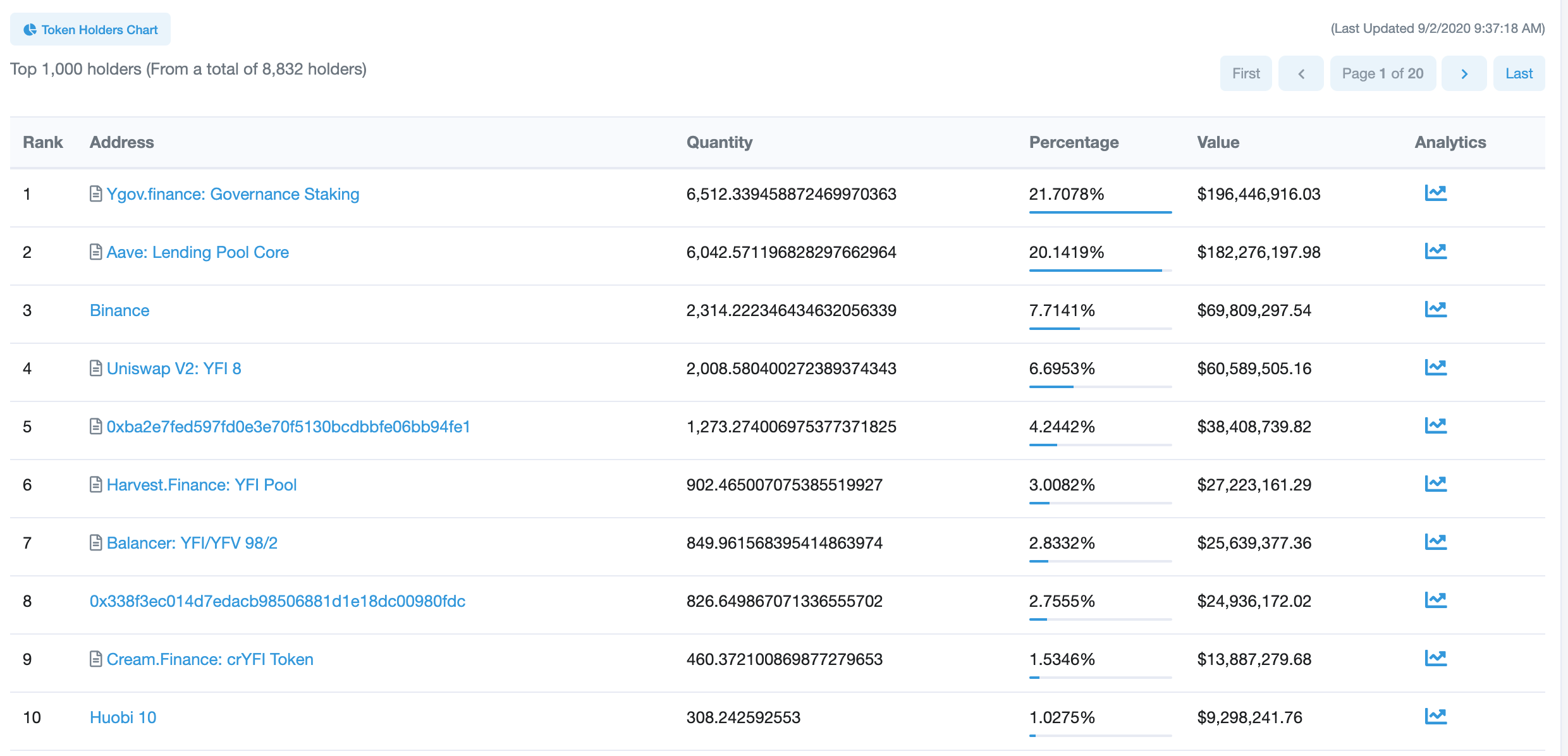 Looking at the top 10 wallets, it's good to see that the YFI governance wallet is still #1 else governance is at risk.
That said, at #2 is the Aave lending pool, which indicates that YFI holders are pretty confident that YFI will rise in the long run and are using it as a collateral to borrow other assets. Likely to yield farm the other many protocols out there.... or to even buy more YFI.
Speaking of yield farming, YFI is heavily used to farm the following protocols:
Sushiswap ($SUSHI)
Harvest.finance ($FARM)
Cream.finance ($CREAM)
Balancer ($BAL)
Even though #4 wallet shows Uniswap, it's very likely that YFI there is used to farm $SUSHI. For more information on how Sushiswap works, read this.
And with good reason. Just look at the APY... sitting at a whopping 1,621%
Even though it's not going to remain constant throughout the year, this is a very profitable ROI for anyone with large amounts of YFI and ETH. More so, there's an adjustment coming up for the YFI Whale pool on Sushiswap that increases the weight to 2.320x, this will further boost the yields and will likely drive up demand for YFI when people realizes this.
For as long as new protocols pop up and supports YFI for farming, there should be enough demand while the community awaits for more yearn.finance products to out. And Andre is shipping things are wrap speed!
Just look at the two major products he shipped recently: Defi insurance and yETH vault.
All in all, it's a very healthy sign that YFI is being highly utilized and efficiently too.
Social volume
With the recent run up to $38,000s, it came as no surprise that the social volume spiked to an ATH as well. But a Price/Social volume divergence occurred, price was going up and social volume was dropping.
Also, it YFI popped up in our Santrends for two days in a row (here & here), which is a general sign that a local top might be near.
A healthy correction is expected after such a huge run up, and that's actually good, as it finds a base to consolidate for the next move.
Exchange flow
The YFI cycle so far appears to have been throw a few waves of changing hands as initial farmers/hodlers sell off whenever the price spikes and eventually tops out. Just look at the previous 2 waves.
Similarly, we saw a rise in exchange flow recently but not as much as before. Perhaps people finally realize that.... they might just regret dumping it. RIP Wave 1 sellers.
YFI continues to move out of exchanges, reducing sell-side liquidity.
Going forward
After a huge run up, it's time to take a small break for YFI until the next leg up. Given that there are strong demand factors in play:
YFI being used for yield farming in new protocols
YFI as collateral
YFI in governance
Andre continues to ship amazing products
We might see a sell-side liquidity crisis. Even shorters on Binance will have to deal with high loan rates just to short YFI eventually.
As long as the bullmarket is at play and BTC doesn't make any wild moves, YFI is probably going to prep for its next leg up.
Oh my......
few understand this..