How to spot opportunities using different screeners
Tons of tokens, bunch of metrics. How to remove noise and focus on most important? Today we'd like to present a few different ways of using Santiment screener.
Spotting large token movements (like WhaleAlert)
We will use the Age Consumed metric for that.
Criteria:
Transaction Volume: above $10M USD a day
Age Consumed: increasing over 500% a day
General steps for creating a screener:
Close a filter and here we go, the list of tokens meeting our criteria:
Each of tokens above is liquid enough and has a solid chunk of tokens moved within last 24 hours. For example CREAM, this is why we are having it in list, an Age Consumed recent spike:
It happened on December 10. What exactly happened? Summoning the "Top Transactions Table", selecting 'December 10' as a single date. We can see this:
WhaleAlert would post a tweet on it like "630,000 CREAM were moved from a Whale to a CEX Trader wallet". We'd leave further investigation outside of this post.
Pre-made Age Consumed screener page
Age Consumed use cases:
Spotting possible trend reversals
Criteria:
Trading Volume: above $5M USD a day
Exchange Inflow: increasing over 300% a day
Screener filter looking like this:
It gave us a following list of tokens: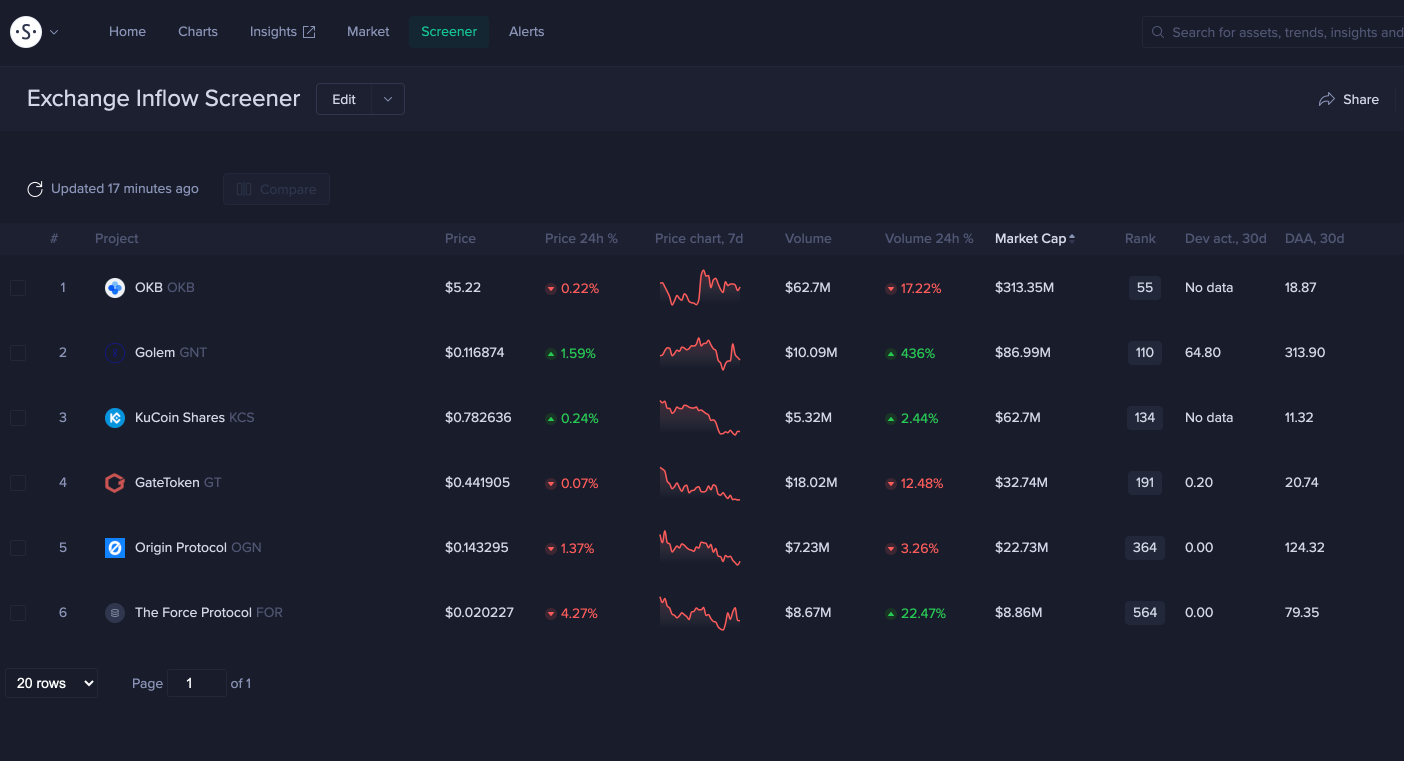 GNT for example. Looks like latest Exchange Inflow spikes dropped Golem from a cliff:
Pre-made Exchange Inflow screener page
Exchange Inflow use cases:
Fundamentally solid projects in oversold area
Criteria:
Transaction Volume USD: above 100,000
Marketcap: above $1M
Daily Active Addresses: above 500
MVRV: below 0.9
A couple of first lines removes lowcap altcoins. DAA threshold removes inactive tokens. MVRV leaves only oversold tokens, below 0.9 is similar to below -10% MVRV.
Filter looking like this:
Results:
Let's take REN for example. It has no doubts strong fundamentals, let's look at MVRV:
We can see it's in 'bottomish' area. Price tends to recover from similar MVRV levels. But it still can go lower before bounce.
Pre-made solid projects in oversold area screener
MVRV use cases:
Summing up
We hope these three screeners would help you to spot opportunities in the market:
See you in Santiment Discord to be blown away by your finds!
Disclaimer: The opinions expressed in the post are for general informational purposes only and are not intended to provide specific advice or recommendations for any individual or on any specific security or investment product.
Thanks for reading!
If you enjoyed this insight please leave a like, join discussion in the comments and share it with your friends!
Never miss a post from Garry Kabankin!
Get 'early bird' alerts for new insights from this author