ZRX - Signs of Top and Accumulation...if you knew where to look
Continuing on with our Teeka's Game Revealed series, today we will be taking a look at ZRX - which is part of Teeka's 2020 Phenomenon Play list
that includes:
Speaking of lists, here's a Sanbase watchlist of Teeka's 2020 phenomenon play if you wish to track how it performs.
For the uninitiated, Teeka and the Palm Beach Confidential's recommendations tend to have usually sees a huge rise in a coin's price following the announcement. At times, even more than an exchange listing.
This time it was no different for ZRX as it went from $0.23676 USD to a local top $0.466733 USD , raking in a nice profit of almost 97% for those that got wind of it early.
However.. as with all sudden pumps driven purely by speculators piling on one another, it fell eventually by -25% to $0.350428 USD at the time of writing.
Could one have avoided the dump or accumulated ZRX even before Teeka's recommendation?
Let's take a look.
SIGNS OF A TOP WERE THERE ALL ALONG
Daily Active Addresses and Network Growth
Daily active addresses (DAA) and Network growth surged as ZRX's price spiked, indicating that the crowd was coming in and participating in the frenzy runup.
In fact, on 08th May, DAA peaked at a 6 month ATH of 6624 addresses. Of which, 3733 addresses were brand new ones.
In order to sustain such a run-up, DAA and Network Growth will need to rise however, DAA and Network Growth saw a sharp drop over the two days, indicating that the top was likely in as there wasn't enough participants to keep the momentum going.
Social volume & Emerging trends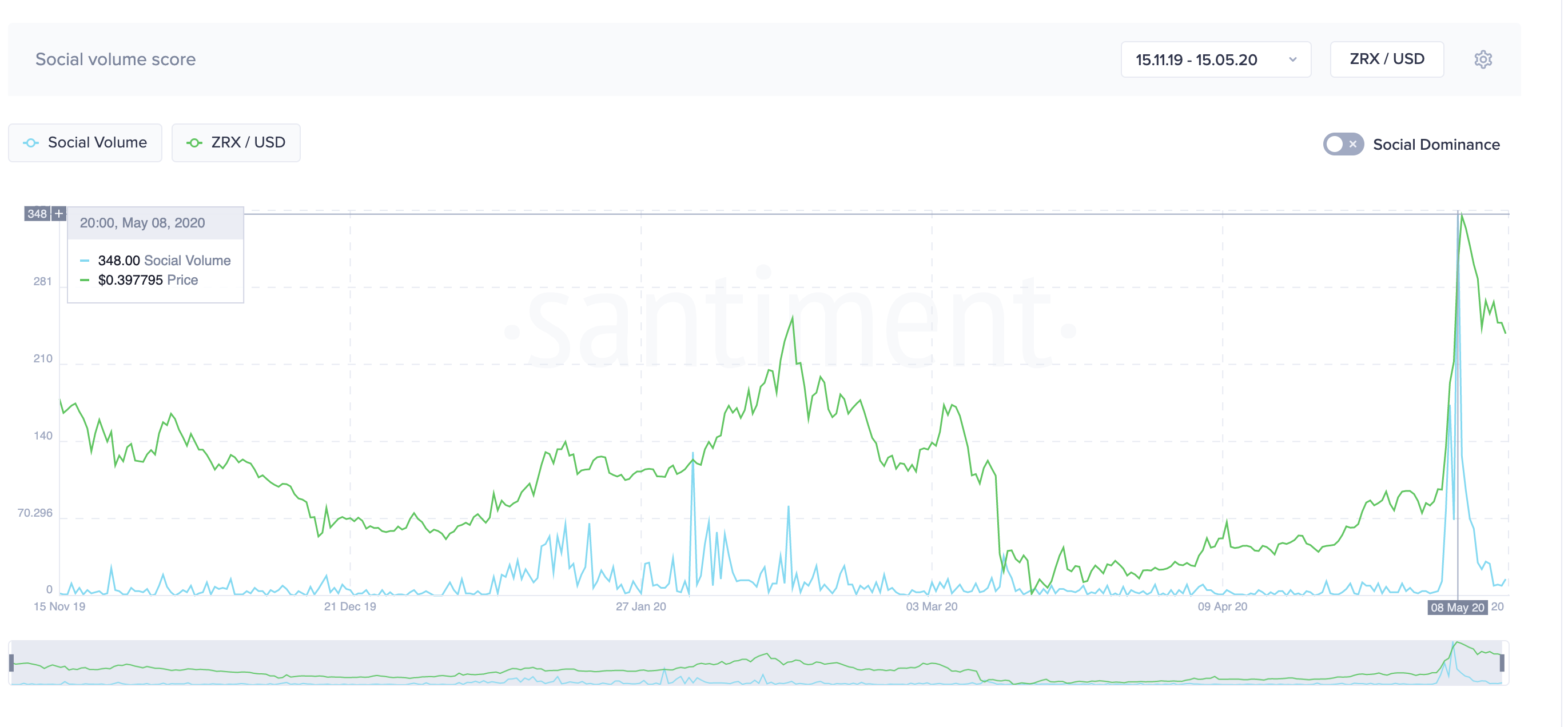 The more chatter around a coin during a rally, the more toppish it gets as the crowd floods in....late as usual. ZRX saw its highest social volume in 6 months just before price topped out.
Zooming in, we can observe an even clearer divergence:
Zooming all the way out, a similar pattern around Social volume and Price action since ZRX's genesis in 2017. Every significant top was signalled by sudden spike and drop in Social volume.
Besides Social volume spikes, ZRX also appeared in our Emerging trends list...not just once, but twice recently! This list shows the topics which emerged faster than any others over the last 24 hours. By "emerging" we mean getting more social attraction from the crowd, being discussed much more than any other topic.
Which isn't a good sign at all as usually when coins appear there, it's a sign that a top is imminent.
SIGNS OF ACCUMULATION WERE THERE TOO
Exchange flow balance shows the net flow of tokens in/out from exchanges. Prior to Teeka's announcement, there were several notable net outflows (highlighted in blue) in the month of March and April.
In particular, a net outflow of 14M ZRX tokens happened on March 17th where ZRX's price bottomed out the day before. If you recall, this was a period of uncertainty following the Black Thursday crypto meltdown.
OTHER OPPORTUNITIES DURING THIS PERIOD
So perhaps you missed out on accumulation and the top, what other opportunities were there during a this period?
DEX / CEX arbitrage
While most people were looking at the ZRX action on centralized exchanges, something was up on the decentralized front.
DEXs are getting more efficient as we observe next level market participants arbitraging between CEX like the top DEX ZRX trader here.
That said, fundamentals remain the same. Where there's a bearish divergence in Price and trading volume observed, price will not keep up.
ZRX Supply APY on Compound spikes
Spencer Noon noted that ZRX's supply APY on Compound spiked to 26% due to a whale pulling out a good amount of supply from there.
This creates an opportunity for anyone looking for a quick yield run and if you are next level like Darly Lau,
Nice yield hack, borrowing ZRX from Aave at 2.55% and lending it at Compound at 32.36%. Well played sir, well played.
Assets from this insight
0x
ZRX