Whale Watching: How are top ETH and LINK holders reacting to the dip?
It's been a wild week for markets everywhere, as oil recorded the largest single-day decline in the past 30 years and Bitcoin tumbled below $8000 for the first time in over 2 months.
With rising uncertainty on the global markets and growing concerns about the spread of COVID19, it's increasingly important to know - how do some of crypto's biggest whales feel about their (shrinking) altcoin bags?
Using Sandata, let's take a look at the recent behavior of the largest addresses holding Ethereum (ETH) and Chainlink (LINK), one of the top-performing ERC-20 coins in the past week, and what they can tell us about the current state of the market.
1. Ethereum
Last week, our tweet about the top 100 ETH holders starting to accumulate despite the ongoing consolidation got quite a bit of play time on social media.
The trend didn't last long, however, as Ethereum's biggest non-exchange whales started dumping again soon after the post, and have already offloaded over 400,000 ETH in the last 5 days:
At the same time, the exact opposite trend has hit the biggest exchange wallets, which added more than 350,000 ETH to their collective holdings and are currently hovering around a 10-month high 9.76 million ETH (~$1,922,720,000 at the time of writing):
Could this indicate the start of a dumping season for the largest ETH whales?
To find out, I used Sandata to take a closer look at some of the biggest ETH transactions over the last 7 days - particularly the ones that ended on exchanges.
But first, it's worth noting that many of the week's biggest ETH transfers don't appear to be speculative in nature. In fact, some of March's biggest transfers to date involved private parties or have been interactions with DeFi protocols like Compound.
That said, some ETH whales have certainly been moving their bags to exchanges leading up to and immediately after the market drop. Here are some of the biggest exchange dumps in the last 7 days:
1. 20 hours ago, this address sent 19,902 ETH (almost $4M) to a relay address, which quickly transferred those coins to a known Binance wallet:
Tracing back the transaction chain, it seems that the coins originated from this address, which has recently been accumulating ETH from various sources - including both private addresses and known Huobi, Gemini and Okex wallets - before moving some of it through a string of feeder addresses like the one above.
The feeder address that sent 19,902 ETH still holds about 9.7K ETH at the moment. If you want to track what it does next, here's a quick signal to let you know when it starts moving its remaining ETH.
2. In a span of 24 hours before the weekend, this address sent 30,000 ETH (~$6M at the time of writing) to a known Kraken wallet via two feeder addresses.
The original sender received all of its ETH - around 33000 - some 2 months ago, also from Kraken. Using Sanbase to gauge its historical balance, it would appear that they initially withdrew ETH at around $144, and deposited it back to Kraken when the coin was hovering around $230.
Assuming that's when they bought and sold ETH, this address has netted about $2,580,000 in profit (59.72% ROI).
3. about 2 days ago, this address sent 14,179 ETH ($2,828,991) to a known Kraken wallet:
The initial sender acquired ETH from Kraken 42 days ago at ~$170 a pop, and sold right as things started to turn south, securing about $962,000 in profit (39.9% ROI)
4. Finally, among the week's biggest transactions, several became a string of minor transfers with some of the coins ending up on exchanges in the process.
Like this massive 22303 ETH transfer ($4,417,000), which - if you trace its many subsequent transactions - ended up with 10000 ETH deposited to Gemini:
Or this 20335 ETH transfer ($4,045,000) transaction, 4000 ETH of which found its way to a known Okex wallet:
In summation, there has been a number of high-profile transfers of ETH to exchanges in days leading up to and immediately after the latest market drop, as some whales look increasingly comfortable with cashing out on a few months of gains.
2. Chainlink (LINK)
Emerging as one of the most resilient ERC-20 coins lately, LINK has lost 3.3% over the last 24 hours, but remains the only coin within the top 15 that's still in the green (+3.6%) for the week: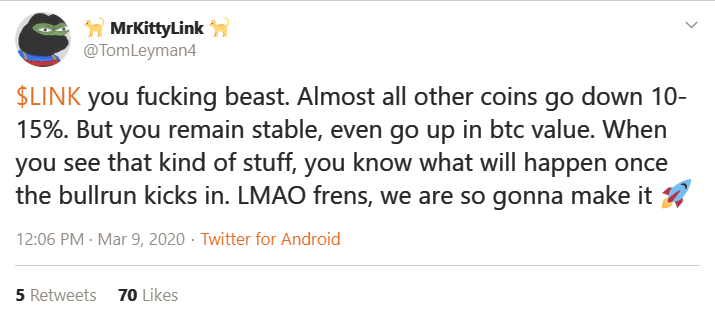 As it turns out, it's not just Joe Retail that's showing confidence in LINK - the coin's biggest whales have not blinked despite the growing down pressure, and so far continue to accumulate right into the dump:
In fact, the collective balance of the biggest non-exchange LINK holders within the top 100 is the highest it's been since December 2017. These addresses currently hold 72.09% of LINK's total circulating supply, or a total of 720,91M LINK (~$2.9B at the time of writing).
On the other hand, the cumulative balance of the biggest exchange wallets holding LINK has been tapering off since its 2019 top, and is now hovering at an 8-month low 77.7m LINK:
However, while the biggest Chainlink whales seem to be indifferent to the latest market conditions, not all big LINK holders show the same level of confidence.
Particularly, the combined balance of addresses holding 100k - 1m LINK has been on a downtrend for a whole month now, roughly since the coin's move above $4:
Collectively, these addresses have shrunk by around 2.71M LINK (~$10,867,000) in the past 30 days, with the latest 1.2M LINK dip recorded in just the last 24 hours.
So while the top dogs continue to HODL, a few whales have recently started to offload their LINK position. Here are some of the biggest sell-offs among LINK whales in the last 7 days:
1. 5 days ago, this address deposited 500,000 LINK (~$2,320,000 at the time) to a known Binance wallet, after moving it through a number of relay addresses first.
2. Elsewhere, this address transferred 200,000 LINK to Binance in 2 transactions - the second one occurring right after the drop:
Tracing back the transactions brings us to this address, which has started moving all of its 1.2M LINK (~$4,000,000) in the past 7 days.
Out of that bag, a total 400,000 LINK had already hit Binance in the last week, while the rest is currently sitting on what appears to be an interim address.
Analyzing its historical balance with Sanbase, this appears to be an early LINK investor which has - for whatever reason - suddenly come alive after about 15 months of inactivity:
The remaining 600k LINK still sits in this address - if you want to track its activity, here's a signal to alert you when it starts moving its remaining LINK balance.
And...that's pretty much it. Apart from a few significant transfers to centralized exchange wallets, most of LINK's supply remains cozy in the hands of its largest, increasingly loyal whales.
Once this cohort starts selling their LINK bags, however, I wouldn't be surprised if we see fireworks. If/when that happens, you'll read it here first.
P.S. Check out Sandata if you want to track the behavior of all major market agents, including whales, miners, network participants, the social media and more.
Assets from this insight

Ethereum
ETH
ChainLink
LINK