Shiba Inu and its extremely high onchain activity
Assets covered: Shiba Inu (SHIB)
Metrics used: Exchange Outflow, Transaction Volume, Active Addresses, Active Deposits, Exchange Inflow, Network Realized Profit/Loss, Whale Transaction Count
Charts: https://app.santiment.net/s/kjwrYX-m
Shiba Inu has skyrocketed today (+70%!), lots of shill in social media detected.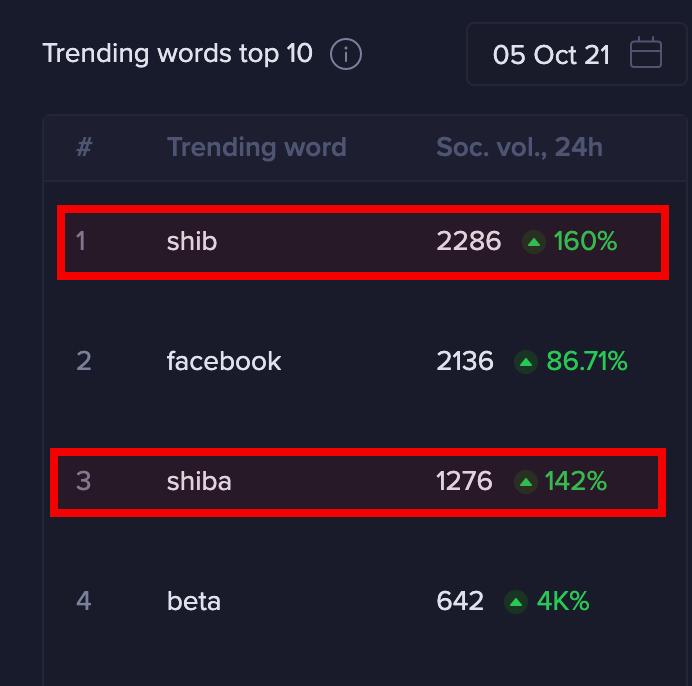 What's happening to SHIB from onchain data perspective?
There are news circulating today saying that a few large whale buys preceded the pump.
We can check it.
First, what's the exchange outflow for SHIBA?
Yes, it's high. But not record high at all, we've seen larger purchases before. Though we have to admit that these levels of exchange outflow are generally good for a coin.
Next, transaction volume. Are the moves from the news really outstanding?
Well, nothing special at all in Shiba transaction volumes.
Yes, there was some activity in SHIB similar to what news are saying, but hardly meaningful for a token in fact.
Active Addresses
To be fair 4500 addresses a day at its lowest is crazy high. This coin is definitely not dead. We don't know who's using this coin and for what purposes. We could have thought for a while that it was sort of a fake network activity, but it never disappeared. Never dropped to 100-200 addresses a day. As ridiculous as it sounds there is at least some fundamental justification for the rally.
Even more, Shiba is currently in top 5 most active coins on Ethereum blockchain. See a screener for yourself:
There's no deny that some are still using this coin. What for? We have no idea.
Active Deposits
Yellow flags starting here. Extremely high active deposits are suggesting that it's probably a top forming.
Exchange Inflow
It's not very high, we would expect to see much higher. But still it's suggesting the same, probably a top forming.
Network Profit Loss
This chart is indicating that potential profit taking from Shiba is still relatively low, not a whole lot of profit taking yet. But it we zoom in...
... We would notice that higher price tops are built on lower profit taking spikes. This could potentially indicate that traders are becoming too confident on price action, like 'no need to sell, it's going to pump more'. Market tends to punish this sort of confidence.
Whale Transaction Count
This is another yellow flag for SHIB. Whale transactions are often coinciding with a local price top according to Santiment research "Whale Games: Backtesting the impact of large transfers on 1000+ coins".
Overall:
Shiba Inu active addresses are crazy high
Fair amount of top signals are visible
High risk, low reward
Disclaimer: The opinions expressed in the post are for general informational purposes only and are not intended to provide specific advice or recommendations for any individual or on any specific security or investment product.
Thanks for reading!
If you enjoyed this insight please leave a like, join discussion in the comments and share it with your friends!
Never miss a post from Santrends!
Get 'early bird' alerts for new insights from this author