SHIB happens. Or what happens to a coin when hype dies
Assets covered: Shiba Inu (SHIB)
Metrics used: Social Volume, Social Sentiment, Exchange Inflow, Active Addresses, Network Profit Loss
Here's a little story about a hype cycle of a coin, how to spot hype peaks and what happens afterwards. In terms of sentiment, social volume and onchain activity.
1. Social Volume
People were expecting SHIB to be a new DOGE in early May. There was such a high... hope? But since then social volume has subsided:
First spike is probably when Elon said that he's looking for a Shiba pup and the crowd went wild. This is probably the reason that we saw a peak for the coin. Because Elon mentioned the word "Shiba" on Twitter. Immediately, this is what happens.
2. Santrends
A tool that allows to spot local tops fired an 'alarm' twice. When a coin appears in emerging trends list, especially in top-3, it's often a sign of a price top. Because it indicates a sort of a peak social hype. Price can hardly sustain it's rally without increasing hype (or social volume).
Here we can see where SHIB has been on top of Santrends:
Nice top indicator, right? Proven and backtested.
3. Social Sentiment
We've gone from super excitement to bearish:
4. Exchange Inflow
A couple of seem to be capitulation spikes along the way: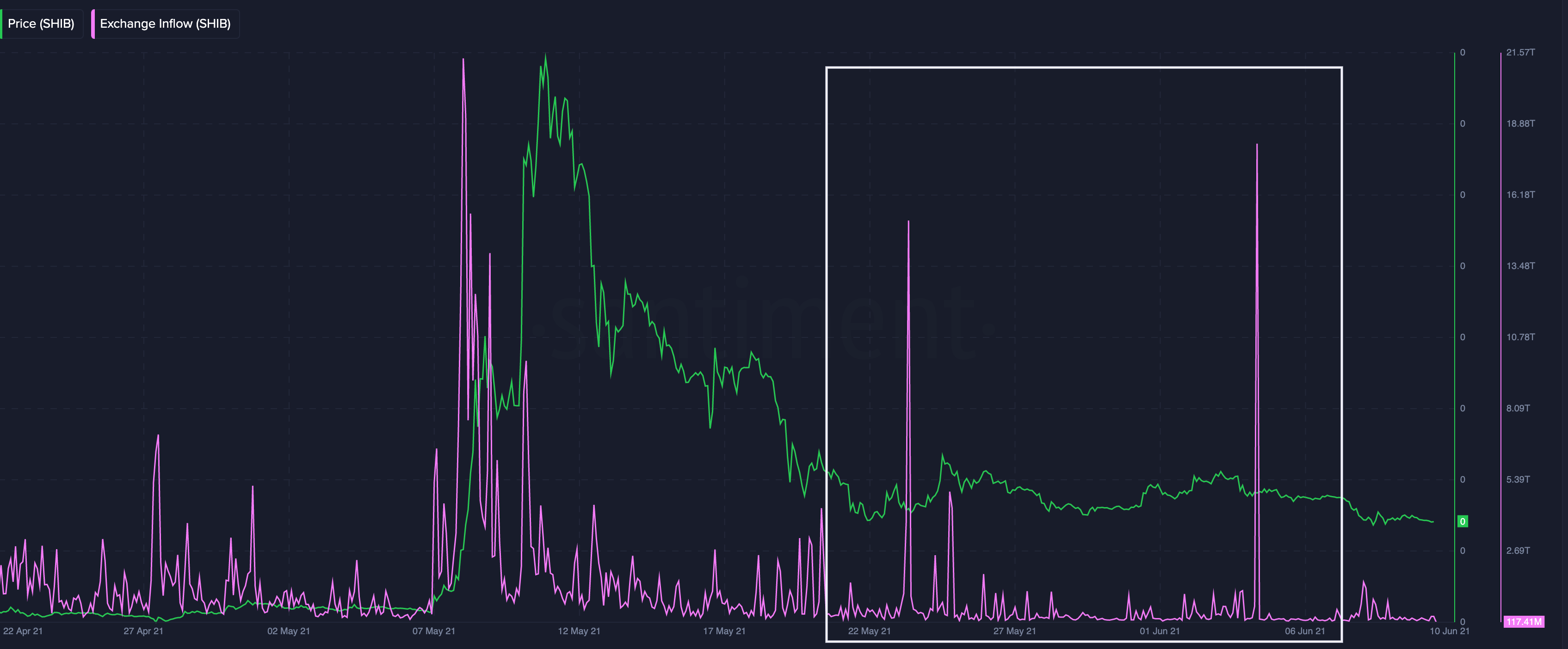 5. Active Addresses
There are definitely signs that hype is over for Shiba Inu. However at the very least even though it's active addresses have declined heavily, they remain quite high:
That's not a bad sign. It could do worse. It still puts SHIB into top 10 coins by activity on Ethereum. And it remains relatively high.
6. Network Profit Loss
Starting like people taking profits and since then it's just been a lot of pain for SHIB holders.
This chart shows the end of hype:
Massive profit taking on top and then people capitulating along the way.
Long live Shiba.
Disclaimer: The opinions expressed in the post are for general informational purposes only and are not intended to provide specific advice or recommendations for any individual or on any specific security or investment product.
Thanks for reading!
If you enjoyed this insight please leave a like, join discussion in the comments and share it with your friends!
Never miss a post from Santrends!
Get 'early bird' alerts for new insights from this author