Is BTC finally ready to break and stay above $10,000?
Since the fall from $10,000 in February this year and recovering from Black thursday meltdown, BTC's been attempting hard at breaking through the $10,000 psychological barrier. It has attempted 3 times in one month and finally broke through but still struggles to close above it.
Following the latest classic Bart pattern dump, BTC now aims for the $10,000 mark yet again... and in the famous words of BTC_JackSparrow, "Never trust the....4th", implying that it's likely to break and stay above whenever that time comes.
That said, the rising price and falling trading volume does remain a concern as it indicates a bearish-ness in the air. This was also observed in the 2nd attempt to break $10,000 but failed.
A surge in trading volume over the next few weeks would be much more encouraging to tackle the $10,000 mark.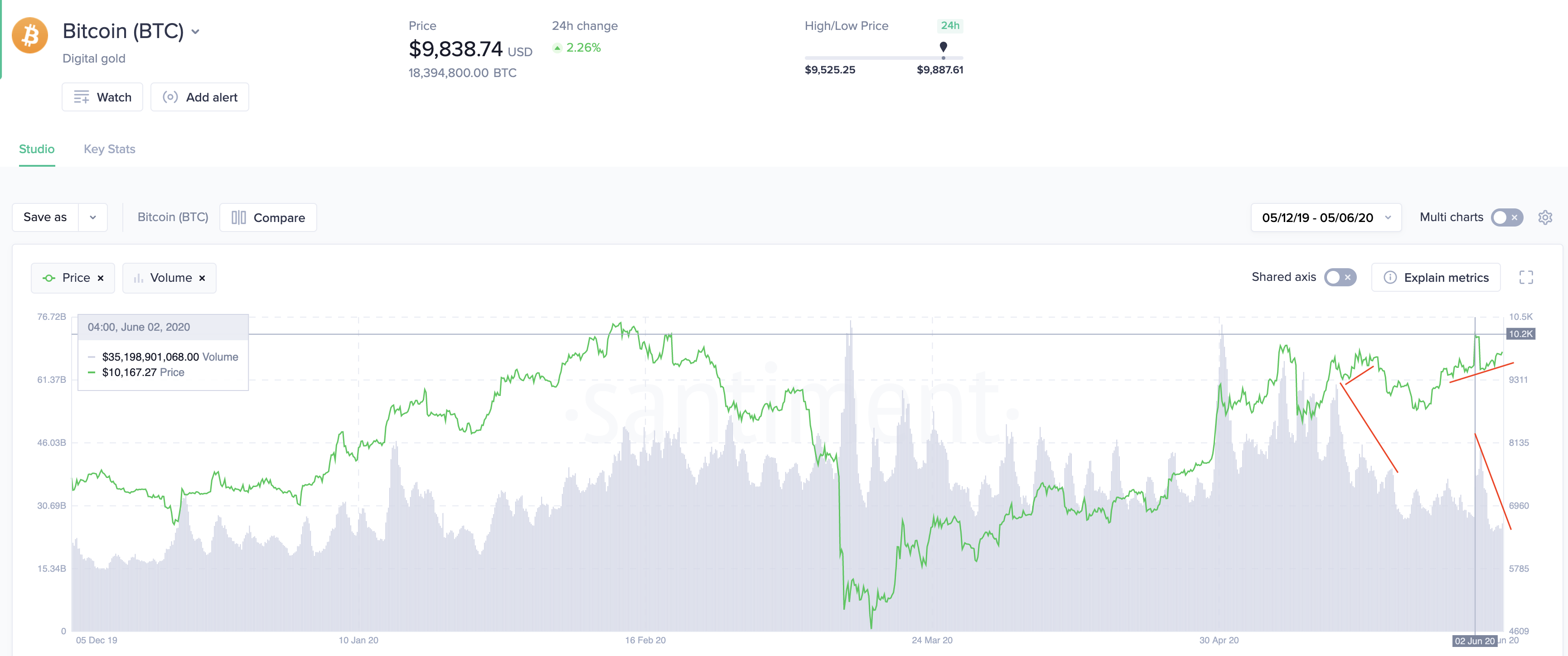 Institutional investments continue to grow
Regardless of the price action, it seems that on the institutional front, there has been a substantial growth so far this year.
As observed by Kevin Rooke on Twitter, Grayscale added 9,503 BTC to its GBTC investment trust over the past week. This amount is more than the amount of BTC mined (6,863 BTC) for the week.
This continuous buying comes after a surge in investment into Grayscale's GBTC trust in Q1, which likely indicates that we should see a similar pattern when their Q2 report comes out.
Below is a history of GTBC's BTC holdings since Dec 2017 till May 2020 provided by Reddit user parakite:
At the time of writing (June 5th), Grayscale holds approximately 362,851 BTC ($3.5Bn USD) , which represents 1.97% of all BTC in current circulation.
MVRV Long/Short difference
Historically, when the MVRV Long/Short difference begins to rise above 0, it indicates the end of a bear cycle and we see the price moving upwards. And.....we just went above 0 few days ago. If the aliens don't invade us or the world don't face yet another black swan event, we might just continue this run.
Crowd sentiment
Currently, Sentiment volume consumed is showing that the crowd (using twitter as source) have entered into the negative sentiment area. This comes after the extreme positive sentiment seen in the April run up and BTC failing to stay above $10,000 after several tries.
This sentiment /price action mirrors what happened in May/June period of 2019 where there was extreme positive sentiment seen following a nice price rally and a shift to negative sentiment after a dip. During then, this preceded a continued uptrend, could we be seeing the same play out?
Almost looks like the crowd is at disbelief stage.
Going forward
BTC fundamentals continue to remain sound, however as stated in our previous insight, we remain cautiously bullish on BTC.
Assets from this insight

Bitcoin
BTC