Here's what October's busiest ERC-20 dapps have been working on 🏗️
Each month, we shine a spotlight on the 10 ERC-20 projects with the highest-recorded developer activity for the past 30 days, as calculated by Santiment.
Development Activity is an often-underrated indicator of project success, as it demonstrates the month-to-month commitment to creating a working product, continuously polishing and upgrading its features, and staying true to the long-term roadmap.
In this report, we are focusing only on 'pure ERC-20', i.e. those projects that are (currently) committed to developing on Ethereum, and have as of yet no working mainnet or an imminent token swap.
You can check out the latest dev activity 'power rankings' for all ERC-20 assets on Sanbase, by filtering the ERC-20 projects by Dev Activity (30d).
As always, we asked all of this month's top 10 most active ERC-20 dapps what they've been working on for the past month. Here's what they told us:
1. Gnosis
"We're honored but not surprised to have accrued such high developer activity, as October was a packed month!
From deploying on xDAI across product verticals (Safe, Gnosis Protocol) on xDAI to releasing the Safe multisig signing mobile app, to some exciting developments we can't share quite yet, the Gnosis developer teams have been wracking up both hours and lines of code."
2. Status
Here's an excerpt from Status' latest project update:
"With the v1.8 release, Status aims to improve your control over your communication and your finances. Private group chats, which not only end-to-end encrypt all messages, but also keep the members of the group private, have doubled their capacity, now allowing up to 20 members. Status can't see who's in a group, who's talking, or what is being said. Truly private messaging.
Added
Increased private group chat size to 20
Allow users not to connect to history nodes
Added scan button to fetch ERC-20 tokens
Fixed
Fix browser issues with logging in on github.com
Fix bug with mentions not resolved in messages with markdown
Fix blank view when open yearn.finance
Fix entering "0x" in recipient field
Update in the App Store or Google Play if you do not have auto updates enabled.
The APK available is here."
3. Aragon
"Hey everyone! October has been the month of Aragon v2. Aragon v2 marks the next evolution of the Aragon project where DAOs are optimistic, the ecosystem is protocol-centric, and the Aragon Network DAO becomes sovereign. Read more →
ANT v2 upgrade & liquidity rewards ✨
ANT is undergoing an opt-in upgrade to bring it up to modern ERC-20 standards for efficiency. ANT v2 will be required to participate in Aragon Network governance votes and uses 66% less gas. Upgrade your ANT at upgrade.aragon.org →
To ensure liquidity for ANT v1 moves to ANT v2 there are two new ANT v2 liquidity rewards programs currently active on Uniswap and Balancer. Start staking at liquidity.aragon.org or read more here →
ANT <> ANJ merger proposal & timeline 📜
On October 5th, Aragon One submitted a proposal to ANT holders that would merge ANJ back into ANT and make ANT the native token used in Aragon Court. A town hall was held by Aragon One to discuss the potential merger with the community. Currently, the community is awaiting an updated proposal from Aragon One.
Sunsetting Aragon Chain 🌅
Aragon One submitted a proposal to discontinue the development of Aragon Chain and ARA and instead focus on off-chain scaling solutions like Optimistic Snapshot or other sidechains. The proposal passed with 134.85k ANT (90.75%) 'Yes' votes and 13.75k ANT 'No' votes (9.25%). You can read the full proposal that passed here →"
4. Decentraland
"Hot on the heels of another successful Game Jam in September, Decentraland headed straight into development of Halloween Week. The week-long event coincided with the introduction of 'night mode' in the virtual world, adding a decidedly spooky element to proceedings.
This was also the first immersive treasure hunt in Decentraland with a baffling murder mystery leading participants on a wild goose chase to solve the crime and reveal the activities of a shadowy organization in the metaverse.
With our NPCs in full effect and exclusive horror-themed costumes, masks and accessories sought after rewards, players enjoyed an action-packed experience boosted by a number of new features:
The ability for creators to define an area where player avatars don't appear, enabling them to only show custom avatars in a scene
Moving a player to another location inside the same scene, via a local teleport
New teleport smart item to move players to other locations in Genesis City
Audio and Video Streaming to broadcast live media into scenes
QR donation smart item to collect donations from scene visitors
Extra movements and animations
Before the year is out Decentraland will play host to another Game Jam and also be running a range of cool events and community initiatives during the forthcoming festive season.
For more info, check out the Events page at events.decentraland.org and keep on top of all our major announcements at blog.decentraland.org and on Twitter @decentraland."
5. Maker
"Here are the biggest updates from the Maker team for the month of October:
Coding on Liquidations 2.0 and governance upgrades, including executive votes and collateral onboarding work.
Launched the new voting portal, working on an ESM UI
Full steam dev work on the new developer portal
Development of a basic UI for flap auctions
Collateral onboarding related updates"

6. Synthetix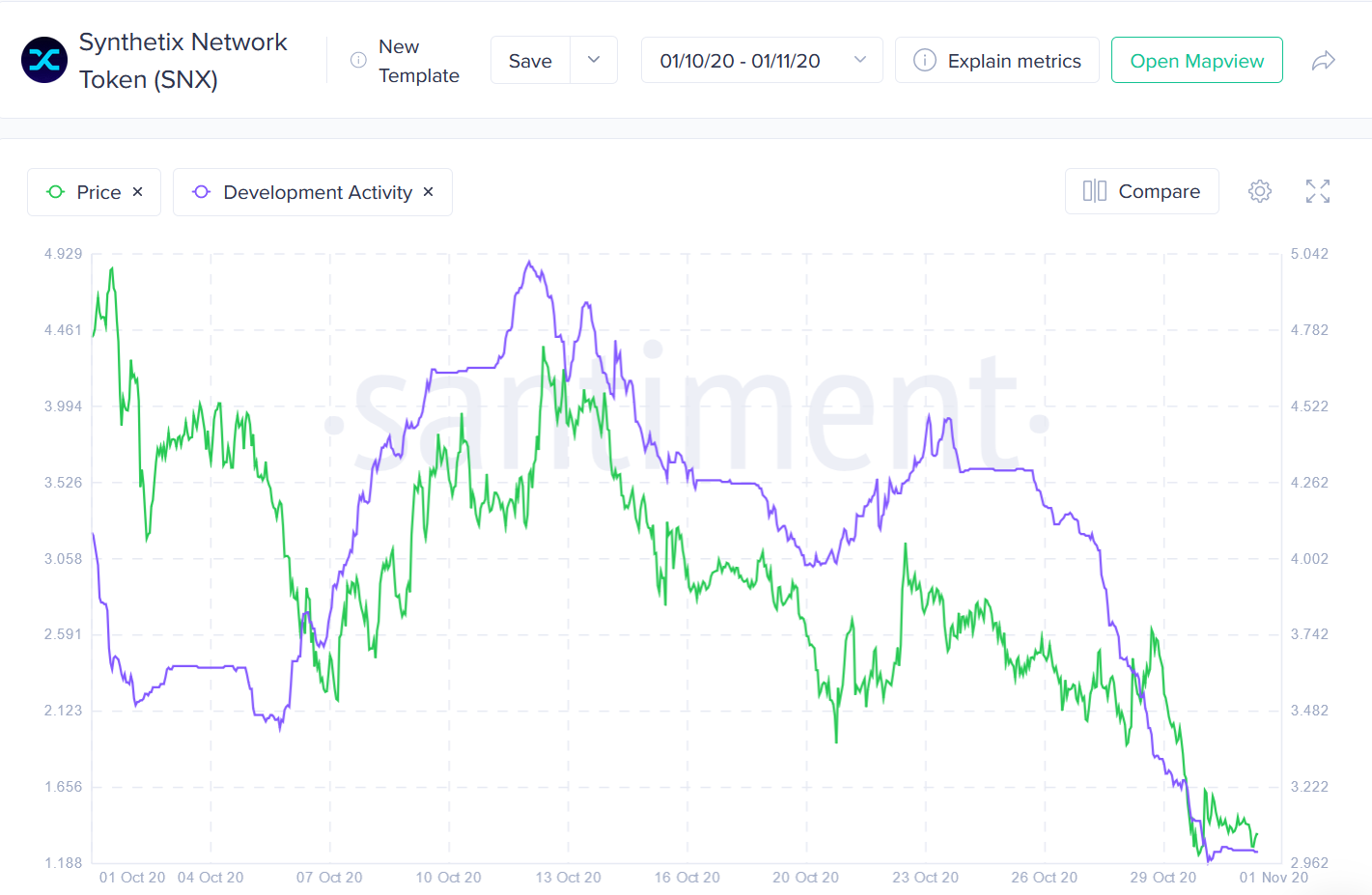 "Synthetix has recently taken some major strides forward in reaching our 2020 goals. Here is a list of highlights from October:
Synthetix is the derivatives liquidity protocol for developers. Our vision is for developers to leverage Synthetix's ability to tokenize assets across industries to gain access to important markets inside and out of the cryptocurrency ecosystem, unlocking a new world of highly accessible, unstoppable financial tools.
Expect much more from the Synthetix community soon. Stay up-to-date on Synthetix by following us on Twitter or join the community on Discord."
7. Chainlink
Here's an excerpt from Chailink's most recent project update:
"We are excited to announce that Chainlink VRF (Verifiable Random Function) is now live on the Ethereum mainnet, generating a highly secure and provably fair source of on-chain randomness for blockchain applications.
This launch of Chainlink VRF showcases the power of secure and reliable oracles as not only a means of providing accurate price feeds for the DeFi ecosystem, but generating and delivering provably fair randomness on-chain for gaming, Non-Fungible Tokens (NFTs), and various other applications requiring unpredictability.
If you are a new or existing smart contract developer and want to build with Chainlink VRF, check out our documentation to deploy a testnet contract in Remix or integrate Chainlink VRF into your dApp on mainnet.
If you want a more in-depth look into the academic research and formal proofs backing the development, refer to our Chainlink VRF blog post about on-chain verifiable randomness."
8. Golem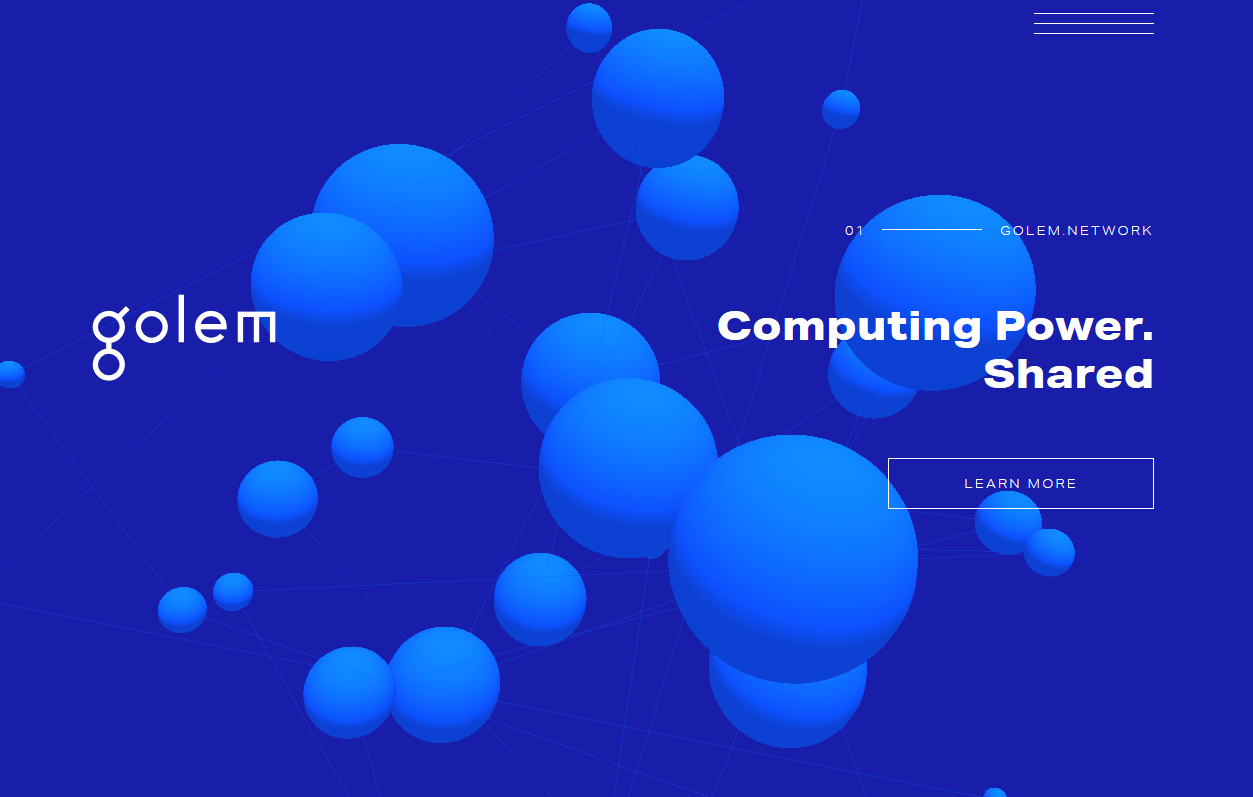 "In October the Golem team released the Alpha II of New Golem, coupled with a sneak peek provider release the week following. We utilized the Gitcoin platform offering bounties to developers to build and run their own dockerized applications on the new network.
We also announced the ERC20 migration for the GNT token to start on the 19th of November 4pm CET. The migrated token will enable us to implement layer 2 scaling for payments on the network, which the Golem payments team has been busy integrating already on Rinkeby testnet.
You can find our latest development coverage in the Golem GitHub Digest, and for anyone wanting to join the community we have an ongoing community incentives program. You can find our Alpha II release coverage inviting developers to come build with us here. "
9. 0x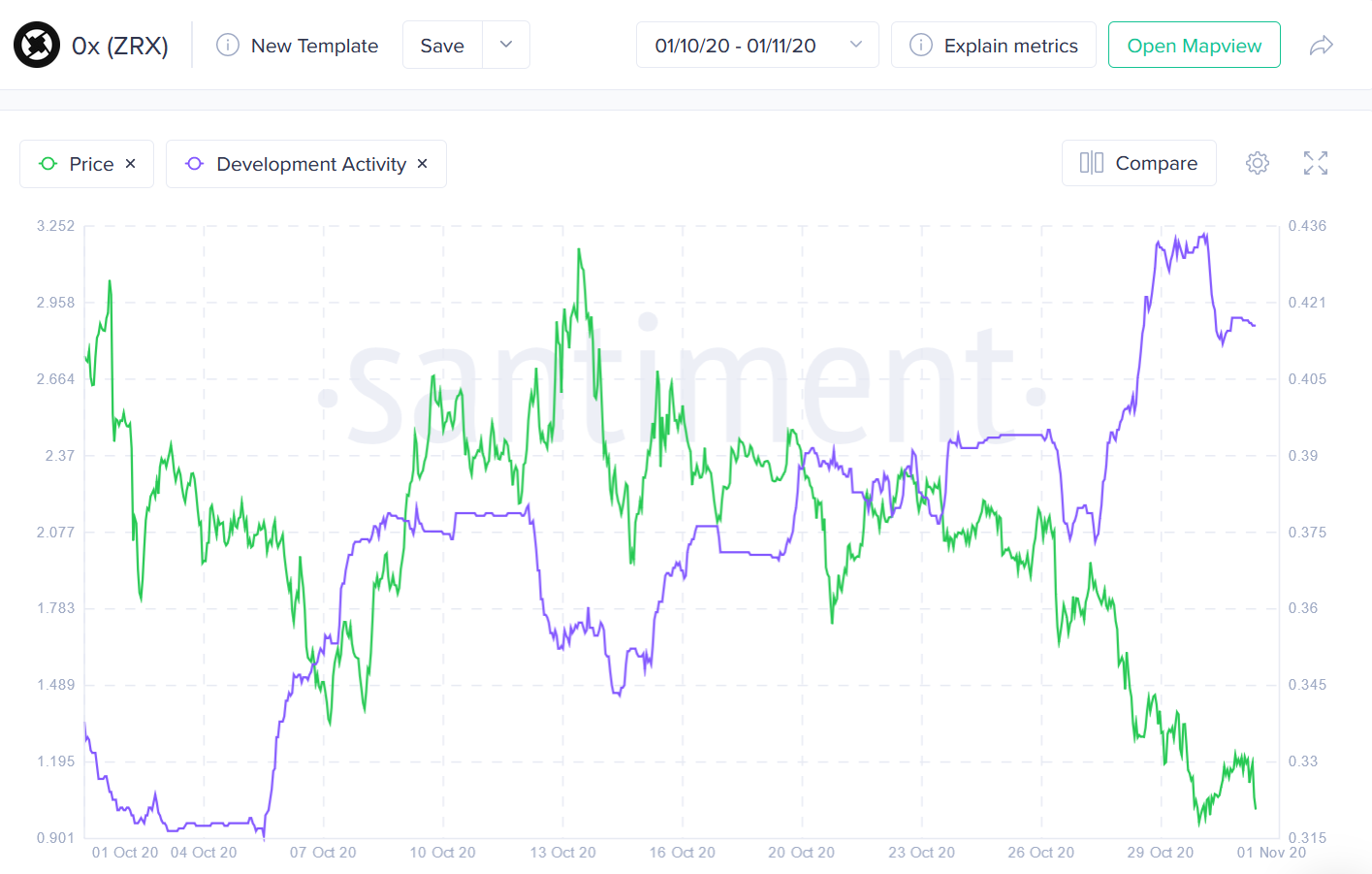 Here's an excerpt from 0x's latest developer update:
"0xAPI v1 launch and performance report: 0x Labs recently updated the 0x API /swap endpoints, sporting a lot of improvements in the smart order routing and in gas efficiency. The team has produced a comprehensive report on performance VS other aggregators (1Inch, Dex.ag, Paraswap) and Uniswap.


Road to 0x V4: Exchange Proxy has enabled 0x Labs to de facto test in a production environment (on Matcha, using the /swap/v1 endpoints described earlier) the next version of the 0x protocol. The team will be focused on bringing settlement to the Exchange Proxy (benefitting RFQ and limit orders), updating the off-chain tooling, and starting the formal audits.


Mesh v10.1 release: After a few months in development and stress test with Augur v2, the team cut the v10.1 release sporting a new local node db and a set of graphQL APIs that provide flexibility when querying the open orderbook. The upgrade is backward-compatible from a network standpoint, but the JSON RPC interface won't be supported anymore, replaced by the new graphQL APIs.


ZRX Portal bounty update: the latest updates on the work iamonuwa is leading to complete the migration of ZRX Portal to web3-react (gitcoin bounty), in order to support WalletConnect natively.

Instant bounty update: JoaoCampos89 was assigned the Instant revamp gitcoin bounty. As a reminder, Instant is a 0x-powered swap web widget. Joao proposed a promising plan to update Instant to use 0x API v1, remove some tech debt, and update the documentation."

10. Santiment
New on Sanbase this month: Price-DAA divergence, Network Profit/Loss and more!
One of our most popular templates, Santiment's Price-DAA divergence model is finally up on Sanbase! This model tracks the critical relationship between a coin's price and the amount of addresses that interact with it daily. Historically, strong divergences in these two metrics have often marked interesting Buy/Sell levels - check out more info here

Our newest metric, Network Profit/Loss (NPL for short) gives a unique perspective on the general sentiment of most token holders. NPL computes the average profit or loss of all coins that change addresses daily, in an effort to capture periods of profit-taking or holder capitulation on-chain. Check out more info on this metric here.

Tracking the DeFi (r)evolution with Santiment
To help you track day-to-day interactions with the DeFi space and its progress over time, we've also recently introduced two brand new dashboards to Sanbase:
DEX dashboard - analytics on decentralized exchanges, their daily volumes, number of trades and the usage rate of specific DEXes over time.

Tokenized BTC on Ethereum - track the distribution of Bitcoin on Ethereum across all popular ports, including wBTC, renBTC, tBTC and more.
For other important updates to the platform, join our Discord and follow our daily Twitter updates!
--------------------
Check out Sanbase for more information on development, social, and on-chain activity of all ERC-20 coins, as well as ETH, BTC, XRP, EOS and more!

Thanks for reading!
If you enjoyed this insight please leave a like, join discussion in the comments and share it with your friends!
Never miss a post from Ibis!
Get 'early bird' alerts for new insights from this author