ETH - How are things looking?
Assets covered: Ethereum (ETH)
Metrics used: Price, Network Growth, Supply on Exchanges, MVRV 7D, Daily Active Addresses
Chart: https://app.santiment.net/s/Siwg1xy5
After a strong bounce off the $1,780 levels, let's take a look at how things are now.
Price
Just when most of the crowd thought that the crypto market was going into a 4 year bear market, ETH managed to hold its support at $1780 levels and kicked off a strong rally to $3,300 levels.
It's a very healthy run that helped to invalidate bearish bias, however, there are some signs showing that the rally is getting exhausted (Price is going up but volume is going down, this divergence is generally not a good sign) and due for a correction.
That's not to say the market is going to be bear again, what we would like to see is ETH bouncing off the $2800s as support for continuation of the uptrend.
Network Growth
Interestingly, we are seeing the lack of new participants while prices are going up, which isn't exactly a healthy action. That said, could it be that this rally was driven by institutions, while the retail folks remain in "disbelief"?
Supply on Exchanges
ETH's supply on exchanges continue to drop following the rally, which suggests that the market is still accumulating ETH where possible. While the downtrend in ETH's supply on exchanges does help to alleviate sell pressure, we do wonder whether this sets in complacency as "majority of people are bullish".
Similar to how in Mid-May ETH hit $4000s and supply was low, no one was selling... until price crashed and from late May till late June, we saw continued sell pressure from influx of supply on exchanges.
MVRV 7D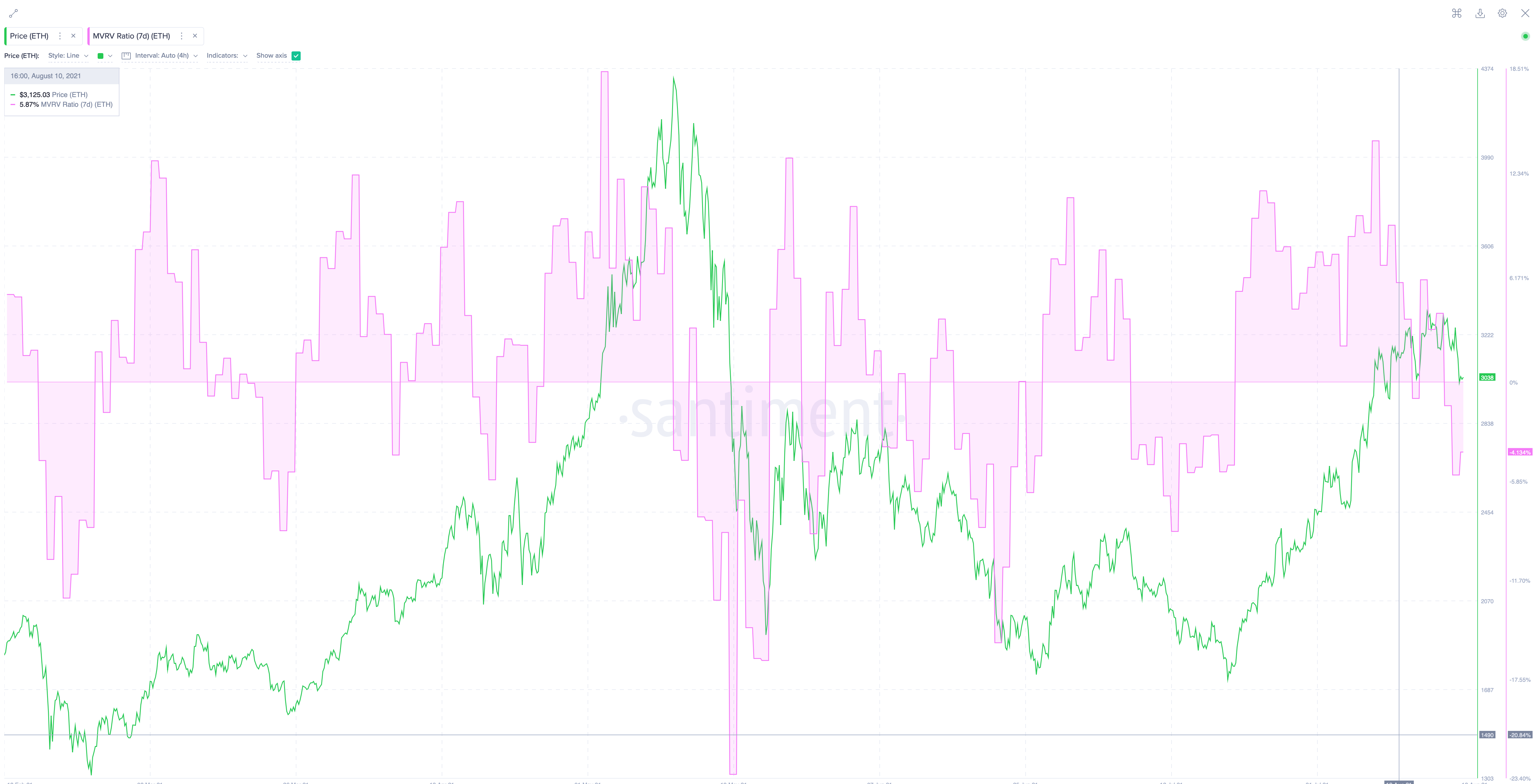 MVRV 7D which measures the short-term profit/loss of holders is showing that we are now in a decent negative territory, which is much healthier than being in the danger zones as seen around May's top.
Generally, we would like to see the MVRV 7D go down further before a healthy bounce in price action.
Daily Active Addresses (DAA)
While Network Growth hasn't been growing steadily (as seen in previous section above), the Daily Active Addresses been rather active and holding its ground. So far, it's a good sign to see that activity is still healthy.
Nothing to be concern at this point.
Assets from this insight

Ethereum
ETH