WINk becomes the 7th IEO on the Binance Launchpad
The Binance Launchpad train is not stopping, as the ticket claims open for its 7th IEO in almost as many months.
The latest project to gain CZ's stamp of approval is WINk, the first and one of the most popular DApps on the TRON Network serving a number of online gambling games like poker, dice, and slots. WINk calls itself a 'blockchain gaming and social platform' and allegedly holds the top spot among all dapps in terms of users and transaction volume.
"The gaming industry has been at the forefront of emerging technologies and has demonstrated a strong interest and demand for utilizing cryptocurrency and decentralized platforms. " said CZ about the upcoming IEO, "we hope that hosting WINk on Binance Launchpad will showcase the advantages of blockchain-based gaming and help advance this space further."
WIN tokens can yield dividends for staking users, and are utilized to participate in the governance of the platform. While the token runs on a TRC-20 protocol, Binance says that it will also be "issued on Binance Chain as a BEP2 asset".
This is also the second time that Binance is experimenting with a lottery format for its Launchpad token sales. You might remember a huge community uproar over the first-come-first serve model implemented for the sales of FET, CELR and MATIC, as only a tiny portion of IEO hopefuls managed to claim themselves some coins.
The launches were also plagued by server crashes and a plethora of other technical issues, all of which prompted Binance to switch to a lottery format for its future token sales.
According to the new rules, users will be able to claim up to 25 lottery tickets based on their daily average BNB holdings (as with most previous IEOs, BNB will be the only supported IEO coin). Here's the full breakdown of lottery ticket allowances for those interested: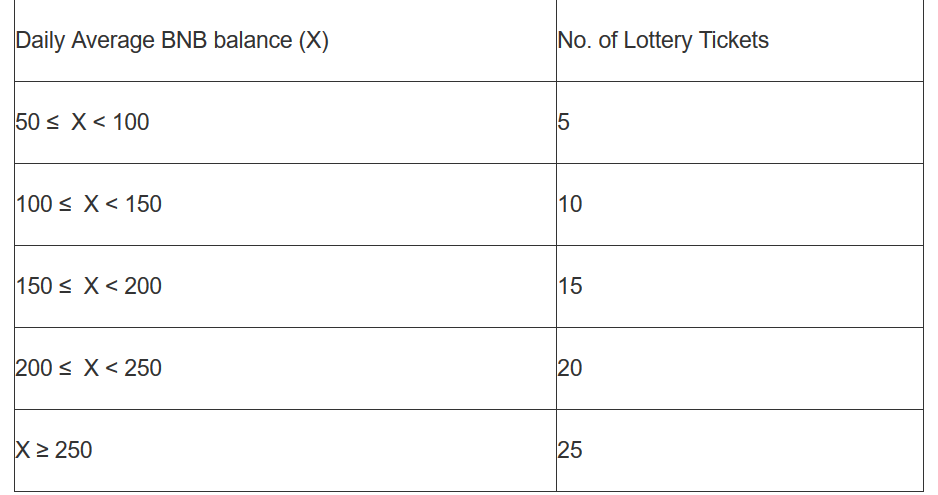 As with virtually every other Binance IEO, the crowd seems to be very much digging the potential ROI on WINk. The sentiment is predominantly bullish, from trying to sell WINk as the next big coin:
To predicting a parabolic price growth after the IEO:
wink 5x?
5x to 8x atleast for wink
WINK to moon!!! 🚀🚀
Wink 60 sats
WINK 200 sats 🙈
In line with WINk's own business model, some are already betting crazy odds that the coin will skyrocket after launch:
Bought wink at 3.7X in OTC What do u guys think Will I get rekt tomorrow?
Contributing to the WINk hype, much to no one's surprise, is the founder of the Tron network, who's been tweeting love letters about the project throughout last week:
Not everyone is sold on an upcoming IEO pump, however. Based on historical precedent, some expect things will get worse for WINk's holders before they get better:
"Unfortunately, although tokens issued on Binance Launchpad always have high value during the sale, they mostly dump a few days after the sale is over. For example, the CELR token which is used on the Celer Network started weakening just hours after its sale on Binance Launchpad. Surprisingly, 24 hours after listing on the Binance exchange, the token was down 21 percent."
Either way, the one coin that's been doing well over the past 24 hours has been BNB. Following a week-long downtrend, the Binance native asset has gained 2.55% in the last day, climbing up to a 3-day high $27.57.