Will This RNDR Rally Render Positive Results?
Render Token may not have been on your radar at the beginning of the year. But as the 45th largest asset by market cap in crypto now, there is good reason to pay attention. Over the past 12 days, RNDR's price has jumped +63% with increased trading and on-chain transaction volume.
In the past 24 hours, it is the sole asset in the top 100 that is in double digits. And this has been a familiar theme in many of the previous days in this May rally.

We need to be cautious of the fact that whale transactions have spiked to its third highest day in the past month, which often is a sign of some profit taking happening. However, we do see on the previous two $100k+ whale spikes of this size (in red, below), prices actually continued rising.
Supporting the theory that this rally isn't over, look at how the key shark & whale RNDR addresses are continuing to rise in terms of their number of addresses. The tan line, representing wallets holding 1m to 10m RNDR, are particularly increasing rapidly. 90 such addresses is the most in the history of the asset. And if whales were profit taking, these numbers of addresses likely wouldn't be continuing to rise.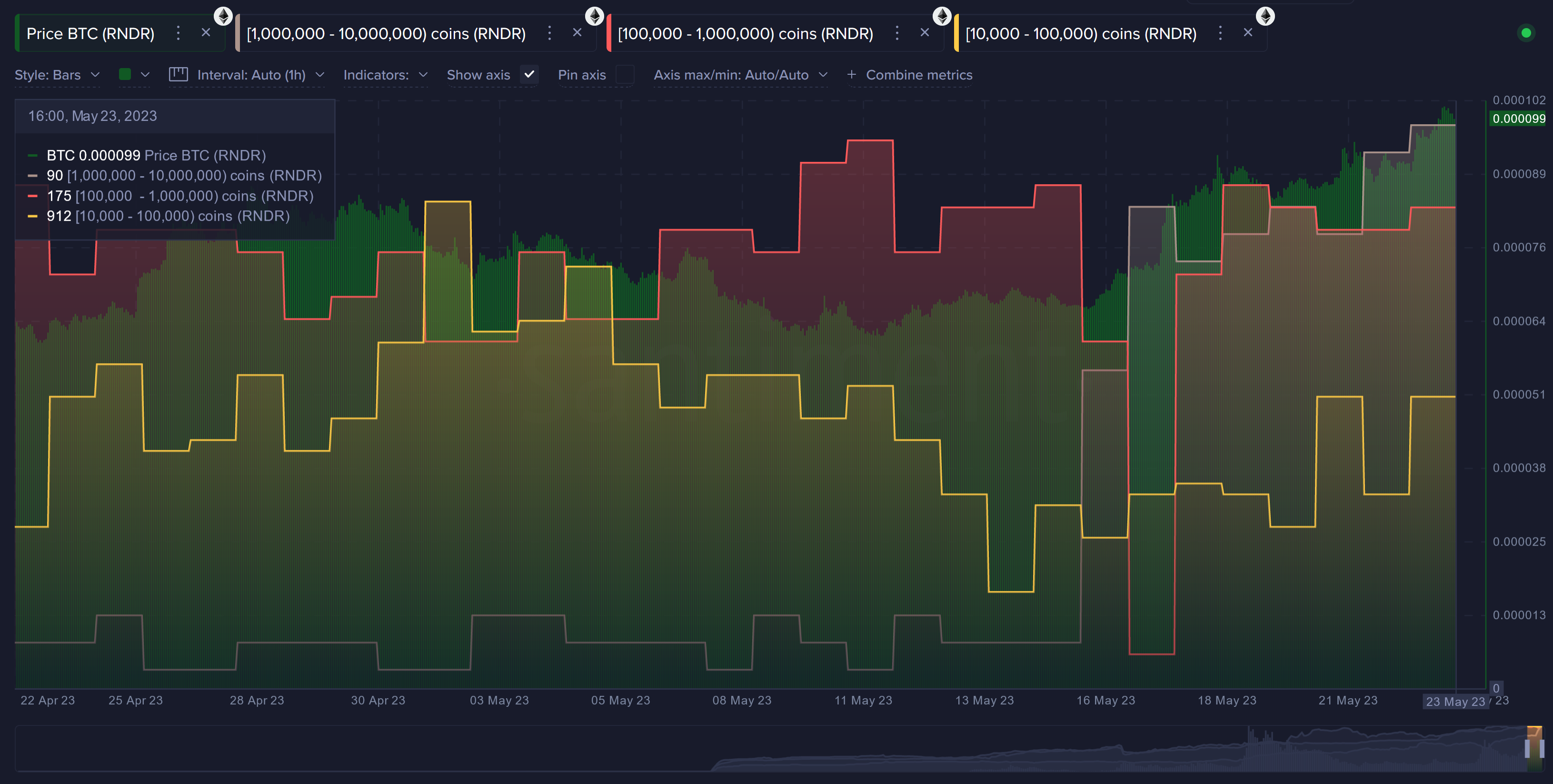 Also, we will want to be careful of the trading crowd getting too euphoric about one of the hottest assets in crypto. Render's social dominance has jumped up to 0.4% of all discussions revolving around all top 100 market cap discussions. This may not sound like much, but with a normal resting state of 0.1%, it does appear that there is some concerning crowd discovery that may lead to at least a very short-term price top.
As for a general synopsis of Render Token (RNDR), you need to know that it is a decentralized network that allows artists and studios to rent GPU compute power from mining partners. This means that artists and studios can get high-quality, real-time rendering services at a fraction of the cost of traditional rendering methods. RNDR is also scalable and flexible, making it ideal for a wide range of applications, including animation, VFX, and gaming.
Some of the key benefits of Render Token that have been discussed include:
Cost-effectiveness: RNDR is a much more cost-effective way to get high-quality rendering services than traditional methods.
Speed: RNDR can provide real-time rendering, which is essential for many applications, such as animation and VFX.
Scalability: RNDR is designed to be scalable, which means that it can handle a large number of users and requests.
Flexibility: RNDR is a flexible platform that can be used for a wide range of applications.

-----
Disclaimer: The opinions expressed in the post are for general informational purposes only and are not intended to provide specific advice or recommendations for any individual or on any specific security or investment product.
Thanks for reading!
If you enjoyed this insight please leave a like, join discussion in the comments and share it with your friends!
Never miss a post from brianq!
Get 'early bird' alerts for new insights from this author