Who Flicked on the Litecoin? 💡
November, 2022 might as well be known as the "Let There Be Litecoin" month. If you had the 13th ranked "OG" asset on your Bingo card and swapped some Bitcoin for it, you've been handsomely rewarded.
With its price up 29% in the past 24 hours, and its price against BTC up to its highest level since November 14, 2021, the coin deserves a bit of a deep dive:
With this price surge, average LTC trading returns have blasted into positive territory:
We typically look for a 30-day MVRV of above 15% as a bit of a danger zone, so don't be surprised if there is at least a bit of a cool down going into the Thanksgiving break.
Also, the 365-day MVRV reveals that long-term traders are FINALLY back in positive territory for the first time since December 2nd, 2021. This key turning point could actually signal some short-term optimism that may fuel a price rise after the shorter term trading returns settle down slightly.
Shorting on exchanges may have also played a factor in this sudden price surge: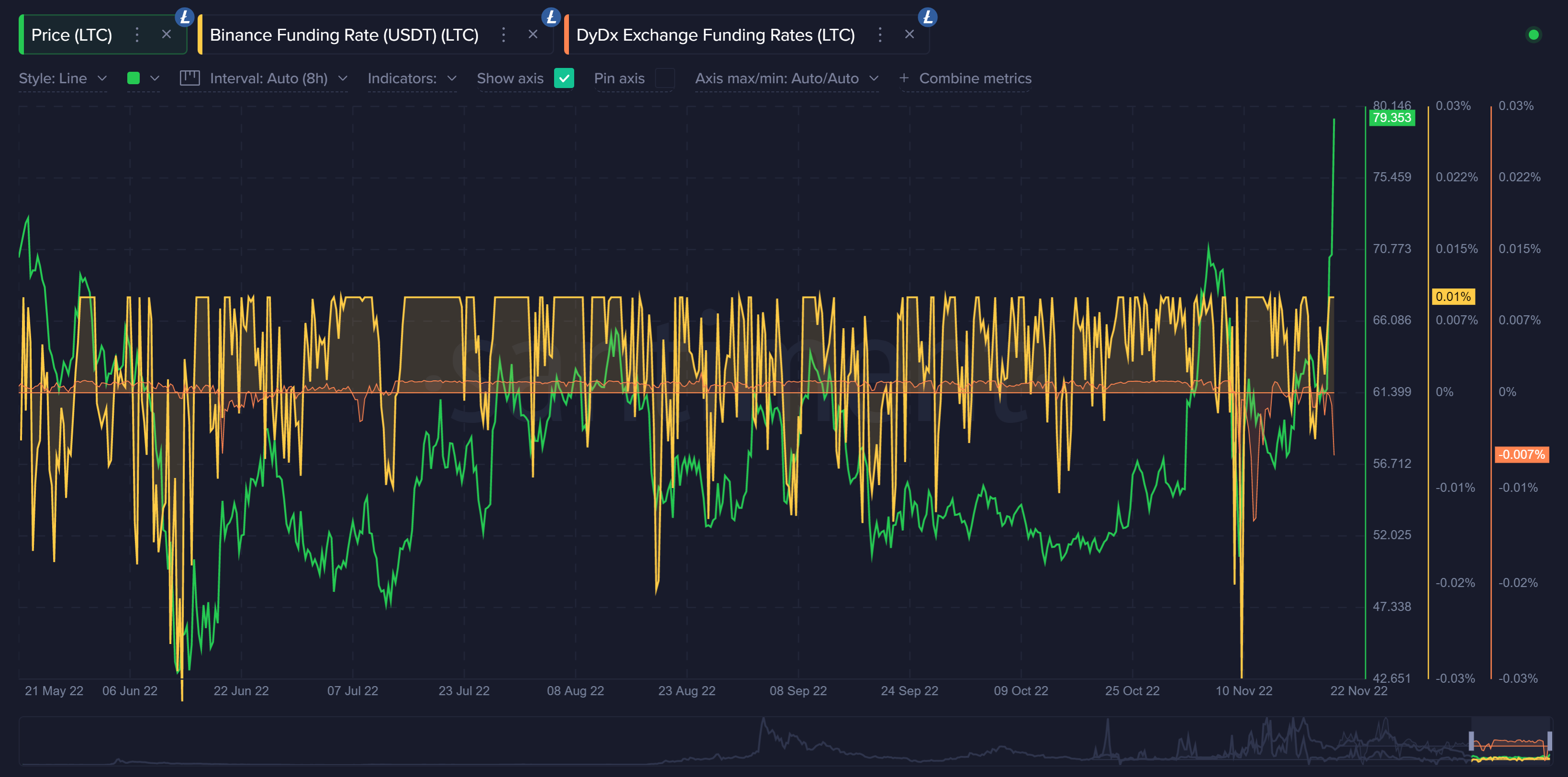 In the midst of the FTX reactions coming down, Binance saw traders shorting at their most excessive rate in 5 months. Meanwhile, DyDx funding rates dropped to their lowest rate in 11 months. Based on the price bottom that occurred when Binance shorts hit these same levels in June, it was fairly predictable that there would at least be some upcoming LTC bounce to cause similar greedy trader liquidations.
Something else that may have foreshadowed this latest pump would be Litecoin's shark tier:
Addresses holding between 1,000 to 100,000 LTC bumped up their collective bags by 2.71% in a single day just last week, and prices kept climbing.
We definitely see a correlation between how this tier of traders behaves, and where Litecoin's price goes next.
Based on where metrics stand now, there may be a bit of a cooldown followed by more long-term upside by the lightning-network based asset that often falls under the radar.
-----
Disclaimer: The opinions expressed in the post are for general informational purposes only and are not intended to provide specific advice or recommendations for any individual or on any specific security or investment product.
Thanks for reading!
If you enjoyed this insight please leave a like, join discussion in the comments and share it with your friends!
Never miss a post from brianq!
Get 'early bird' alerts for new insights from this author