What the KEEP is going on
With the amount tokenized BTC hitting an ATH of 142,642, it's getting hard not to notice the significance of the parabolic run.
While WBTC leads the pack and renBTC is 2nd in line, there's increasing buzz around Keep Network that's powering tBTC.
Let's take a quick look!
What is Keep network?
The Keep Network powers the protection of private information on the public blockchain. It's a privacy solution where "keeps" hold distributed small amounts of data, such as a private key.
Keep technology brings censorship resistance to DeFi because it is fully decentralized and cannot be controlled by any one actor. The Random Beacon and ECDSA Keeps are the core technology of the network. - Keep Network
The first dapp build on the Keep Network is tBTC, an ERC-20 token fully backed by BTC. You can read more about it here.
What's KEEP?
The Keep Network's native token is KEEP. It powers the network and undergirds all the apps that are and will be built on it. A balance of KEEP tokens is required in order for someone to become a member of the Keep Network.
Members are eligible to earn rewards by staking their tokens and performing work on the platform. This is the key incentive that drives constructive behavior, facilitates efficiency and trust, and promotes the adoption and growth of the Keep network.
KEEP is a work token — holding it confers the right to perform key functions on the network. Token holders must delegate a minimum amount of KEEP as collateral in order to be eligible. Token holders can stake tokens via the Keep token dashboard. - Keep Network
Token distribution
Total supply: 1,000,000,000
Private sale: 35%
Early team: 10%
Advisors: 5%
Keep SEZC: 25%
Staking & Protocol Incentives: 25%
According to Messari, private sale investors will get their tokens in different stages and are marked out below:
The next major emission event is coming up this month, where around 43M KEEP will be released to Private sale holders.
In case you are wondering, the private sale price varies between $0.0720 - $0.60 depending on which stage the private investor got in at. At current prices of $0.629 , we are looking at around 8.7x for earliest private sale folks.
Not too shabby, now, the next thing would be whether there's enough liquidity to exit.
At the moment, KEEP isn't listed on major exchanges yet so it looks like there'll be an issue offloading meaningful positions on the open market for the private sale holders. That said, Coinbase did mention earlier this year that KEEP is one of the coins that is under review and Coinbase Custody supports.
How to get KEEP?
You can get KEEP in the various ways:
Be part of the Private staking sale (only to accredited investors)
Participate in Playing for Keeps
Stakedrop (KEEP-ETH pool for now, ETH only pool in future)
Buy on exchanges
Do note that there will not be a public sale....ever.
Perhaps the most popular way to obtain KEEP at the moment is to participate via Playing for Keeps (PFK). Here's September's PFK Judge and what he was looking for.
It's quite a worthwhile effort for any community member given that the KEEP prizes are not small. Below is a sample list of winners and their prizes:
Going forward, it looks like they are appealing for more node operators to secure the network.
According to @jonitzler, so far, around 12.05M KEEP has been awarded for PFK.
Where's the majority of circulating KEEP at?
According to Coingecko, the current circulating supply is: 107,775,117 / 1,000,000,000 or about 10.77% of total supply.
This gives KEEP a marketcap of $67,137,016 and a fully diluted value (FDV) of $622,936,139. While many might look at the marketcap and think that it's undervalued, it's important to note the FDV.
Stakedrop
Currently, it appears that a majority of KEEP is currently being used for staking (70.96M KEEP or 65.85% of circulating supply):
Here are the top 20 stakers:
20% (200 Million) of total available (1B) KEEP will be distributed as part of stakedrop rewards during a period of 24 months. It peaks at month 5 with 20+ millions KEEP rewards and then slowly goes down as shown below.
To participate, one will require to have both KEEP (staked) and ETH (bonded) for now. There will also be a ETH only pool in the future.
The minimum number of tokens needed to stake in Random Beacon is 80,000 KEEPs. The minimum stake will decrease overtime on a predictable schedule that we expect to publish at the time of launch. There is no fixed minimum amount to stake with ETH in an ECDSA node yet, it should be the half of the smallest deposit transaction to tBTC. - Keep Network
Do note that stakedrop went live on 14th Sept and rewards are not paid out yet as the team is working on deploy scripts for the rewards contracts. So it is likely that we'll see a spike in KEEP emission over the next few months as rewards distribution is live.
To learn more about how stakedrop works, refer to this.
On exchanges
Looking at Supply on Exchanges, we can observe that KEEP continues to increase, with about 4.83M tokens now on exchanges and further applying sell pressure.
Going forward
KEEP is an interesting project, however it's still in very early stage of distribution and network growth.
As it stands, majority of KEEP has yet to be distributed and we are seeing 895.03M or 89.5% of total supply being held by top non-exchange/staking contract addresses.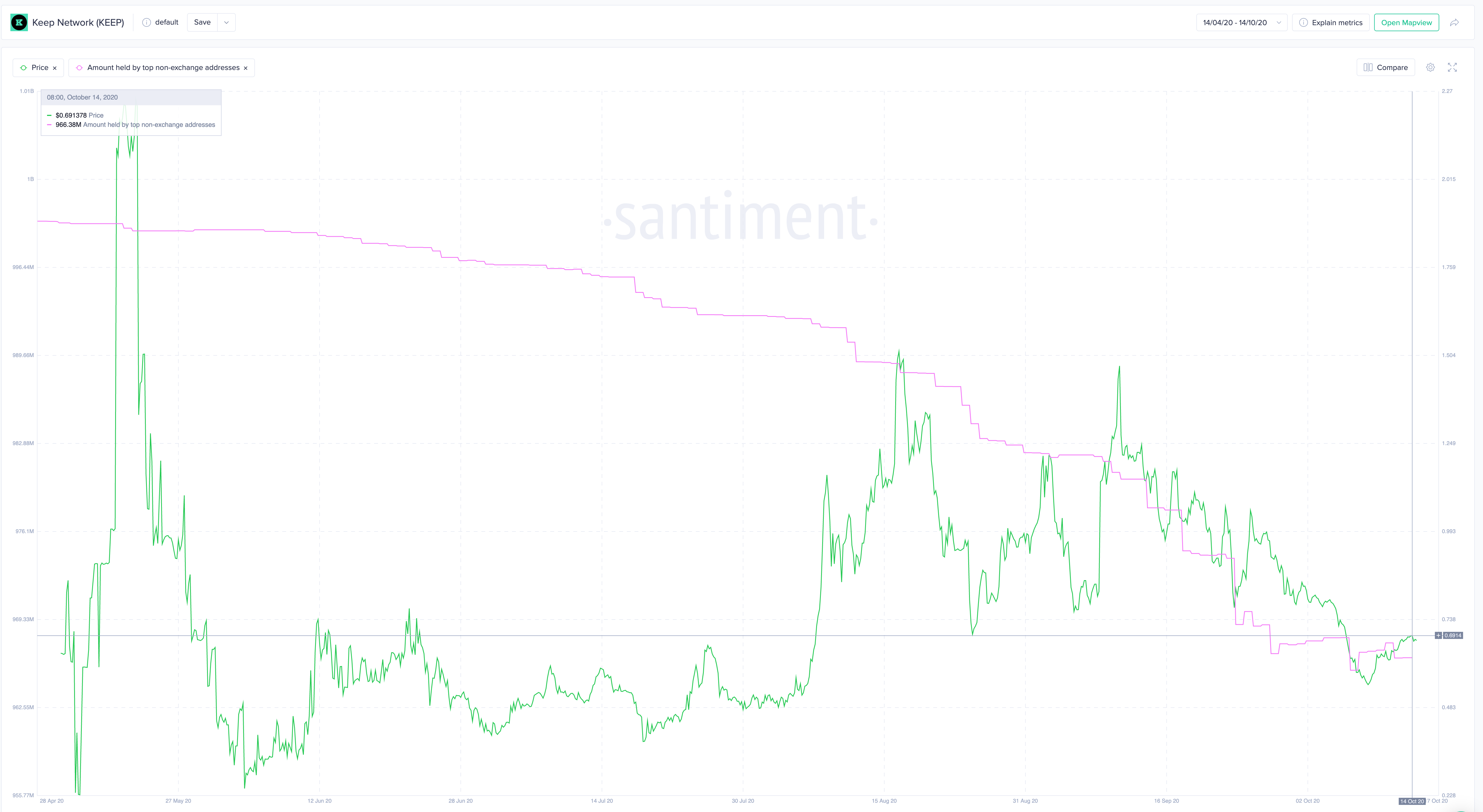 It's still rather centralized but over the coming months, we should see this % drop further as KEEP is distributed to Private sale participants, Stakedrop and PFK.
It remains to be seen how the price will perform once more supply enters circulation. Give it a few months, we should then see more interesting on-chain metric activity and how things are going.
Thanks for reading!
If you enjoyed this insight please leave a like, join discussion in the comments and share it with your friends!
Never miss a post from Sanfam!
Get 'early bird' alerts for new insights from this author