Whale Watching During the Dip: Where's the Accumulation Happening?
No matter how much we convince ourselves to "buy the dip" when prices suddenly fall to year-low levels or beyond, it can be pretty difficult to actually click that Buy button when the opportunity presents itself to catch a falling knife.
Buy low, sell high sounds easy in practice. But in a wobbly, volatile market like cryptcourrency, defining what the "highs" and "lows" actually are is next to impossible, and always a relative science instead of precise. Support levels can't really help us when Bitcoin, Ethereum, and the vast majority of crypto have dropped 65% or more over the past seven months.
Luckily, we have top key stakeholders to help give some clarity as to what THEY are defining as legitimate dips to begin accumulating on. It's no secret that in a speculative market like crypto, top holders are still dictating where prices are moving next. So without further adieu, we'll take a look at three assets with major whale accumulation happening, and three that are being dumped.
⬆️ Increasing Whale Address Balances
Aave ($AAVE) - 100k to 10m AAVE Address Holdings
AAVE is first on our list of accumulating whale assets, and for good reason. We've just seen a huge accumulation spike from the 10k to 1m addresses, which make up 47.7% of the supply holders now. Prior to June 20th, they were holding 42.3% of the supply. As you can imagine, a sudden one-day accumulation of over 5% of the supply from these millionaire holders is a welcome sight for future price prospects.
The Sandbox ($SAND) - 10k to 1m SAND Address Holdings
The Sandbox, one of the altcoin darlings from late 2021, has been on quite the price downswing in 2022. But the good news is that there has been some pretty eye-opening supply accumulation from high-end SAND holders since early March.
Loopring ($LRC) - 10k to 1m LRC Address Holdings
Loopring's supply held by 100k to 10m whale addresses has boomed in the past three months. Jumping +6% over this timeframe, including a major jump in mid-May parallel to a big price drop, it's clear that these top holders aren't fearful of LRC dropping too much further.
⬇️ Decreasing Number of Whale Address
Cardano ($ADA) - 100k to 10m ADA Address Holdings
Moving on to the assets showing whale dumping right now, we'd be remiss to not begin with 7th ranked Cardano. The holders of between 10k to 1m ADA make up 27.3% of the supply, and they owned 30.5% just three months ago. This is just over 10% of their personal supply being dumped to exchange wallets and smaller unknowing addresses.
Yearn Finance ($YFI) - 100k to 10m YFI Address Holdings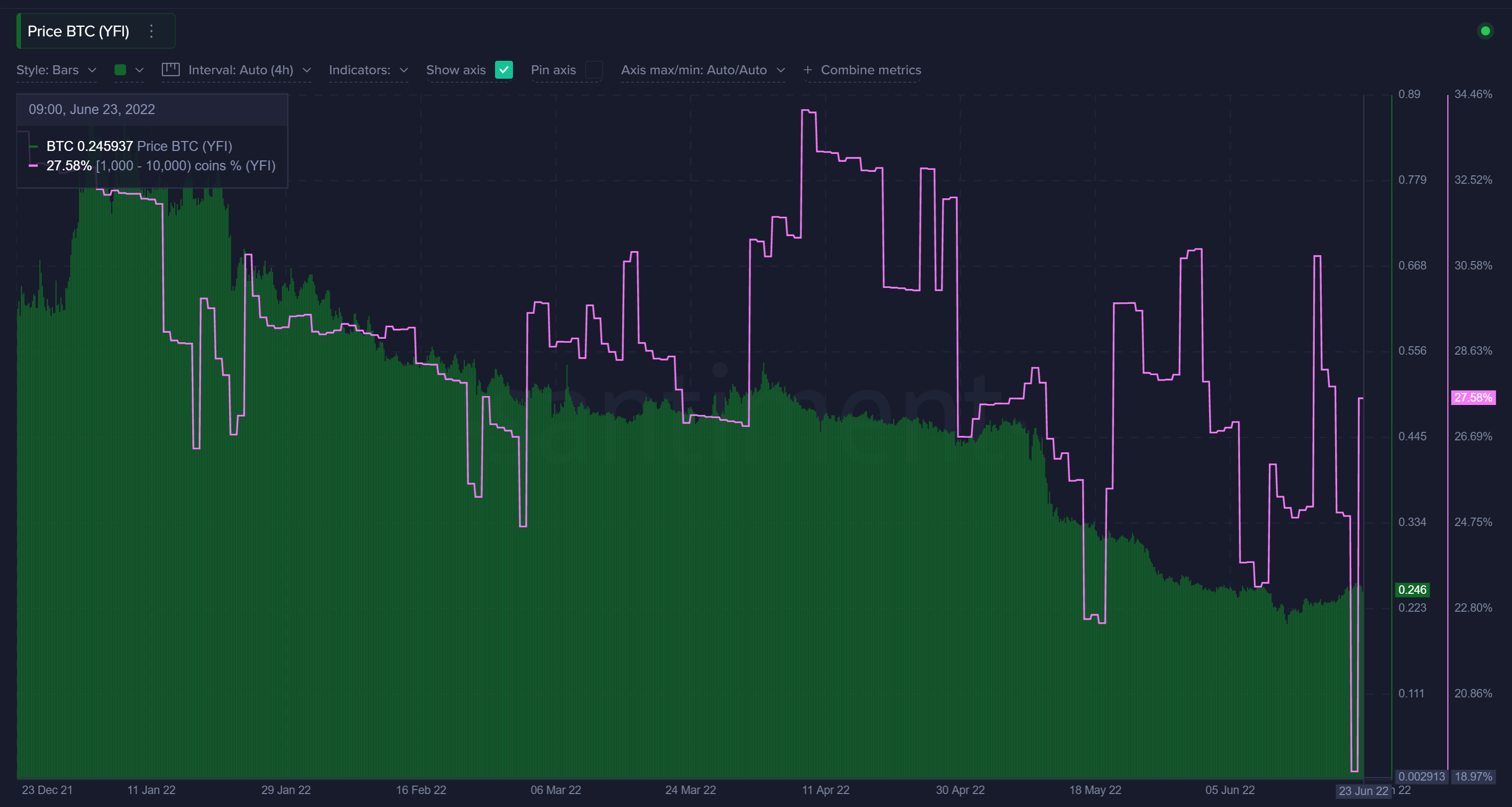 Yearn Finance's 1k to 10k holders, which are typically the most active and correlated with YFI's price movements, have fluctuated their holdings wildly over the past 6 months. But the net outcome is still showing about a -6.5% decline in supply held by these addresses during this time, and we have to be mildly worried seeing this kind of pattern.
Dogecoin ($DOGE) - 10k to 10m DOGE Address Holdings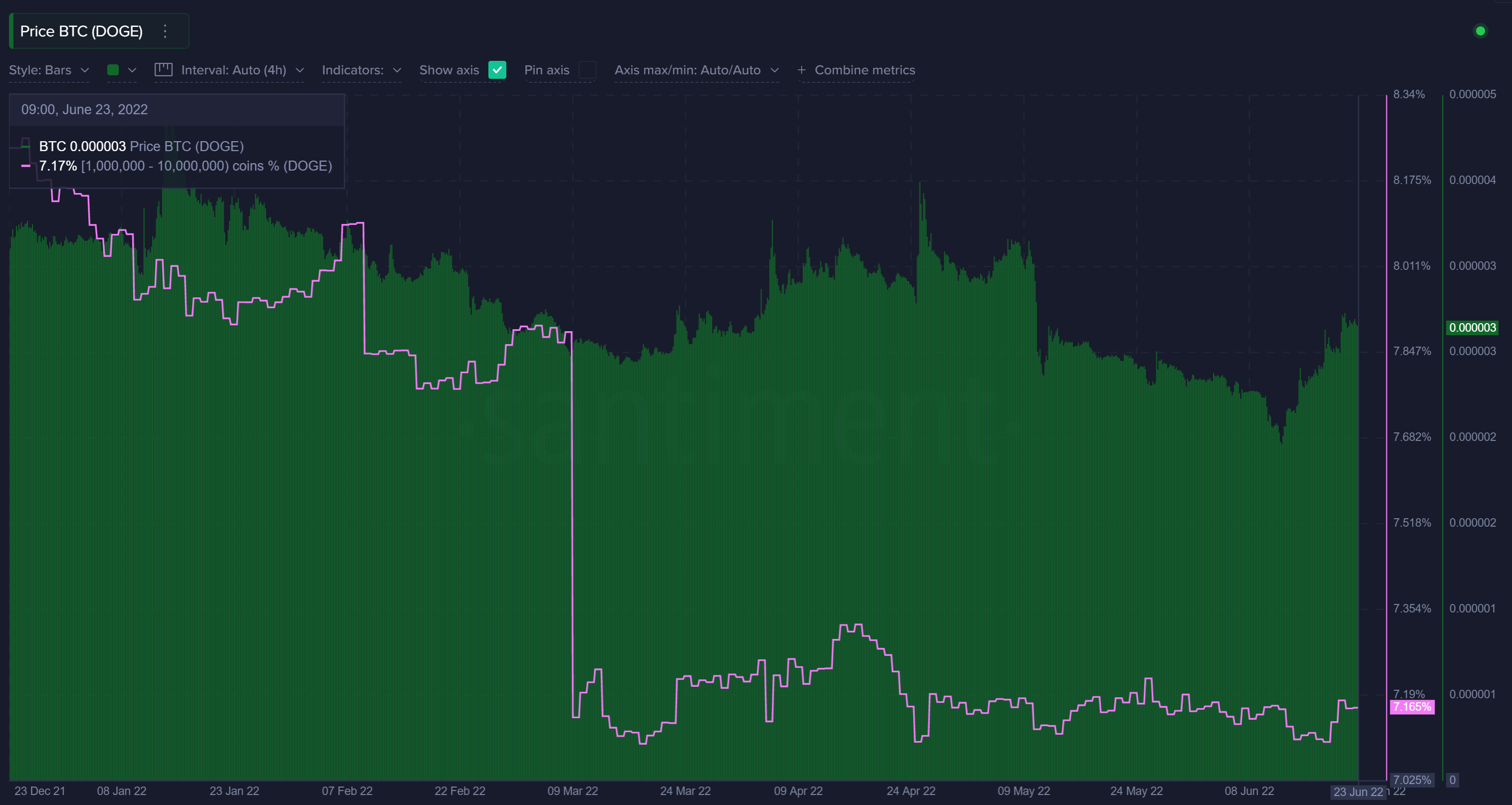 DOGE is notoriously known for being fairly dormant unless crypto is in the heat of a bull run. And right now, we're over seven months away from the mid-November bull run peak. Dogecoin has had its share of short attempts at a breakout, but its price has nevertheless fallen to BTC as the vast majority of altcoins have. The key 1m to 10m tier of DOGE holders have been staying down on their holders since a massive selloff occurred in early March.
-----
Disclaimer: The opinions expressed in the post are for general informational purposes only and are not intended to provide specific advice or recommendations for any individual or on any specific security or investment product.
Thanks for reading!
If you enjoyed this insight please leave a like, join discussion in the comments and share it with your friends!
Never miss a post from brianq!
Get 'early bird' alerts for new insights from this author