Top Social Gainers for Wednesday, May 15th, 2019
Here are Wednesday's biggest developing stories in crypto based on Santiment's data: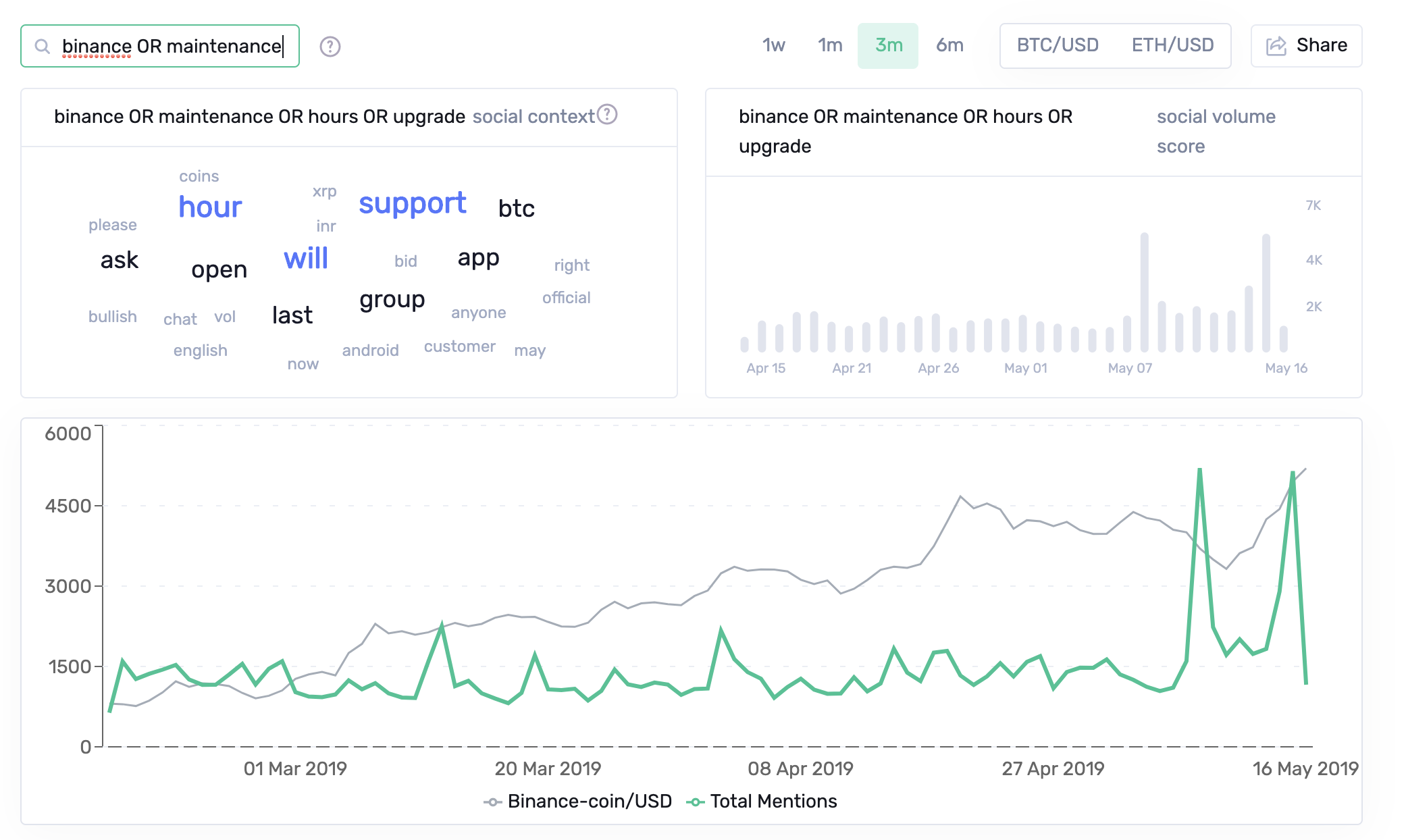 Following the recent hack, Binance has begun system maintenance for a system upgrade.
During this time, Binance will suspend deposits, withdrawals, and trading. They will be resuming operations again in estimated 6-8 hours and will be updating the community regularly during the maintenance.
Prior to the trading suspension, most of the altcoins were experiencing a decent recovery following the meltdown few days ago.
Perhaps this is due to the expectation of the crowd that altseason is upon us.
Certainly, altcoins certainly could use a nice rally soon, as most altcoins have seen new all time lows when BTC broke out recently. It was as though the cryptomarket cap revolved only on BTC. At one point this week, BTC dominance hit 60%++, showing everyone who's the boss.
With Binance maintenance to be done soon, it'll be interesting to see how the market will be reacting. Is altcoin season finally upon us? Or will everyone be left in despair?
cryptopia (458+ new mentions in last 24 hours)
It appears that hacked exchange Cryptopia has gone into liquidation.

In a press release issued by their appointed liquidators Grant Thornton, it revealed more about the road ahead:
The highly publicised hack of Cryptopia's exchange in January 2019 had a severe impact on the company's trade. Despite the efforts of management to reduce cost and return the business to profitability, it was decided the appointment of liquidators was in the best interests of customers, staff and other stakeholders.
The liquidators are focused on securing the assets for the benefit of all stakeholders. While this process and investigations take place, trading on the exchange is suspended.
The trading suspension and lock down came as a surprise to most, and was initially suspected as yet another possible hack. But since Cryptopia confirmed the nature of it, users are getting annoyed that they weren't even able to withdraw anything from the exchange.
For those that have been around in Crypto long enough, they would know Cryptopia as one of the OG exchanges and often the place to dabble in "shitcoins". It was the shitcoin bin and altcoin seasons have seen some decent returns from there.
But alas, all good things must come to an end.
kevin (101+ new mentions in last 24 hours)
In a recent airing of CNBC's Squawk Box, Kevin O'leary aka "Mr Wonderful" went head to head with Anthony Pompliano or better known as "Pomp" over how Bitcoin and the cryptomarket is just pure bullshit.
Kevin pointed out:
"Where is the value in owning bitcoin as an asset class? Tell me why this, which is basically a digital game, has any intrinsic value. And where is the long-term value? Just this idea that they're going to cut the number of units in half is just a scam. That's just total BS."
to which Pomp calmly replied:
"Everything that's new seems different in the beginning. And I think what you have to realize is with bitcoin specifically, money is a belief system. So the US dollar, the only reason you and I use it is because we believe it has value. So I give you a dollar, and you give me a good or service in exchange."
"Bitcoin has value because the two people who exchange it believe it has that value. And what we're seeing is the volume, look at people using it."
Kevin then went on to share how he took a punt at crypto by buying $100 USD worth of "crypto crap" via "something called" Coinbase and now that's worth $30 USD, which really sucked for him.
He also raised up the point of  "If it is a real currency, why can't I pay my taxes with it?". It seems that he was pretty uninformed as Pomp educated him that Ohio does accept Bitcoin for tax payments. In fact, U.S tax payers now even have the option to receive Bitcoin from their federal or state refunds.
Good thing Pomp's around to educate people!
As always, head over to our Social Trends page for the latest updates!
Thanks for reading!
If you enjoyed this insight please leave a like, join discussion in the comments and share it with your friends!
Never miss a post from Sanfam!
Get 'early bird' alerts for new insights from this author