Top Social Gainers for Wednesday, March 27th, 2019
Here are today's biggest developing stories in crypto based on Santiment's data:
Seems to be the second buzz wave after Larimer's intriguing posts on telegram about huge upcoming June announcement "June will be biggest news since eosio announcement", as covered on Monday.
Some users connect it with Ethfinex exchange launch:
Meanwhile the EOS price reacted +5% a day or +14% a week.
According to the moods:
EOS booming. Boom shakalaka !!!
Is EOS done or might it pump again later ?
EOs not always Christmas. Any moment rekkkt
Why did EOS pump?
it's not on Coinbase (where they're giving away millions in Stellar, etc.) ...so what's happening with EOS...and where?
When did Justin start working for EOS?
Bet (not a financial advice) for EOS is to:
+ grow in the next 36 hours
First Celer's move up from the bottom made crowd overexcited:
No more news, no thoughtful topics around yet.
Means bet (not a financial advice) for CELR is to:
- fall in the next 36 hours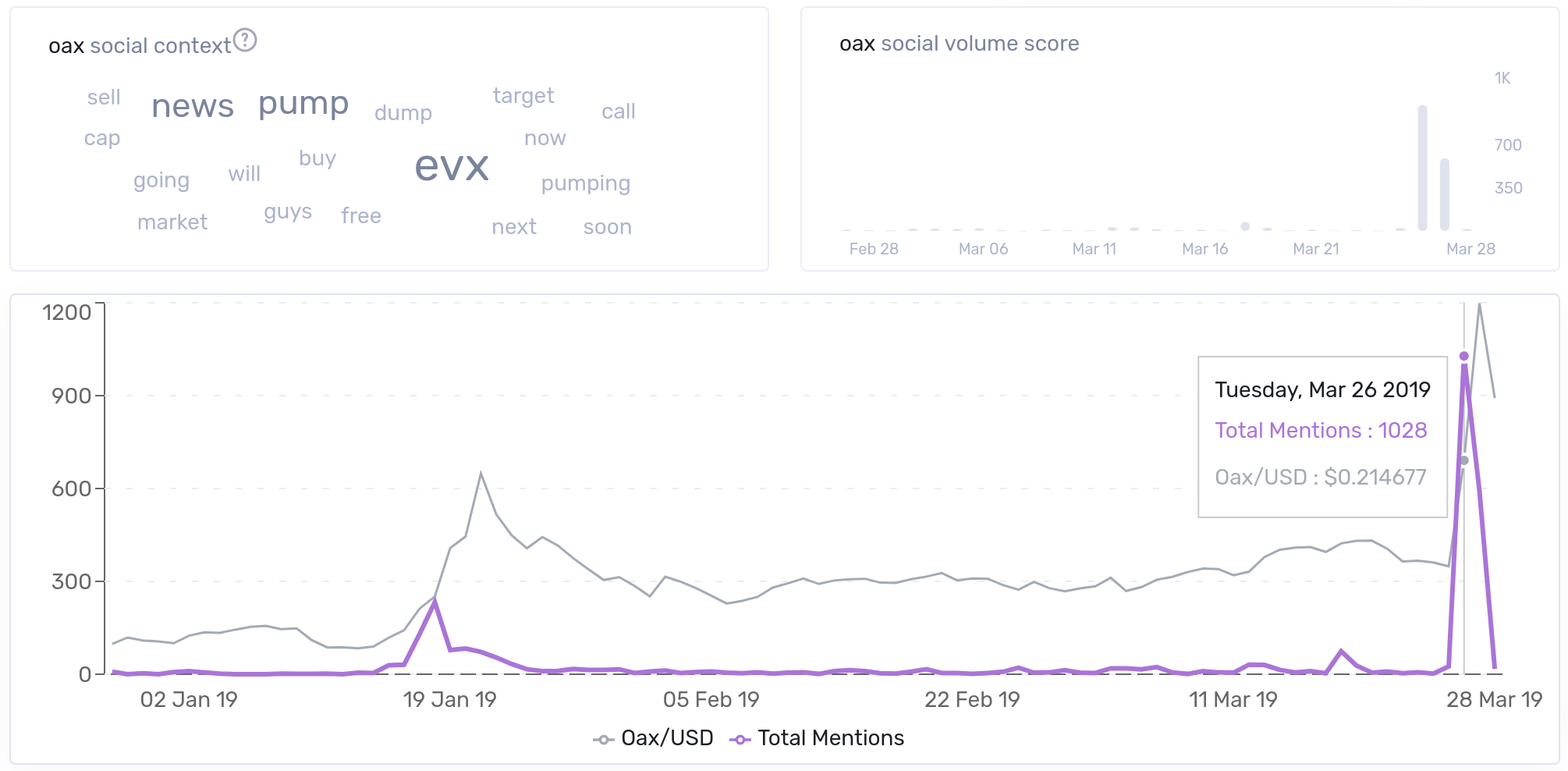 OAX has suddenly spiked +200% and immediately cooled down (-30% in 24 hours and +60% in total).
Moods are very dissapointed:
How rekt did you get from oax?
Who got rekt on oax ?
i am out from oax the hoax i sold at loss
Looking at onchain data a permanent percent of token supply on exchanges growth can be seen:
Bet (not a financial advice) for OAX is to:
+ grow in the next 48 hours
Viberate pumped 100% and pulled back immediately, performing +25% in 24 hours in total.
No visible events here except:
Event announcement says: "Join Vasja Veber, the Co-Founder and COO of Viberate, the official data partner of IDMA awards on The Data Solution panel as he presents:
- The biggest electronic artists of 2018
- The biggest breakthroughs of 2018" etc.
There is also a very interesting finding by @Bitrus:
A bullish call and VIB meeting with CNBC crypto trader took place hours before actual pump.
Coincidence?
Moods:
Vib on fire🔥
Vib mooning again😍
anyone know who was behind the VIB pump March 27th?
Lol wtf is this pump and dump on VIB?
EXV made another 150% leg up recently, retracing 25% later.
No visible new reasons after initial announcement a few days ago.
Moods are mixed:
Evx on fire🥂
Evx back to earth
Time to recover evx
EVX is at the enthusiasm stage
Bet (not a financial advice) for EVX is to:
+ grow in the next 36 hours
On Monday, Apple announced Apple Card, which is a new credit card product from the tech giant.
Feature Summary:
Up to 3% cash back
Daily cash back
No fees
Accepted worldwide (wherever Mastercard is available)
Engraved Titanium physical card with concealed numbers
Easy sign-up on iPhone
Spending tracking
Clear transaction labeling
Privacy focused
The product is now being discussed in crypto community in context how close it is to cryptonomics.

apple pay card will support crypto, got me fomosexual today
There are also some rumours about a possible partnership with BRD.
"guys did u noticed one thing why Apple pay card color is similar to #BRD wallet WTF"
Hmm. Is it?
Nonetheless it made BRD some pump, just a humble 30% up since Monday.
Louis Vuitton Owner LVMH Is Launching a Blockchain to Track Luxury Goods is the source of buzz.
Rumours that LVMH is partnered with Vechain.
Let's check.
An image from one of Vechain events:
2. A complete list of VeChain's partnerships:
Effect on VeChain's price?
None.
As always, visit SANbase to explore these and other trends in more detail!
Thanks for reading!
If you enjoyed this insight please leave a like, join discussion in the comments and share it with your friends!
Never miss a post from Garry Kabankin!
Get 'early bird' alerts for new insights from this author