Top Social Gainers for Wednesday, April 10th, 2019
Here are today's biggest developing stories in crypto based on Santiment's data: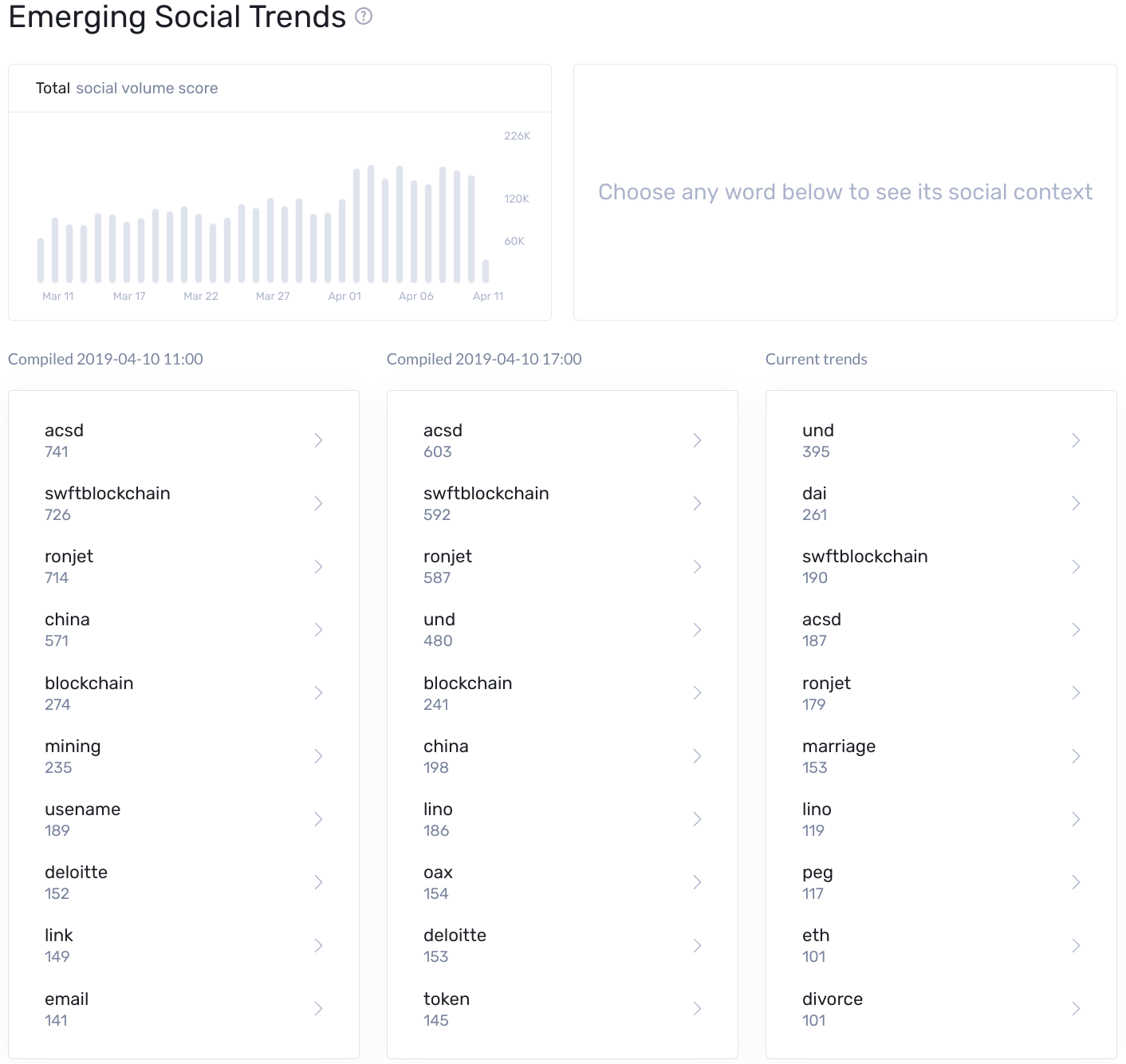 China wants to ban Bitcoin mining.
Chinese news usually had significant effect on BTC price level. No wonder a day before this became topic #1.
BTC price reaction: none.
The DAI stablecoin is becoming more and more unstable, slightly losing it's weight in USD:
Moods:
"hey all, thoughts on DAI being 4-5% off peg recently?"
"the stability rate increases will continue until the peg improves"
"What is the plan B payment currency, given that DAI is having trouble keeping it's peg?"
The story with MKR governance to hold the peg began earlier -
https://app.santiment.net/insights/read/top-social-gainers-for-friday%2C-march-22nd%2C-2019-254
And this is the latest poll for MKR holders - https://vote.makerdao.com/polling
The leading option is support to increase the Stability Fee by 4%, bringing it to 11.5% per year.
Similar poll on Twitter shown 43% of 255 respondents think MakerDAO CDP interest rates need to be > 25% ARP to restore the DAI peg.
Top YouTuber PewDiePie Joins Blockchain Live Streaming Platform DLive which will be a massive win for blockchain awareness and adoption.
This brought attention to DLive platform itself.

Facts:
There is a huge demand now to buy their tokens. Even although the price is fixed.
Where can I buy these freaking LINO coins/tokens/points whatever the hell they are??
Now LINO tokens can be purchased only via website
https://community.dlive.tv/2019/04/03/lino-points-purchase-fee-update/
DLive admins also saying:
"Lino Points are not publicly listed. We have no plans on listing ERC-20 Lino at this time. More information about listing will be provided closer to mainnet."

"I am sorry that I am not allowed to comment too much about anything related to coin listing. But the Lino blockchain overview on our web explained already the annual increase rate of newly minted cannot go above 6.5% by design."
Ethereum made a new local high yesterday at around 182 USD level.
Supported by this funny video from EDCON with Vitalik going viral:
https://twitter.com/drwasho/status/1116131719340417025

As always, visit SANbase to explore these and other trends in more detail!
Assets from this insight
Multi-collateral DAI
DAI

Ethereum
ETH