Top Social Gainers for Wednesday, June 12th, 2019
Here are latest and biggest developing stories in crypto based on Santiment's data.
Storj (170+ new mentions in past 48 hrs):
Looks like we've got an early winner for the least organic pump in the month of June. The coin's 5-minute candles for the past 24 hours tell it all:
Storj spiked over 22.3% between 6pm and 6:05pm UTC on Tuesday, or a total of 33.7% in 20-minutes time, before retracing back through a series of increasingly weak bounces.
As expected, there was no obvious reason for the pump, with zero project announcements, notable news or even spicy rumors to support the rally. This, of course, has done little to stop Telegram traders from riding the Storj moon train:
Go go storj 6100 today
Storj moon again
Storj getting ready for another leg up keep eyes on it, open target
Buy storj gonna moon again
Storj will cross 1$
Seems like some believe that Storj pumps tend to come in pairs, and are waiting for the other shoe to drop:
For the time being, however, Storj continues on a decidedly downward trend after the Tuesday pump, currently sitting at -6.60% for the day:
But hey, everything can change in 5 minutes anyway, right?
Looks like Binance AMA pumps are back. This time, it was Waltonchain (WTC) that found itself on the receiving end of a quick 4.14% spike, courtesy of its project AMA hosted on Binance's main Telegram channel: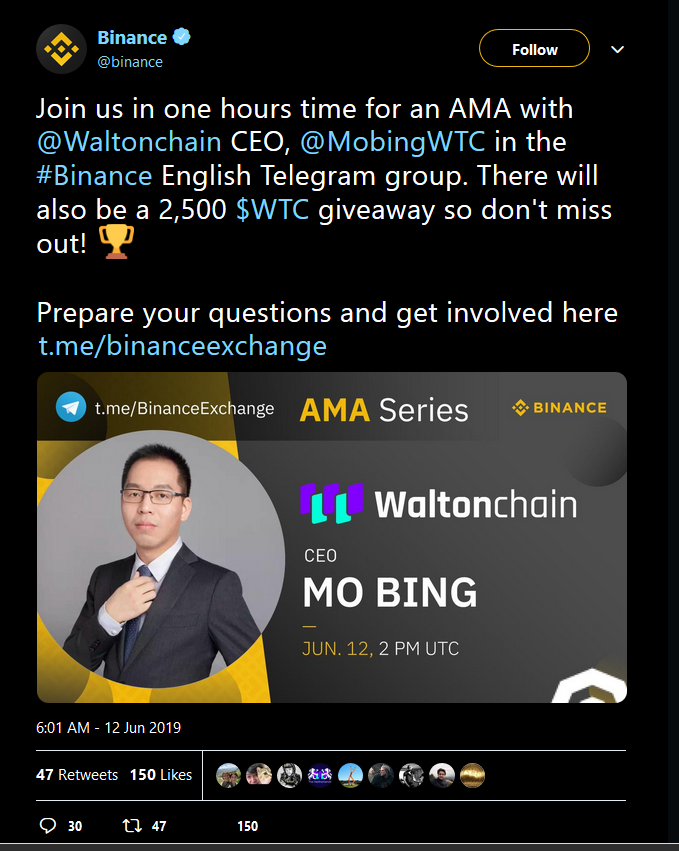 Waltonchain's CEO, Mo Bing, addressed a variety of matters, including the upcoming token swap, marketing the child chains, as well as KIRINMINER an in-house ASIC recently built by the WTC team. 2,500 WTC (~$5375 based on its current price) was also given away during the AMA session.
This is far from the first pump prompted by a project's AMA on Binance. We've covered several similar events in the past, including Enjin, Wabi and Holo, to name a few.
Similar to Wabi in particular, the spike proved to be rather short lived, as WTC's been trending downwards since, and is already down 2.63% for the past 24 hours.
Still, as WTC's price appears to mirror some of that of previous AMA participants (if only for a moment) it will be curious to see which coin Binance will choose to pump...ahem, interview next. Watch this space.
Ada (410+ new mentions in last 24 hrs):
Leading the big-cap breakouts over the last few days, Cardano gained an impressive 22.6% since its local bottom late on June 9th. The coin has recorded 4 green day candles in a row, and is now aiming to retest the $0.096 and $0.098 resistance levels, respectively.
And while there's no 'official' reason for the 4-day rally, many are seeing two main culprits: 1. The much-anticipated Shelley testnet is due to launch this Saturday, June 15th, which seems the most reasonable explanation for ADA's strong performance as of late.
Shelley is hoped to, according to one IOHK developer, "bring full decentralization to Cardano, moving beyond the federated epoch and handing control of the ledger over to the community via stake pools."
Some on Twitter are very much banking on the potential significance of the Shelley update:
2. Rumours of Coinbase adding ADA-enabled pairs to the platform also might have added fuel to the Shelley fire. Some have been touting the Coinbase listing for a while now as reason to turn long on Cardano:
With the latest price action reinvigorating the rumours:
Whatever the reason behind its rally, the crowd seems fairly bullish about ADA's short-term action, as people on Telegram will tell you:
ADA ✈️✈️✈️✈️✈️✈️✈️
Buy ADA Buy ada
sell vechain buy ADA
Ada to the fucking moon
And while reddit's been a bit more reserved, the bullish sentiment is gaining some steam:
As always, head over to our Social Trends page for the latest updates.
Assets from this insight
Storj
STORJ

Cardano
ADA
Waltonchain
WTC