Top Social Gainers for Wednesday, February 20th, 2019
Here are today's biggest emerging stories in crypto, based on Santiment's data:
There's a number of repeat words from yesterday on today's list, including ETH/Ethereum, Stratis, Afri and Fomo - they're all still trending for the same reasons, which you can find in our yesterday's analysis.
Here we'll focus on the new additions to today's list of Top Social Gainers in crypto, starting with:
Eos (500+ new mentions in the last 24 hours)
EOS continues to surge today despite mounting concerns by the platform's community.
The coin rallied to a 4-month high $3.89 around noon CET, as most other top 10 projects faced sturdy resistance.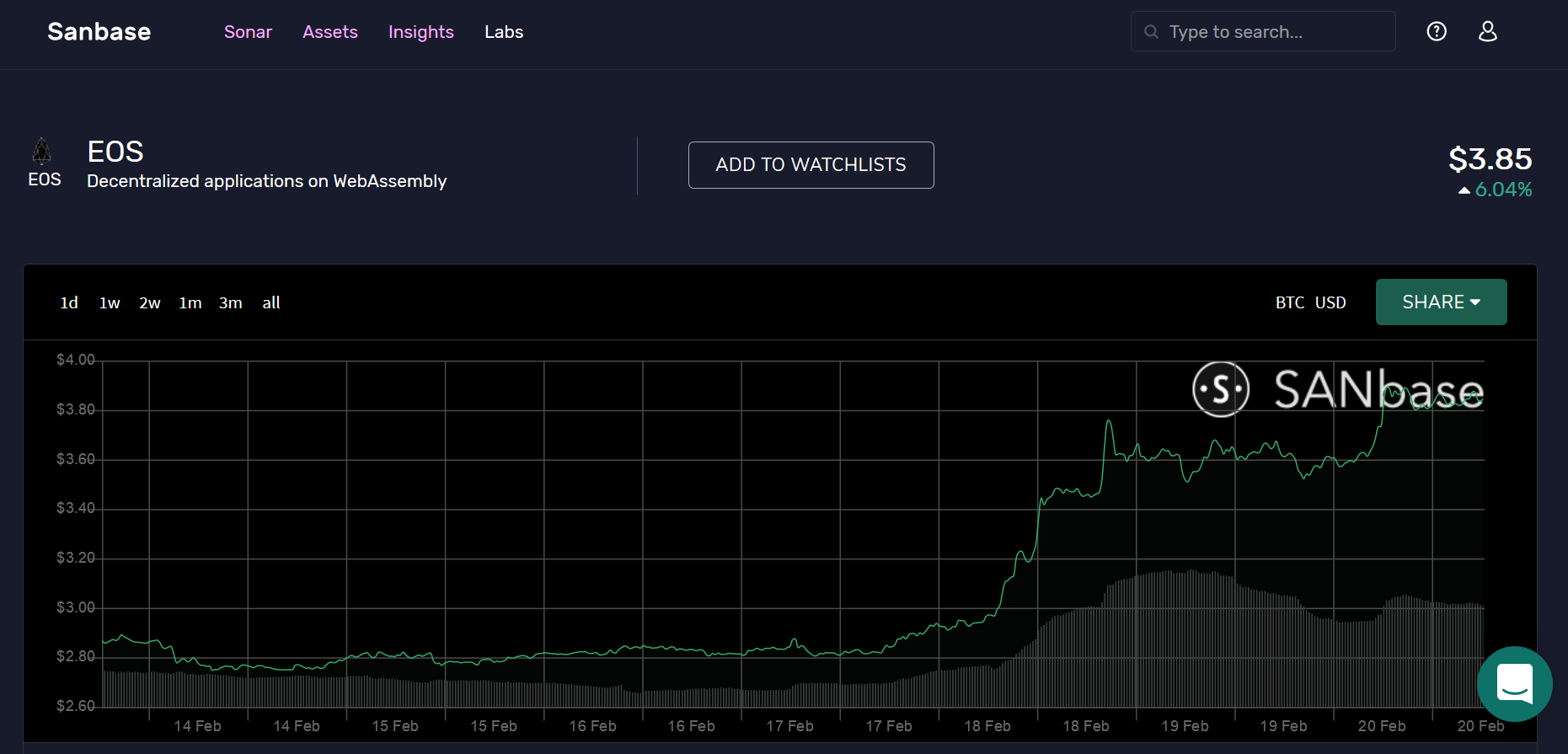 Even so, the platform's community is growing restless about product delays and a perceived lack of tangible results.
Brendan Blumer, the CEO of Block.One recently pleaded for patience on Telegram, saying that "great things take time", and calling the community expectations unrealistic.
Bnb/Dex (800+ combined new mentions in the last 24 hours)
Binance launched its much-anticipated Binance Chain Testnet today, which will power the Binance Dex.
The exchange also launched a Blockchain explorer for its Testnet, where users will be able to see the trx history, participate as individual nodes and hold their own private keys.
Binance Coin (BNB), currently an ERC20 token, will be migrated to Binance Chain to become the native asset once the mainnet is ready.
In light of the news, BNB surged to a 4-month high $11.19 earlier today; it's currently up 2.03% for the last 24 hours.
Boron (40+ new mentions in the last 24 hours)
The Monero community's trying to come up with a name for the new 0.14 project release.
Each Monero release bears the name of an element and a celestial object. This time, the element is Boron, but the celestial body is up for grabs.
Top current proposals include Boron Beehive, Boron Bears Paw (??) and Boron Butterfly. Somebody suggested Monero McMoneroface, which is really the only correct answer.
As always, visit SANbase Sonar to explore these and other developing stories in more detail!
Assets from this insight