Top Social Gainers for Wednesday, April 24th, 2019
Here are today's biggest developing stories in crypto based on Santiment's data: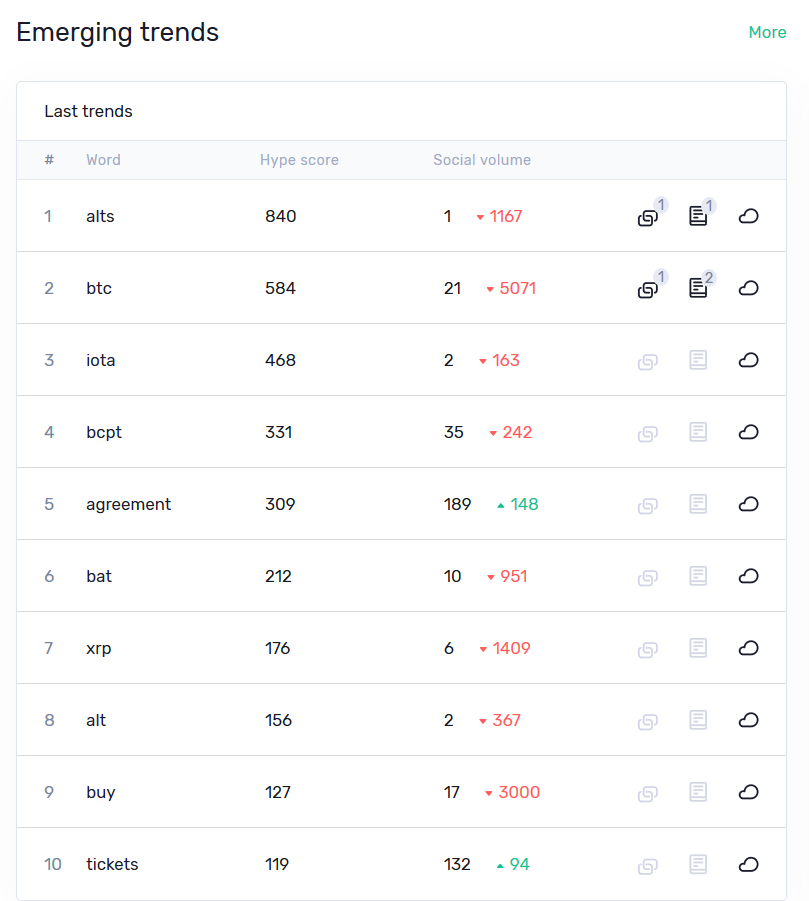 It's been a red 24-hour candle for coins across the board, but IOTA has been hit particularly hard.
The asset is currently minus 4.2% for the day, but that is just the latest leg of a weeks-long downtrend. In fact, IOTA has lost over 9% of its value over the last week, and a massive 18.2% in the past 14 days alone.
Today's nosedive has sparked a surge in IOTA-related chatter on social media, with over 360 new mentions of the coins recorded by our Social Trends tool over the last 48 hours.
And yet, despite the prolonged drop-off, the project still seems to have the crowd on its side:
Be it shilling or legitimate optimism, much of the recent IOTA sentiment seems to have remained positive, regardless of the price action. In fact, it seems some on reddit and telegram even see today's market plunge as an opportune time to stock up on some MIOTA:
Even some 'crypto news sites' have boarded the MIOTA shill train:
That said, the coin's price woes aren't the only reason it's trending today. IOTA's cofounder, Dominik Scheiner, recently did an interview with beincrypto, in which it called Tron 'a copycat' which lacks 'any concrete business value that they add apart from pumping the price.'
As it usually happens, Scheiner's quote found its way to r/cryptocurrency, where the community debated its merits and value-weighed the two projects:
You can check out the full discussion in the original thread.
Blockmason Credit Protocol becomes the latest project to migrate to Binance Chain, prompting a rollercoaster price action over the last 48 hours.
"As a developer of base-layer blockchain technologies" notes the project in their announcement, "the Blockmason team is always looking for ways to expand the usability of our innovations. Launching BCPT on Binance Chain allows us to explore a new blockchain venue, assess the potential and suitability of cross-blockchain Credit Protocol transaction recording as well as the scaling of transaction capacity beyond what is currently capable on Ethereum."
The coin gained over 35% in a few hours following the announcement, eventually ballooning to a 6-month high $0.082. The news rally proved to be extremely short-lived, however, as BCPT soon headed south along with most of the market. It's currently down 15.3% for the day, although the price change is clearly exacerbated by the recent uptrend.
As a result of both the migration and the chaotic price action, the 'BCPT' mentions on social media have also hit a local high, with over 310 new coin mentions recorded by the Social Trends tool in the last 2 days.
Much of Telegram's sentiment about BCPT swayed with its price action. As expected, the crowd reaction quickly turned ugly following the retraction:
Things are not looking much better for the project on reddit either. As one r/cryptocurrency user noted:
"Unfortunately, BCPT is a s#!tcoin. Sorry you had to find out this way."
As expected, most of the coins migrating to CZ's new chain received an immediate price boost, the latest two being BCPT and Gifto (GTO), which also exhibited very similar price action since the announcement:
Seems like the 'Binance Chain pumps' are in full effect.
The lottery ticket claim for the upcoming Matic Network (MATIC) token on Binance Launchpad has opened today, and it has gone...less than swimmingly.
In case you missed it, Binance recently abandoned the first-come-first-serve model they implemented for their first three IEOs (BTT, FET and CELR) after massive server issues and an avalanche of customer complaints. For example, out of about 35k people that attempted to partake in the CELR token sale, less than 10% were able to actually purchase the coin.
As a result, Binance has since shifted to a lottery system for all future IEOs, available to those hodling BNB for a period of time and complying with additional requirements, such as signing the Token Purchase Agreement.
Today, users that HODLed at least 50 BNB for the past 20 days can check their eligibility and the amount of lottery tickets that they can claim for the upcoming MATIC IEO. However, as with the 3 previous token sales, the Binance telegram group has been inundated with complaints for most of the day:
"I cannot claim the tickets. It says "Sign the agreement" Where to sign? On launchpad itself it says You have already completed your account verification"
Many IEO hopefuls seem to be confused about the Token Purchase Agreement in particular, the signing of which has also closed today. Some are not sure if they've signed the agreement at all, while others appear to be hopelessly overdue:
Others still have criticized what they deem a troubling lack of clarity and information, preventing them from complying with the IEO requirements:
Those that got past the Agreement issues were also confused about claiming the actual lottery tickets:
As a result, we've seen a surge of mentions of 'agreement' and 'tickets' on crypto social media, with more than 310 combined mentions for the past 24 hrs.
While the lottery system is still likely to improve on some of the shortfalls of previous Binance-hosted IEOs, that is hardly a difficult ask. Even so, the new system seems to come with its own share of built-in deficiencies and customer frustration. Will be interesting to see how CZ responds this time around.
Brave Ads are finally live.
Starting today, the users of the Brave browser will be able to opt-into "privacy-preserving" ads and begin earning Brave Rewards. These users will receive 70% of the ad revenue share as a reward for their attention, which they will also be able to "auto-contribute" to publishers under default settings.
Brave has been the talk of the crypto town recently, due to last week's launch of Brave Rewards on Android, as well as the (so far uncorroborated) Facebook interest rumours. This latest news has already rippled through major crypto subreddits:
As a result, BAT has also seen a massive spike in social chatter, with over 960 new 'BAT' mentions recorded on the Social Trends tool over the past 24 hours:
And while the coin is currently down 4.95% for the day, this is likely due to a market-wide slump than anything project-specific. In fact, BAT has been on a tear lately, taking full advantage of April's bull run and then same. At the moment, Brave's native asset has gained 102.2% over the last month, and almost double that in the past 60 days.
Analyzing the recent BAT-related chatter, it seems that the project's recent efforts have earned them a medley of new fans - and prospective users. On Telegram, people are trying to figure out the actual mechanism for earning BAT. Matter of fact, I don't think I've ever seen anyone this excited about watching ads!
Similar questions have been posited on reddit threads about the announcement as well:
And while it's still got ways to go before gaining mainstream adoption, the initial response sure seems to validate Brave's business proposition.
It will be very interesting to see how the launch of Brave Ads impacts BAT's on-chain activity going forward. The token's daily active addresses (and new network addresses) have been on a steady incline over the past 3 months, and the price loyally followed:
Can Brave Ads help prolong and sustain this upward momentum - both in price and BAT's on-chain action? Watch this space.
P.S. there are several repeat words on today's list from yesterday, including BTC and 'alts' - you can read why they're trending here!
Assets from this insight
IOTA
MIOTA
Basic Attention Token
BAT