Top Social Gainers for Tuesday, March 19th, 2019
Here are today's biggest developing stories in crypto based on Santiment's data:
Celer/Celr (710+ new mentions in last 24hrs)
The much-anticipated Celer token sale (hosted on the Binance Launchpad) has completed earlier today in 17 minutes and 35 seconds.
Over 597M CELR tokens were distributed, at an initial price of 0.000434 BNB.
It's also notable that BNB plunged to a 3-day low $15.28 right as the token sale finished.
Refresh/Captcha (260+ combined new mentions in last 24hrs)
The Celer sale experienced similar technical issues that plagued the BTT and FET token offerings (both also hosted on the Binance Launchpad).
Some report being logged out following a mandatory refresh, while others complained about the captcha being entirely unreadable or not working on first try.
In the end, out of 39003 people that tried to participate, only 3129 were able to buy some CELR.
Xlm/Stellar/IBM (410+ combined new mentions in last 24hrs)
IBM announces the launch of World Wire - an IBM payment network that uses the Stellar public blockchain - in "more than 72 countries and 47 currencies".
Per IBM, six international banks have already agreed to launch their own stablecoins on the network.
Aside from issuing their own tokens, World Wire allows banks to use XLM as a "bridge currency", when it is difficult to trade one type of fiat for another.
XLM is currently up 5% for the day, as some wonder what the IBM - XLM partnership may mean for Ripple:
Tfuel (190+ new mentions in last 24hrs)
Binance completes the Tfuel airdrop to all users holding THETA, at a ratio of 1 THETA = 5 TFUEL.
Theta's mainnet has launched 4 days ago, with most chatter revolving around Theta Fuel (TFUEL), the project's version of gas.
Tfuel has yet to be listed on any big exchanges, which has gotten the crowd a bit giddy in the past 24hrs.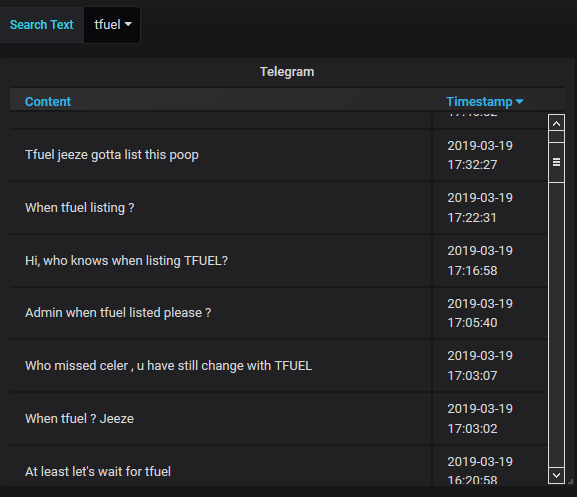 Btt (120+ new mentions in last 24hrs)
BitTorrent's coin hit a 3-week high 21 satoshi yesterday, before losing most of that momentum throughout the past 24hrs.
As always in these situations, there's been an influx of semi-legible technical analysis of the BTT token, with some pointing to an auspicious 'golden cross', a bullish Harami candle etc and other chart formations.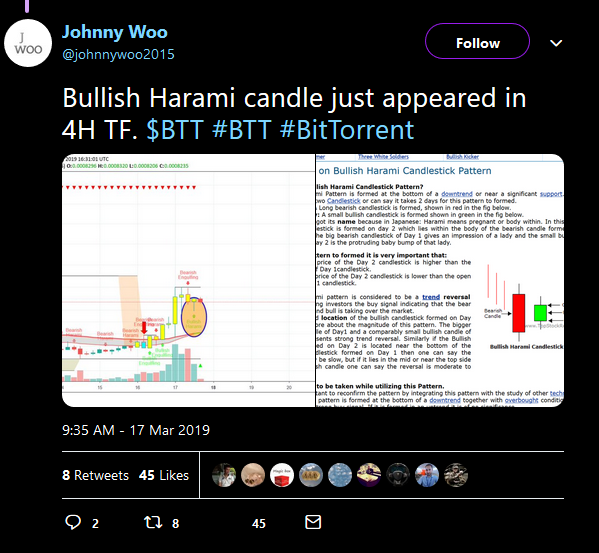 Harami or not, BTT is currently just about breaking even for the day.
As always, visit SANbase to explore these and other trends in more detail!
Assets from this insight
Stellar
XLM
Theta
THETA
Binance Coin
BNB