Top Social Gainers for Tuesday, May 14th, 2019
Here are Tuesday's biggest developing stories in crypto based on Santiment's data:
The latest of Binance IEO progeny, MATIC is finally showing signs of life after effectively trading sideways ever since the token sale.
The coin has gained more than 185% over the last 4 days, hitting an all-time-high $0.01097 earlier today before quickly retracing south.
While no one's quite sure about the reason for the rally, some see it as a delayed reaction to Coinbase Ventures being announced as a seed investor in the project:
To aid the pump, however, some have taken to spreading rumors of additional MATIC partnerships with a medley of financial juggernauts:
As is perhaps expected, the main Binance telegram group has been inundated with MATIC-related shilling for most of the day, predicting this to be only the first leg of a much larger rally for the coin:
Meanwhile on Reddit, not everyone is boarding the MATIC hype train. A number of users attribute the rally to a classic P&D scheme rather than anything project-related:
MATIC's latest price action does seem to at least lend some credence to a pump and dump theory. The coin has dropped more than 22% over the last 8 hours, and is currently looking to consolidate at around 106 Satoshi.
Still, some remain optimistic about the MATIC's ability to bounce back:
It's been a day of 'told you so's for the XRP army, as the third biggest crypto asset spiked over 20% after Coinbase opened up XRP trading for New York residents.
Coinbase initially added XRP support for its retail platforms in February of this year, but New York and U.K. residents were not previously included.
That said, not everyone is convinced that the rally was prompted by the Coinbase announcement, and instead point to more general, market-wide trends:
Causes aside, the crowd was split on the sustainability of XRP's uptrend. While there was lots of bullish sentiment across social media channels:
...some veteran XRP enthusiasts know they have been burned before:
After hitting an 8-month high $0.42 earlier today, Ripple met some sturdy resistance and has lost over 5% since. However, not everyone was too worried about the retrace:
Meanwhile, following rumours of Ebay potentially offering crypto payments in the future, some XRP fans wondered if their coin could be of service: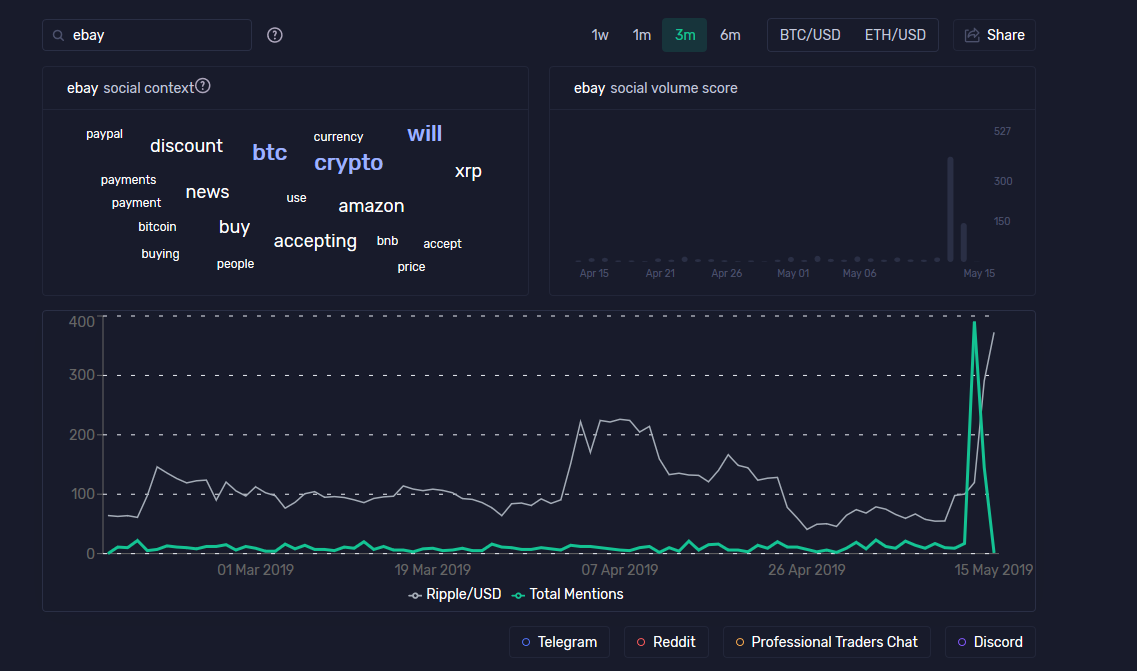 Looks like eBay ain't getting into crypto after all. The rumors started yesterday in after a few tweets showing the e-merchant's ads from the crypto conference Consensus, currently being held in New York.
"Virtual currency. It's happening on Ebay" read one conference banner, prompting community-wide speculation about the company's future involvement in the market.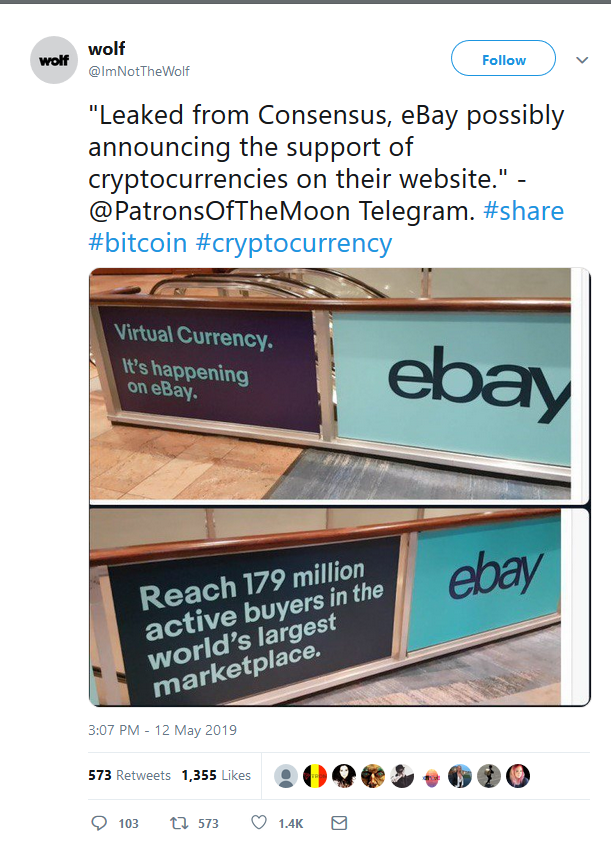 Judging by the latest reports, however, t'was all a big misunderstanding. According to several crypto 'news sites', the company has since clarified that the ads were mainly referencing the fact that eBay offers a variety of crypto-related items for sale, including specialized mining equipment.
Or, as one Twitter user put it: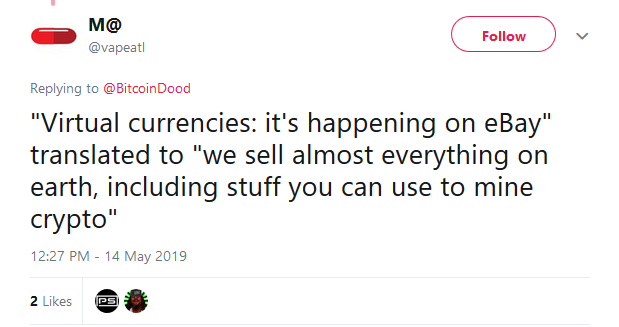 Just an fyi - despite the reports, I still haven't seen an official retraction from eBay so far. Not saying that it's not true, just that the recently-reported denials included no official source.
Assuming it's true, however, not everyone is buying eBay's retraction. According to some, the e-commerce giant wouldn't be buying up ad real estate at one of crypto's biggest conferences if it wasn't in fact planning a move:
One thing's for sure - if it does turn out the Consensus banners were just promo for mining equipment on ebay, the company really ought to consider hiring better copywriters in the future.
After a few false alarms in the past, Bakkt looks ready to launch its Bitcoin futures contract.
According to the announcement, the Intercontinental Exchange (ICE)-backed company will be launching its physically-backed futures contract in June, which will be offered as both a daily settlement future and as monthly futures.
The crowd reaction to the news was mixed; while some deemed it decisively bullish:
...and even pinned BTC's latest price action on the Bakkt announcement:
...others pointed to the company's history of breaking promises and deadlines when it came to BTC futures, and recommended people don't hold their breath:
Jake Chervinsky, a former litigator and popular crypto pundit, also seems to share that sentiment:
Will you soon be able to pay with Bitcoin at Whole Foods, Office Depot and Gamestop? That seems to be the vision behind Flexa, a payments startup which just unveiled an app where consumers can spend their crypto at various major American retailers.
The app, dubbed Spedn, is already live and will aim to facilitate transactions in three steps:
Add crypto to the Spedn wallet
Tap a supported brand
Scan a code
In realization of this project, Flexa has partnered with the Winklevoss-founded Gemini exchange, to ensure Spedn wallets through the exchange's infrastructure.
At the moment, Spedn purchases can be made using bitcoin, ether, bitcoin cash as well as the gemini stablecoin, though the merchants receive fiat in the end.
While the news was relatively well received by the crypto community at large, some in the BCH subreddit found Flexa's terms and conditions far too limiting:
And while r/btc was debating whether this was actually good for BCH, other subreddits were already trying to get in on the action, including Nano:
LTC:
...and Dash, to name a few:
Meanwhile, some in the OMG community see Flexa/Spedn as another direct competitor to their favorite project:
As always, head over to our Social Trends page for the latest updates!
Assets from this insight
Matic Network
MATIC

Ripple
XRP