Top Social Gainers for Tuesday, March 26th, 2019
Here are today's biggest developing stories in crypto based on Santiment's data:
Seems like not a week can go by lately without QLC pumping to record highs. The coin reached a 5-month high 1188 Satoshi amid - as usual - no news or project announcements.
The QLC mainnet is still set to launch on March 31st, which is what many are seeing as the cause of the rally.
There have been (totally unconfirmed) telegram rumours today of upcoming partnerships with the likes of Alibaba and Huawei, and whispers of "more announcements" to happen pre-mainnet launch.
Some QLC fans are also tweeting at Binance, asking if it will support the upcoming QLC token swap, all in hopes of prolonging the rally.
Finally, here's a highly scientific poll on where QLC goes from here:
r/cryptocurrency feeling very meme-y today, as they parody one of their own community members.
u_VictorCobra is a technical analyst and an active member of several crypto subreddits, that always signs his posts with "-Victor Cobra".
That was enough meme material for r/cc, as they mimicked his signature in droves today, and even created lore about the user:
-"Bullish or bearish on Victor Cobra?"
-"We've reached peak victor cobra on the daily meme index"
-"Who the [email protected] is Victor Cobra?" "Probably Satoshi"
Even the 'legend' him/herself dropped by:
The great ProgPow debate continues on r/ethereum, as the community still weighs the merits of a proposed change to the network's mining algorithm.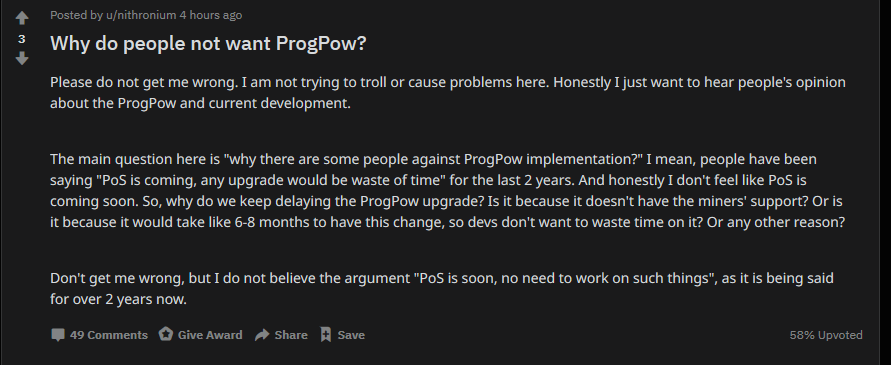 The goal of ProgPow is to minimize the role of ASICs on Ethereum, but not everyone sees it as that black and white.
One user listed 11 reasons why he disagrees with the upgrade, while some simply consider it pointless:
Overall, it seems that the ProgPow opponents have a variety of issues with the upgrade, from the way the decision was made, to the purported problem that it aims to solve. It's definitely the most divisive issue in the Ethereum community at this moment.
A quick P&D for KNC, as the coin leapt by 10.7% before crashing back down - all in a matter of half a day.
The reason for the price action remains unclear, tho it could have at least partly to do with Kyber Swap recently launching an iOS app.
Nonetheless, it's interesting to see the crowd reaction on Telegram and Discord during and after pump.
Pump:
"Im gonna sell my evx for knc. Sorry guys"
"imagine not buying KNC"
"Celer is still dumping. Im going into knc"
Dump:
"Lol told you to sell in time for knc😂😂😂"
"you get rekt on knc"
"Sold all my knc back to celer😂😂😂😂"
P.S. there are several repeat words from yesterday on today's list, including EVX, Celer, REN, EOS and BTS - they're trending for the reasons we've covered in yesterday's analysis.
As always, visit SANbase to explore these and other trends in more detail!
Assets from this insight