Top Social Gainers for Tuesday, June 11th, 2019
Here are latest and biggest developing stories in crypto based on Santiment's data.
The great Donut experiment of r/ethtrader seems to be imploding.
One of crypto's biggest subreddits is debating whether to roll back their doughy, 6-month old governance mechanism - donuts.
If you're not up to date on autonomous governance of crypto social media channels, here's how r/ethtrader describes their Donuts:
"Donuts are a form of community points that are (currently) exclusive to the r/ethtrader subreddit. You can think of them as similar to Reddit karma, except exclusively representing contributions on r/ethtrader, rather than all of Reddit."
"They have a few uses. Currently they include tipping other users' posts and comments, adding weight to your votes in governance polls, buying limited-edition subreddit badges, and buying the [subreddit's] banner [...]. You can also turn any amount of your Reddit Donuts into an ERC-20 cryptocurrency token at a 1:1 rate, and vice versa."
And while that might have been the case at the start, the Donut use cases have since expanded and evolved. There's now even a donut-based Community Fund, used to - among other things - compensate one of the subreddit's own, u_carlslarson, for his work on developing a Donut bridge:
When it was first implemented, even Vitalik himself praised Donuts as an important experiment in online community governance, tho he did advise caution about what it might evolve into. Judging by the recent crowd sentiment, however, that experiment is flying off the rails - and quick.
The latest donut-related drama seems to have originated from two day-old threads by DCinvestor (a popular member of r/ethtrader), who's asking for a stop to weekly stipends paid out to carlslarson for the Donut bridge development:
This idea quickly metastasized into general anti-donut sentiment, and calls to remove the embattled governance mechanism altogether:
From there, chaos ensued. An avalanche of impassioned arguments for banning donuts of - at least seemingly - varying degrees of legitimacy flooded the subreddit. Some claim the donuts went from a promising governance mechanism to a for-profit tool that eroded the quality of r/ethtrader's discussions over time:
That they incentivize spam and promote mass-appeal content:
That they are inherently ripe for abuse and malintent:
Just like all coin-based governance systems:
That they've been doomed to fail from the get-go, due to unequal resource allocation:
Especially to r/ethtrader mods:
That they don't even work for all subreddit users:
That they're analogous to China's now-infamous social credit scores:
And that, even after all this hullabaloo - they still remain a mystery for a lot of users:
r/ethtrader's governance woes have once again attracted Vitalik's attention, who posited that a purely token-based governance mechanism of public resources was doomed to fail sooner or later:
Whether they survive the latest pitchforking or not, donuts have already inspired some quality new entries to the real governance tool of all crypto subreddits - memes:
CCN (90+ new mentions in last 24 hrs):
In a surprise announcement, one of crypto's biggest news sites CCN is shutting down after the latest Google Core update deleted over 71% of its mobile traffic overnight.
According to the release, Google's June 2019 Core Update - a broad-stroke adjustment to Google's search algorithm - rolled out on June 3rd and almost instantly had a massive effect on CCN's visibility on the world's biggest search engine. The site claims it's lost over 90% of its daily revenue since:
"This change by Google is directly having a significant impact on us as a small independent news organization that has never received any outside funding. The money we make made on advertisements was directly funneled back into growing the team."
The announcement goes on to make various points, noting that the Core Update seems to have adversely affected many of crypto's biggest news outlets (including Cointelegraph and U.today) and 'indirectly' accusing Google of liberal bias:
"Many of our political Op-Eds have been "Pro-Trump." Remember: We are mainly a crypto centered news site. [...] While I won't speculate whether or not this might have affected our site, I would certainly hope Google isn't actively suppressing journalism."
CCN will be closing its doors and 'moving the entire team over to HVY.com' for the time being.
The community reaction to the news was mixed to say the least. Some blamed CCN for poor money management if they had to pack up and leave as soon as trouble came knocking:
Or that they should've focused on diversifying its revenue streams:
Others were wading in schadenfreude, calling CCN an alt-right and censor-happy platform:
...accusing the site of propagating fake news:
...or bashing CCN for being generally unreliable or clickbait dependent:
That said, not everyone welcomed the CCN announcement. Even non-fans of the site saw issue with the untested power of a centralized entity that gets to unanimously decide what information you're seeing, and which companies live and die:
Some also reiterated CCN's claim that Google is actively suppressing conservative voices:
...and that the Core Update was an attack on all crypto-related information:
Perhaps the best summary of general crowd sentiment news comes to us from u_chatfarm, and his colorful description of the main story stakeholders:
As of now, CCN is still up, tho their main Twitter account has already started retweeting HVY's articles instead: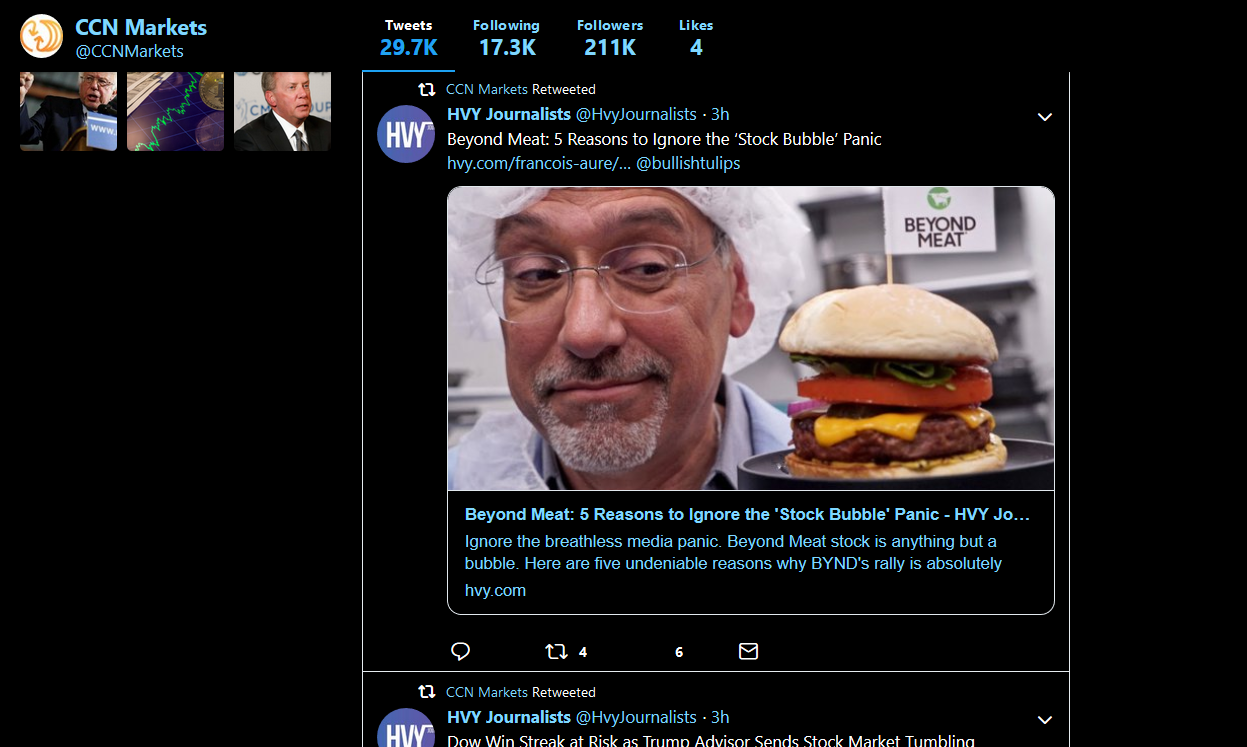 WABI (260+ new mentions in last 24 hrs):
A 20% spike in less than a day has a lot of Telegram and Twitter traders talking about Tael (formerly Wabi).
The coin hit a 2-week high $0.34 yesterday night, before swiftly retracing back to the $0.31 level by Tuesday morning. It has since experienced choppy price action, and is currently down 3.27% for the day:
If you were looking for a straightforward explanation of the rally, you'd be out of luck. There hasn't been any notable project announcements or Tael-related chatter, unless you count Tael participating in Hyperledger's (their parent company) Open Summit as price-moving news:
Pronouncements (or lack thereof) aside, various Twitter TA pundits are - as always - blaming the rally on favorable price and volume indicators:
A few people are also mentioning significant Tael-related news coming out on June 30th:
Which is likely a reference to the project's 2019 roadmap that predicts a number of tweaks and updates made to the platform by the end of Q2:
As always, head over to our Social Trends page for the latest updates.
Assets from this insight
Taelpay
WABI