Top Social Gainers for Tuesday, February 26th, 2019
Here are today's biggest emerging stories in crypto, based on Santiment's data:
Rumours that Samsung S10 might come with the Enjin wallet pre-installed sends ENJ flying to an 8-month high $0.105908
The chatter gained steam after a screenshot was sent to Asia Crypto Today, allegedly showing an implementation of Enjin's wallet on Samsung S10's Blockchain Keystore.
Samsung's recent presentation at the Mobile Business Summit also signaled the new phone's support for the ENJ token.
ENJ is currently up 148% for the week, and 22.4% for the last 24 hrs.
BAT balloons to a 4-month high $0.188357, after the project announces partnership with the TAP Network.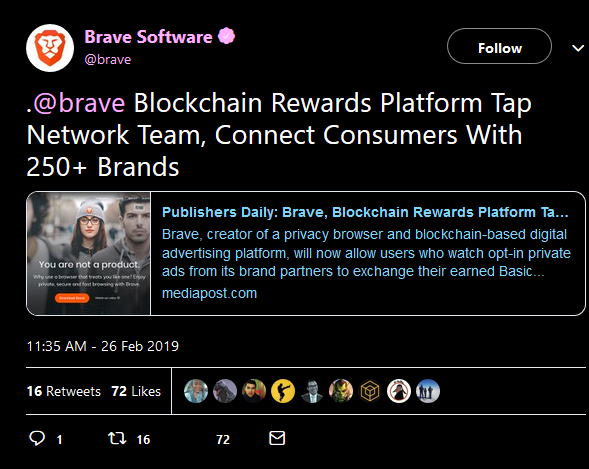 TAP network allows companies to reward consumers directly using blockchain and currently has over 250k 'brand partners', including Paramount Pictures and Red Bull.
Per the announcement, Brave users will be able to redeem earned tokens for hotel stays, restaurant vouchers, as well as gift cards from brands like Amazon and Uber.
XRP finally launched on Coinbase Pro yesterday with three trading pairs: XRP/USD, XRP/EUR and XRP/BTC.
According to Coinbase, XRP support will be available to US, Canada, EU, UK, Singapore and Australia, and may expand in the future.
XRP leapt over 10% following the announcement, but seems to have faltered since. It's currently down 3% for the day.
Samsung speculation in full swing today, as some suggest possible ICON involvement with the new Samsung S10.
The so-far uncorroborated rumours suggest that Samsung may use ICON's Chain ID in their new flagship phone, and may even include support for ICX.
The whispers alone helped ICX jump by over 10% earlier today, with some pretty choppy action since. It's currently up 8.1% for the day
Anticipating new details on Plair's alpha, parts of the VeChain community are swapping their VET for PLA.
Plair describes its vision as "a blockchain-backed platform to play, watch, and talk about gaming." It was the first token sale on the VeChainThor Blockchain, raising $22 million last October.
PLA's been on a steady upward trend recently, gaining 29.3% in the past week, and 2.4% for the day.
As always, visit SANbase to explore these and other trends in more detail!
Assets from this insight