Top Social Gainers for Tuesday, April 2nd, 2019
Here are today's biggest developing stories in crypto based on Santiment's data:
Is this the dawn of a new bull run?
As Bitcoin breaks 4800 for the first time in 2019 and the whole crypto market cap grows by $20B, traders and industry pundits try to figure out where we go from here, and how Bitcoin's price action will affect the rest of the herd.
Shilling abounds as you might expect, tho not everyone is optimistic:
"Long live the King 👑 BTC is back!"
"BTc guarantee rekkkt"
"Alts will moon"
"dump alts push the btc "
"Bullrun 2019 is now official."
"Pending dump incoming"
"Not buying any alts until BTC goes sideways "
"If BTC stays relatively stable for a couple days alts will pop"
One of the biggest winners of this week's alt wave, Dash surged over 13% on the back of the Dash Core Release v.0.14.0.
The privacy coin overtook IOTA and even Monero for a brief moment, before settling in between the two. The rally was met with both hype and stoicism on the project's subreddit:
"Dash's market cap should be at least 10x Monero's right now"
"We need to get back up over Litecoin"
"It doesn't really (market cap) matter and we shouldn't "celebrate" that."
In other Dash-related news, ElectroPay has released its 1st set of crypto keypads with Dash support, and a new Discover Dash app (basically Yelp for Dash merchants) was launched on Android.
Monero balloons after Tokenomy adds XMR/BTC trading pair, gaining a cool 12% in the last 24 hours.
Along with Dash, the two privacy coins recorded the biggest gains of all top 20 crypto assets. That said, the general crowd was split on Monero's most recent uptrend:
"60usd is a joke.. xmr is worth a lot more"
"you know when it's real, when Doge, XMR pumps"
"Can you short XMR anywhere? "
Meanwhile, r/monero appears wholly unshaken by the rally. In fact, the subreddit's busiest thread in the last 24 hrs is...about a substitute mascot for Monero's cat. So far, the Red-Headed Tit appears to be the crowd favorite: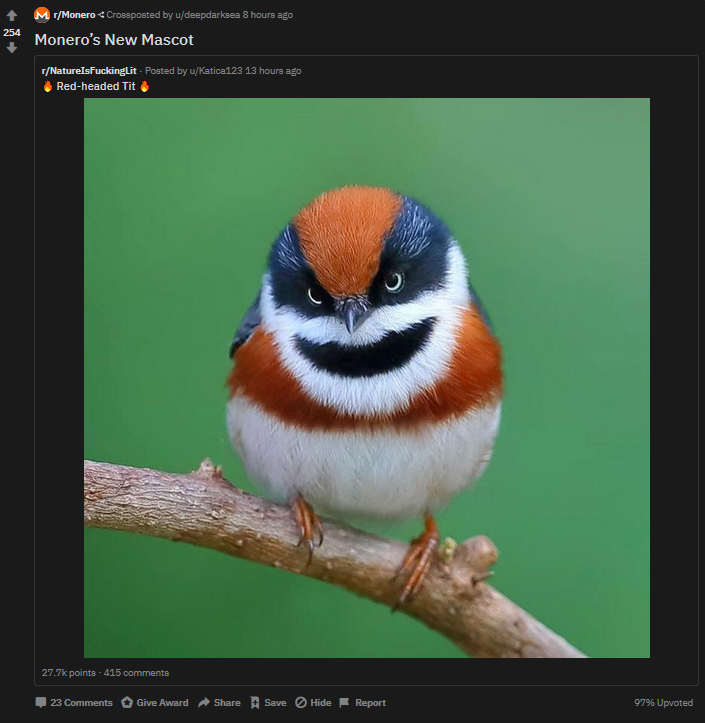 "Good lord, Nano finally woke up."
Nano goes ballistic following Binance's announcement of a NANO/USDT trading pair, spikes 28% in less than a day.
Meanwhile, r/cryptocurrency debates Coinbase (unofficially) siding with XRP as the best choice to send money internationally, by comparing Nano vs Ripple:
"nano settles in under a second, for absolutely no fees.."
"Nano doesn't have the liquidity (yet) to be used for a global banking system."
"April Fool's?😥"
Looks like Binance wasn't ready for the green wave.
The exchange struggled with sudden elevated traffic, as heaps of traders reported service denial, server issues and inability to trade:
"Uh, binance, please work. would like to trade, if you don't mind."
"Is anyone else unable too see prices in the Binance app?"
"That's what real volume does to an exchange lol"
CZ blamed it on "some UI server scaling issues, affecting some users". Judging by some of his recent twitter mentions, that did little to reassure many of his customers.
As always, visit SANbase to explore these and other trends in more detail!
Assets from this insight

Bitcoin
BTC
Dash
DASH
Monero
XMR