Top Social Gainers for Thursday, March 28th, 2019
Here are today's biggest developing stories in crypto based on Santiment's data:
GXchain spikes 15.8% in less than an hour, as the crowd accuses the project of spreading fake news.
Allegedly, a user attempted to bribe an admin on GXS' Telegram with 5 BTC to post fake partnership news on Twitter.
Soon after, the news of partnership with Sichuan Telecom, a regional branch of China Telecom was published on Twitter.
GXchain and some community members claim the 'bribing' was just a misunderstanding/language barrier, and that the news is in fact real.
Another user claims the announcement was posted on Weibo 2 hours before the alleged bribe.
Either way, the coin lost 9.6% since the spike, and has angered the crowd in the process.
"What's going on with MANA this morning?"
Traders confused as Decentraland's coin gains 43.6% in 2 hours, amid no big news or project announcements.
Some blame the rally on a combination of factors, including the project's new bounty challenge, a nearing beta release as well as its last-month partnership with HTC.
Others on Twitter have a more prudent explanation: "Upbit listed $MANA / KRW trading pair. Its the Korean FOMO."
"Can my Korean friends pump mana already, so that I can go sleep... Noway I'm leaving funds on a coin dats is pumping. Never lol."
Brave reveals new details about its recent partnership with the TAP Network, and their upcoming rewards program.
Per the project, Brave users will be given the option to browse through an online catalog of rewards that will include gift cards, hotel discounts and restaurant certificates:
"Users will be able to use both the BAT they've directly loaded into their wallets and the BAT they've earned from viewing Brave Ads for TAP Network rewards and redemptions."
Meanwhile, Brave's CFO Holli Bohren held an AMA on the project's subreddit, answering questions about runway, pricing ads and even her taste in music.
Seems like last week's rumours were true: Ledger Nano S now supports Cardano (ADA) and integrates Yoroi wallet.
Yoroi wallet has been developed by Emurgo, the official commercial arm of Cardano, and is the 1st official companion app to support the Cardano Ledger hardware wallet.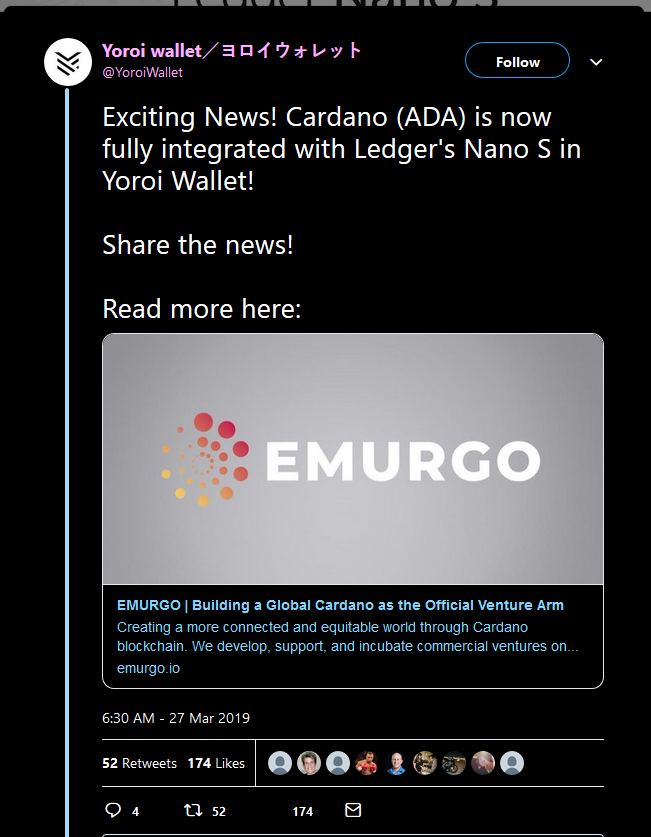 Amid news, there was some added confusion about how to use Ledger Nano S with Yoroi, and occasional concerns about the process' safety.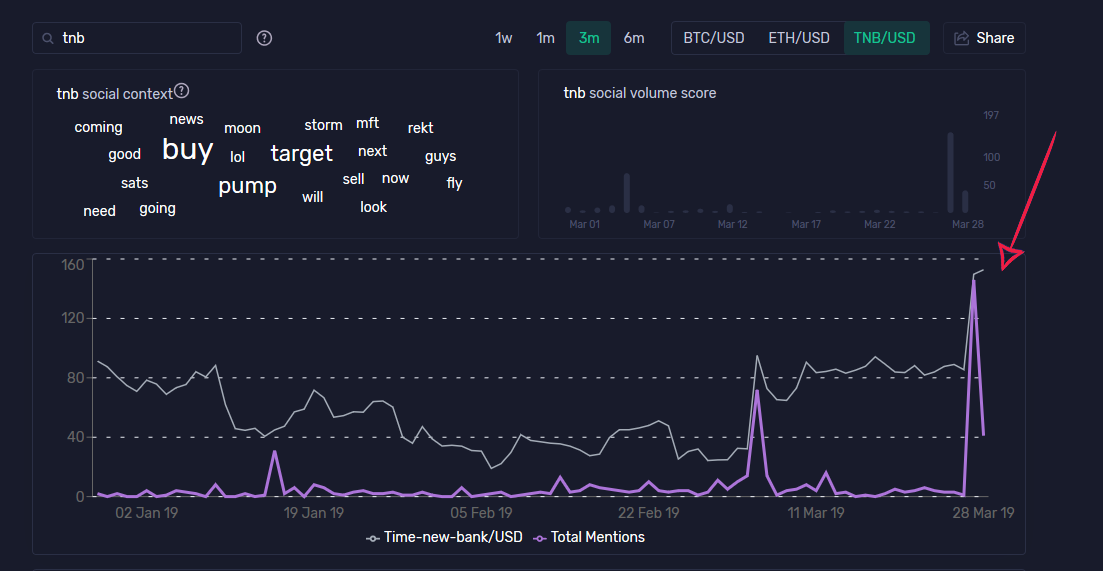 "TNB is on the moon tonight"
Another inexplicable pump, as TNB leaps by over 14% in an hour, following an even larger P&D from the day before.
Zero news or announcements about the project this week. According to our data, 415k TNB (approx. $1.6M) moved wallets today.
There was also a peculiar inflow of 60M TNB to exchange wallets 4 days ago, on March 24th, back when the price was still idle.

Even more interesting, it seems like most of that inflow came from one transfer of 44M TNB to Huobi:
Was someone expecting a price rally? Did they know something others didn't?
We'll keep looking into it. If you have any ideas, let us know!
As always, visit SANbase to explore these and other trends in more detail!
Assets from this insight
Decentraland
MANA

Time New Bank
TNB
Basic Attention Token
BAT