Top Social Gainers for Thursday, April 25th, 2019
Here are today's biggest developing stories in crypto based on Santiment's data:
Blockstream co-founder and Bitcoin Core developer Gregory Maxwell gets accused of reddit sockpuppeting and 'playing both sides' of the CSW debate. An r/btc user recently noticed that Maxwell - known as nullc on reddit, made the exact same comment on a thread as the popular CSW-basher Contrarian_, before deleting it quickly afterwards:
For many on the r/btc subreddit, this was the smoking gun proving that Maxwell is behind both accounts - and possibly a few others. While owning multiple accounts isn't a violation of Reddit's guidelines in itself, sockpuppeting - or the practice of using multiple accounts to support your own postings - is.
Essentially, if one user controls an army of 'plants' who parrot his or her opinions and try to sway the narrative, that clearly undermines the value of the discussion. Digging through both accounts' history, users were then able to find multiple instances where nullc and the Contrarian_ appeared to have 'conversations' amongst each other, now believed by some to be staged:
As a result, calls for both - and other suspicious - accounts to be banned have permeated the r/btc subreddit in the past 24 hours.
This has also prompted a surge in mentions of 'Greg' and 'Contrarian' on crypto social media. According to our Social Trends tool, the two terms have been used over 300 times combined in the last 48 hours.
Some have also accused Maxwell of acting two-faced, as Contrarian_ is a well-known CSW opponent, whereas it was reported that Greg emailed Dr. Wright a few months ago, offering his "discreet assistance": "I believe it would be adverse for interests that concern me if your influence or prominence in BCH were in any way diminished." said Maxwell at the time, "I am not aware of how I could be of aid in repairing this situation, but it seemed to me that it would be prudent to at least offer my discreet assistance."
This whole ordeal has prompted a long debate about Maxwell's potential motives and endgame:
Others, however, have expressed skepticism that the two accounts do indeed belong to the same person:
Not long after, Maxwell himself tuned in (from his known account) to deny the claims:
While the discussion has since scattered and branched out across a dozen different threads, most of the main talking points can be found in the original post. Not a dull day in the BCH community this month.
The New York Attorney General's office has alleged that the cryptocurrency exchange Bitfinex lost about $850 million and tapped into Tether's reserves to pay out customers demanding withdrawals from the exchange.
According to the civil case brought by New York Attorney General Letitia James, Bitfinex delegated over $1 billion in co-mingled client and corporate deposits last year to a Panamanian firm, Crypto Capital Corp:
"Despite the sheer amount of money it handed over, Bitfinex never signed a contract or other agreement with Crypto Capital," the attorney general wrote. Per the suit, by mid- to late-2018, Bitfinex executives started suspecting that Crypto Capital had lost or stolen the money, and they haven't been able to recover roughly $850 million. "None of that has been disclosed to investors."
In its filing, the attorney general says an investigation in the matter has been underway for months, and has requested numerous documents to learn whether New York investors are being exposed to ongoing fraud from Bitfinex and Tether.
In a joint statement, Tether and Bitfinex denied the claims that the funds were lost:
"The New York Attorney General's court filings were written in bad faith and are riddled with false assertions, including as to a purported $850 million 'loss' at Crypto Capital. On the contrary, we have been informed that these Crypto Capital amounts are not lost but have been, in fact, seized and safeguarded. We are and have been actively working to exercise our rights and remedies and get those funds released."
The two companies say they've been fully cooperative with New York prosecutors, calling on the Attorney General to "focus its efforts on trying to aid and support our recovery efforts."
The news sent shockwaves through the market, as Bitcoin plunged by seven percent almost immediately after the announcement. As a result, most crypto assets have been painted red for the past 24 hours.
Due to the lawsuit, various non-Tether stablecoin pairs saw a sudden uptick in price, as Paxos, TrueUSD, USDC and StableUSD were able to trade at as much as 4% premium. On Binance, PAX and USDC have started to account for a relatively large portion of the exchange's daily bitcoin volume.
Meanwhile, the crypto community has been trying to determine the full scale of the issue at hand, and its potential impact on the market. While some are taking a more measured approach, many have already proclaimed the end of the bull market: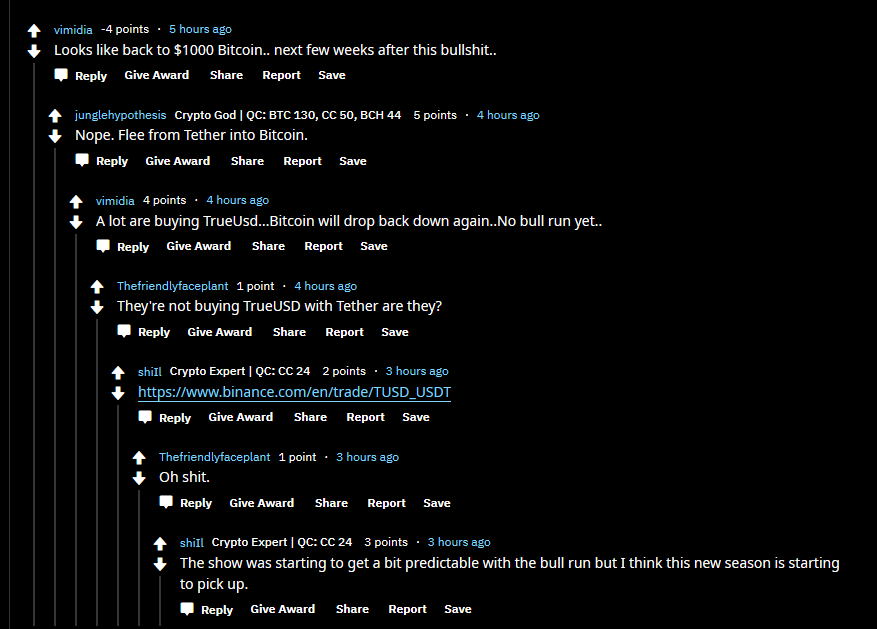 While there's been plenty of FUD to go around, some have also treated the news as a good opportunity to accumulate:
Apart from the suit, much of the talk has been about what this means for Tether and Bitcoin going forward. On that front, two divided fractions are beginning to emerge:
Interestingly, the news has also been embraced by some Tether enthusiasts as proof that the stablecoin is actually backed by real money:
For the time being, Bitcoin has slightly recovered since the initial wallop, and is now back up to $5302, or down 3.35% for the day. The mid and long-term ramifications of the news, however, remain to be seen.
As always, head over to our Social Trends page for the latest updates!
Assets from this insight

Tether
USDT
USD//Coin
USDC