Top Social Gainers for Sunday, March 31st, 2019
Here are today's biggest developing stories in crypto based on Santiment's data:
bithumb ( 523+ mentions in last 48hrs)
Korean exchange Bithumb was hacked over the weekend for around $13 million worth of EOS and in $6 million worth of XRP in what is suspected to be an inside job. This isn't the first time that Bithumb has been hacked. In 2017, the exchange was also hacked for $31 million.
EOS's price gradually slipped as news of the hack started to spread but does not appear have a major impact as price began to recover.
More than 3 million EOS tokens were transferred from Bithumb's EOS hot wallet to the address ifguz3chmamg (created within the week). According to PeckShield, majority of the stolen EOS ended up in EXMO, ChangeNOW, Huobi and KuCoin.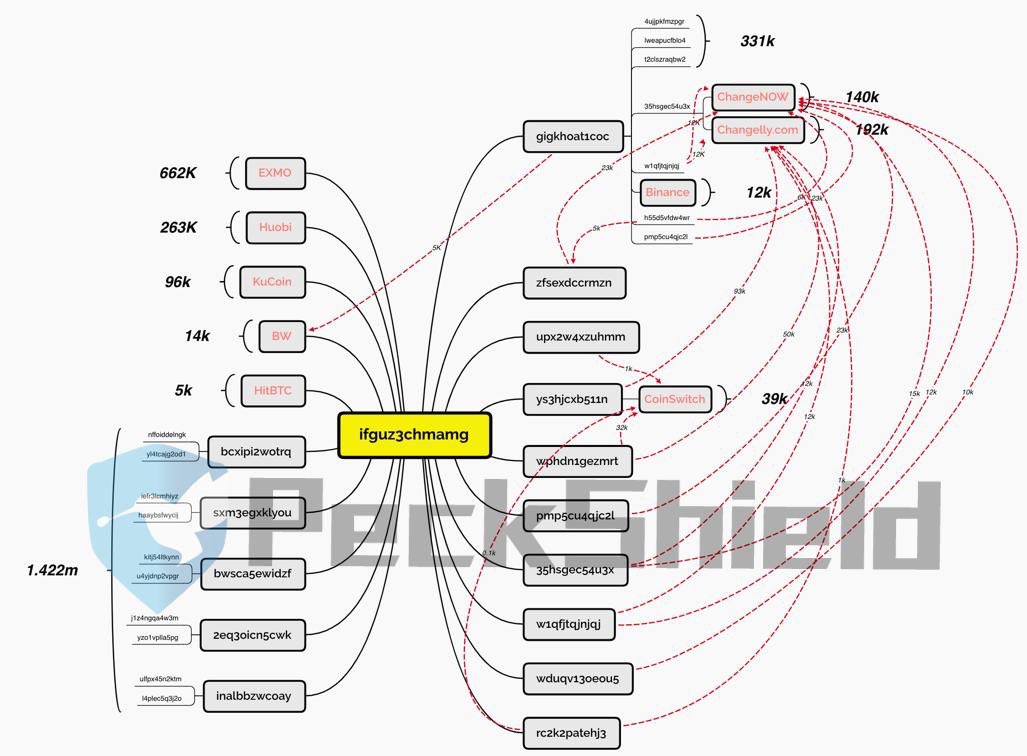 Bithumb suspended its withdrawals and deposits since being alerted of the suspicious transfers and it remains suspended at the time of writing. This eventually saw several tokens trading at a premium at the exchange.
LINK trading at 94% above Binance's price
MTL trading at 161% above Binance's price
PPT trading at 91.7% above Binance's price
Traders were quick to pick up on this arbitrage opportunity, attempting to purchase on Binance and to sell on Bithumb. But they soon found there was no way to take advantage of this opportunity since deposits were suspended. Only those that had funds on it prior maintenance were able to.
mtl (588 new mentions in last 24hrs)
Looks like the rumour mill is very much alive and running. What rumour you ask?
Well, it's the good ol, "Samsung partners with [Insert your token here]". Someone/some group kicked off the rumour that Metal is partnering with Samsung and left it out in the wild.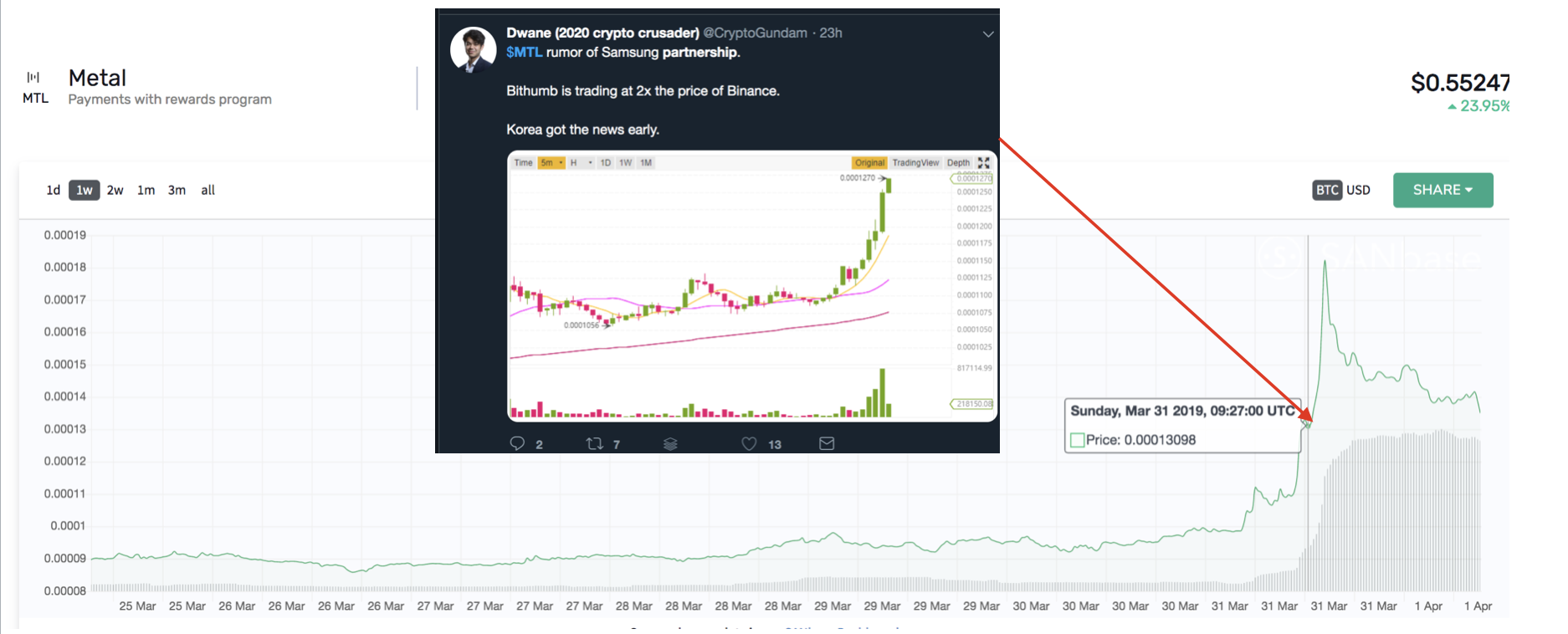 And so the rumour went on as the price continued to rise with the crowd shilling each other to get in. Signal groups even go to the extent of faking google search results to display a fake Samsung press release for MTL.
We also observed a spike in daily active addresses to 510.
Of the 510 active addresses, 175 were deposit addresses.
Of the 510 active addresses, 251 were withdrawal addresses.
While there were more people withdrawing, the amount of MTL (6.567 million) withdrawn was less compared to the amount of MTL (8.309 million) deposited.
This brings the % of MTL supply on exchanges to an all time high of 35.494%. Although, this is largely attributed to the huge deposits that happened on March 12th.
Could it be someone preparing to exit during the recent pump or just a market maker? Either way, the mounting MTL supply on exchanges raises the question, are people mostly using MTL for trading or is it a natural result of their PoPP mechanism?
MTL is rewarded to users for making transactions on MetalPay via PoPP to increase adoption but without strong demand-side incentives, most of the rewards may eventually find their way to the exchanges. That said, adoption of MTL has increased since 2017, with majority of holders in the 1-10 coins and 10-100 coins categories.
Will be interesting to observe in the coming months how the network evolves as adoption grows.
oce
(97 new mentions in last 24hrs)
Oceanex, a cryptocurrency exchange that's part of the Vechain ecosystem has finally listed their own token (OCE) on their exchange on March 31st. The only trading pair available at the moment is OCE/VET.

They previously conducted an ICO in SEP/OCT 2018 and raised $11.3M USD worth in VET. With the ICO Token Price: 1 OCE = 0.00152 USD (0.13800000 VET). Currently, it is trading at 1 OCE = 0.5191 VET (0.0033481 USD). Which makes it around 3.5x ICO price in VET and 2x USD wise. Not too shabby.

OCE holders have much to rejoice as they have been waiting for 5 months since the ICO concluded for a proper listing. Given that OCE is an exchange token, the chance of it being listed on other cryptocurrency exchanges is slim to none.
Prior to the listing, the community was already speculating on it.
Now that it's finally listed, speculators are betting on Oceanex being the next Binance, hoping their lineup of events and development will get them there somehow.
Assets from this insight