Top Social Gainers for Sunday, March 10th, 2019
Here are today's biggest developing stories in crypto based on Santiment's data:
THETA (1030+ new mentions in last 36hrs)
Theta gains 37% in the last 24 hours as the project prepares for its upcoming mainnet launch, set for March 15th.
Binance also recently confirmed support for the Theta mainnet swap (scheduled for March 12th), as well as their role in the distribution of Theta Fuel (TFUEL) to all holders of 10+ THETA coins.
NULS (170+ new mentions in last 36hrs)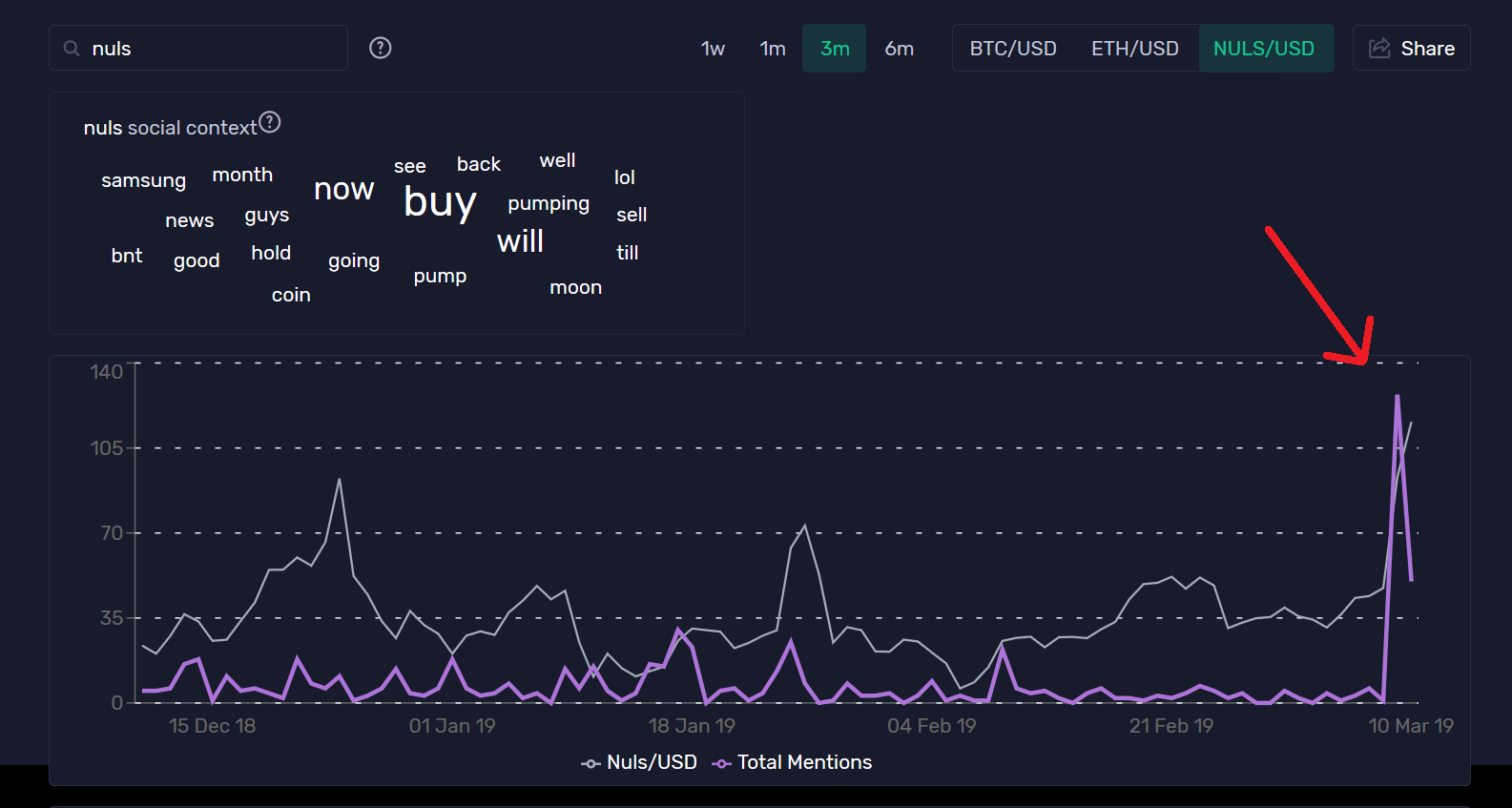 A good ole weekend pump & dump, as NULS improves by over 47% yesterday before taking a plunge.
The NULS community was perplexed by the rally, as it didn't seem supported by any report or project announcement. The coin\s currently down 10.3% for the day.
NXS (180+ new mentions in last 36hrs)
Another curious pump as Nexus (NXS) climbs to a 4-month high $0.48 on the back of today's 37% spike.
While there are no actual news to support the rally, scattered rumours of cooperation between an unnamed crypto project and a space program may have contributed.
ADA (400+ new mentions in last 36hrs)
Cardano's coin had itself a wild weekend, ranging from +10.6% to -4.7% over the last 48 hours.
The project's been back in the news recently with the release of Cardano 1.5 on the testnet, and the growing anticipation around Cardano Shelley's release, which still doesn't have a set date.
Shelley should shift the Cardano blockchain to a fully decentralized network while bringing staking and delegation to the network.
Block (450+ new mentions in last 36hrs)
Few reasons for Block trending today it seems:
1. r/monero celebrates & investigates the first post-fork blocks of its most-recent protocol upgrade.
2. r/bitcoin debates block size after Roger Ver criticizes the popular BTC Lightning Torch and offers a BCH-based alternative.
P.S. There are also several repeat words from yesterday, including ENJ/Enjin, KNC and BNT. You can check out why they're trending in yesterday's insight.
As always, visit SANbase to explore these and other trends in more detail!
Assets from this insight