Top Social Gainers for Saturday, March 9th, 2019
Here are today's biggest developing stories in crypto based on Santiment's data:
Samsung (900+ new mentions in last 36hrs)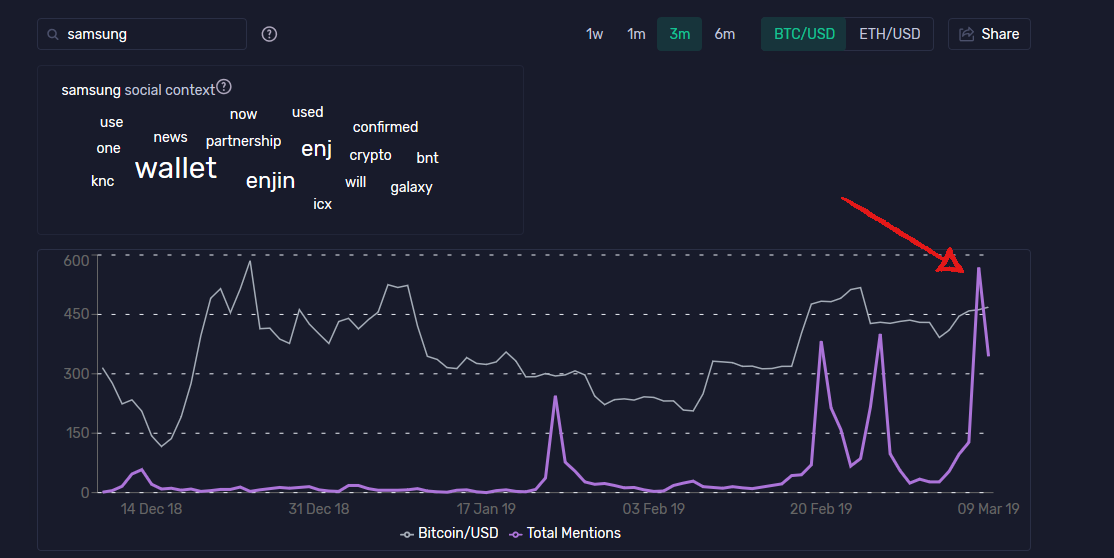 A single Samsung-related rumour seemingly pumps 3 different coins - all of which made our top 10 list today.
The coins in question are:
ENJ/Enjin (2400+ combined new mentions in last 36hrs)
Enjin's VP of marketing confirmed yesterday that they've partnered with Samsung, but declined to provide any specifics.
Some took this as proof that Samsung S10 will come with a built-in Enjin wallet, which remains unconfirmed. Another rumour claims Enjin will not come pre-installed, but will be available on the Galaxy App Store.
Regardless, ENJ has skyrocketed amid rumors, and is currently 501% for 2 weeks, 205% for the last week, and 29.3% for the past 24 hours.
BNT (450+ new mentions in last 36hrs)
Bancor's coin leapt to a 2-month high $0.701, in what may be another, accessory pump to the ENJ rumours.
ENJ is the second most-traded token on Bancor in the last 24hrs, just behind BNT itself.
Some believe ENJ's growth motivated traders to also invest in two of the easiest ways to currently buy ENJ - Bancor and:
KNC (900+ new mentions in last 36hrs)
Seemingly the 3rd beneficiary of the Samsung - ENJ rumours, KNC has gained 53.6% over the last 24 hrs, reaching a 4-month high $0.335 earlier today.
Enjin has previously integrated the Kyber Network to enable in-wallet token swaps, leading many to believe that KNC's rally is primarily driven by this week's ENJ speculation.
ICX (600+ new mentions in last 36hrs)
Icon announces a new token standard, designed for "transparent issuance of tokenized assets and securities".
The new IRC16 standard will include several features to abet regulatory compliance, like verifying if token senders & receivers passed KYC and AML procedures.
Ethereum/Polkadot (80+ new mentions in last 36hrs)
Drama in the r/ethereum subreddit, as Ryan Zurrer (u_rzurrer) is accused of conflict of interests and called to step down as the subreddit moderator.
Among other things, some claim Zurrer tried poaching ETH developers for Polkadot, publicized Ethereum's shortcomings and questioned the future of the platform.
Zurrer lamented the ETH community's "maximalism", saying that "projects can and will deploy in many ecosystems and that is great for the space generally".
Winrar (100+ new mentions in last 36hrs)
A user warns r/bitcoin about a new Winrar or, more broadly, ACE format exploit he thinks will put people's coins in danger.
According to the post, opening the wrong rar file with an unpatched version of Winrar drops a payload to your Windows startup folder, which tries to present itself as teamviewer.
BNB (1100+ new mentions in last 36hrs)
BNB loses ~10% on International Women's Day, becoming the day's biggest loser among the top 10 crypto assets.
As some shouted 'trend reversal', BNB already managed to recover slightly over the last 24 hours, and is currently up 5% for the day.
As always, visit SANbase to explore these and other trends in more detail!
Assets from this insight