Top Social Gainers for Saturday, March 30th, 2019
Here are today's biggest developing stories in crypto based on Santiment's data:
While some are trying to decipher Basic Attention Token's 40% gain over the last 7 days, some parts of the BAT community actually wish the coin remained sideways:
"I was hoping we would continue to fly under the radar [...] but today's breakout will surely bring significant attention that will limit my ability to continue to accumulate quietly and at affordable pricing.
As for the reason behind the rally, most point to a medley of factors:
"Brave Ads are getting closer, BAT/BTC Ratio broke out of its regular pattern, and people are finally feeling bullish again."
Meanwhile, Brave's CEO wouldn't completely exclude a hypothetical Facebook acquisition, but says 'I wouldn't hold my breath' based on FB's recent toe dipping in the blockchain waters.
Ripio Credit Network is at it again:
"RCN pump without any news?"
"Why is RCN up 40%?!"
"Rcn new run"
The coin leapt unexpectedly by 40.8% in a span of 4 hours, unaided by any news, project developments or noted company updates.
This is not the first time we've seen similar RCN shenanigans: the coin also made our list back on February 22nd, when it was propelled by 'Palm Beach Confidential', an email list with 700k+ subscribers which picked RCN as their 'monthly recommendation'.
Here's RCN back in February:
And here it is this week: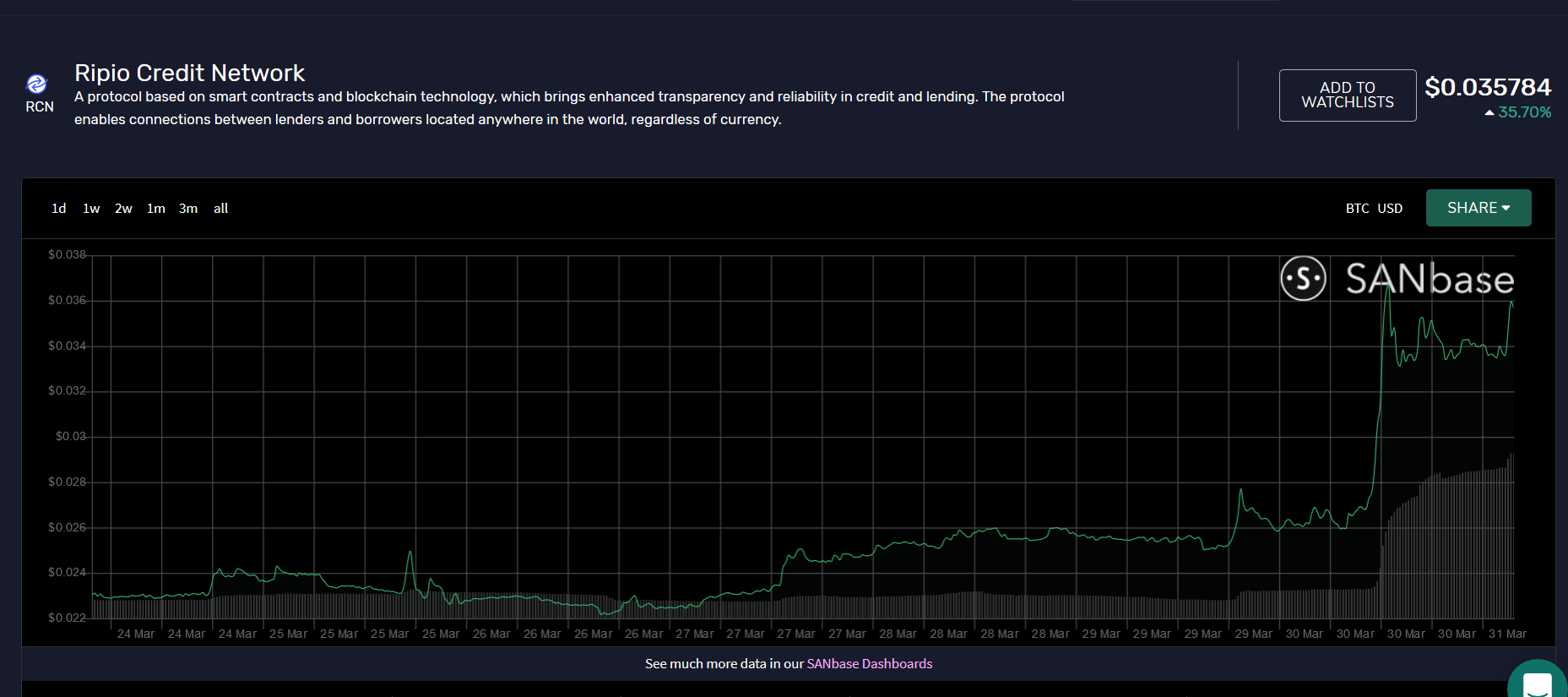 Could we be seeing similar forces at work again?
Former Chair of the USA Federal Reserve Alan Greenspan says the US can pay any debt it has because "we can always print money to do that", sparks lengthy debate over at r/bitcoin.
The subreddit rebutted Greenspan by pointing to the massive inflation in Venezuela, and sparred on the most popular pros and cons for paying taxes, all topped with a mandatory 'Long bitcoin'.
If you like half-baked arguments on all things macroeconomics, check out the full discussion.
Omise denies The Block's report that the company was acquired by Thailand's Charoen Pokphand Group [CP Group].
At the moment, both Omise and The Block seem to be standing by their claims, leading some to wonder if the 'acquisition' part is false, but a partnership of sorts might still be brewing.
The confusion sent OMG on a rollercoaster ride, as the coin initially leapt to a 5-month high $2.00 before losing much of that momentum later in the day. It's currently down 5.1%
Coindelta, an Indian crypto exchange, shuts down operations, blames lack of prudent crypto regulations in the country.
The exchange's founder says the curb on the bank accounts by the central bank has left them 'handicapped', and that the law is too slow to change:
"We hope that the economic environment in the future will be conducive enough to support innovation and we will have the opportunity to serve you better."
Meanwhile, Bitbns, a rival Indian exchange, has offered fee refunds for those that transfer crypto from Coindelta before the end of today.
P.S. There are several repeat words on today's list including WABI and Volume - you can check out why they're trending on our yesterday's post.
As always, visit SANbase to explore these and other trends in more detail!
Assets from this insight
Basic Attention Token
BAT
Ripio Credit Network
RCN

OMG Network
OMG