Top Social Gainers for Saturday, February 16th, 2019
Here are today's biggest emerging stories in crypto, based on Santiment's data: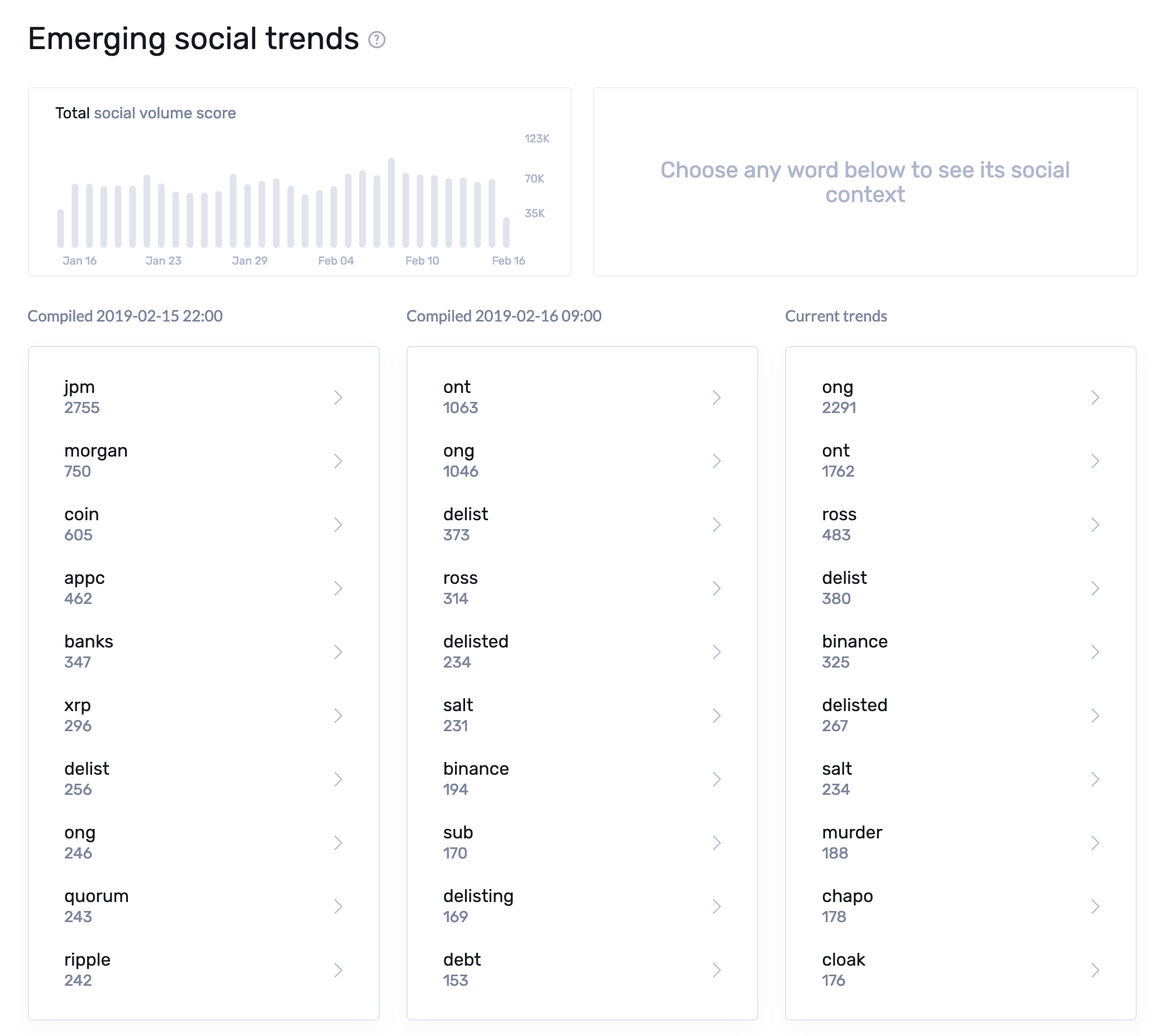 Ong (2000+ new mentions in the last 36 hours)
Binance announces it will list ONG, sending both Ontology tokens flying.
Ontology is a public chain infrastructure project and distributed trust collaboration platform.
Those holding their native asset (ONT) also receive Ontology Gas (ONG) which is required to fuel functionalities and transactions on the Ontology network.
As a result, ONG is currently up 94.9% for the last 24 hours, and 245.2% for the week.
ONT (1700+ new mentions in the last 36 hours)
The ONG listing benefited ONT as well, which skyrocketed to a 2-month high $0.704 earlier today, before cooling off.
It's currently down 2.7% for the day.
Delist/Delisted + Binance (500+ new mentions in the last 36 hours)
Just an hour and a half earlier, Binance announced it will delist 5 coins on February 22 at 10:00 AM (UTC).
Delisted coins include CloakCoin (CLOAK), SALT (SALT), Modum (MOD), Substratum (SUB) and Wings (WINGS).
The exchange offered a lengthy list of criteria it uses when deciding whether to delist coins. You can check it out here.
Cloak/Salt (400+ combined new mentions in the last 36 hours)
In particular, Cloak and Salt delistings have prompted lots of chatter.
Cloak plunged by 38.2% since the announcement, reaching the lowest price since May of 2017.
Salt dipped by 13.1% in the last 24 hours, hitting a 2-month low.
Ross/Murder/Chapo (45+ new mentions in the last 36 hours)
r/bitcoin is debating whether it's fair that El Chapo will likely receive a technically lesser prison sentence than Ross Ulbricht, the owner and operator of Silk Road.
Bitcoin was used to facilitate payments on Silk Road while the dark web marketplace was still active.
El Chapo has been found guilty by the New York jury and will be sentenced on June 25. He is facing life in prison for the charges.
Ulbricht was convicted of money laundering, computer hacking, conspiracy to traffic fraudulent identity documents, and conspiracy to traffic narcotics by means of the Internet.
He has received a double life sentence (without parole) plus an extra 40 years.
As always, visit SANbase to explore these and other trends in more detail!
Assets from this insight