Top Social Gainers for Monday, April 29th, 2019
Here are Monday's biggest developing stories in crypto based on Santiment's data:
IOTA/Jaguar/Rover (1477+ mentions)
IOTA foundation announced on Monday 29th April that they will be partnering with Jaguar Land Rover to enable drivers to earn IOTA for sharing traffic information, which can then be used to automatically pay for tolls, parking, and electric charging. Jaguar Land Rover is currently testing the technology at their new software engineering base in Shannon, Ireland, where several vehicles, including the Jaguar F-PACE and Range Rover Velar, are being equipped with "smart wallet" features.
Shortly after the announcement, price of MIOTA spiked as the news continue to spread across the cryptosphere.
While this is a win for crypto mainstream adoption, not all are equally excited about it. Some remain doubtful of IOTAs technology as well as the motivation for Jaguar/Land Rover drivers to be willing to share data for trivial rewards.
Atom/Cosmos (618+ mentions)
On Sunday 28th Apr, Binance announced that they will be listing ATOM and will open trading for ATOM/BNB, ATOM/BTC and ATOM/USDT trading pairs at 2019/04/29 4:00 AM (UTC).
The listing announcement sent ATOM price spiking over +46% to $5.06 USD before retracing as the trade opening of ATOM got closer. It is currently sitting at $3.92 USD since trading opened. Even so, that's a whopping 39x gains for ICO participants (ICO price = $0.10 USD).
Here's a quick look at how the crowd reaction switched from high price targets to "ATOM is rekt".
Looking to transfer those ATOMs from an exchange to Binance? Well, things may not be that direct as Binance requires a MEMO to be included for deposits. Exchanges like Poloniex does not include a MEMO field, meaning ATOM holders will have to first transfer to another wallet outside of Poloniex that supports MEMO then to Binance. This barrier may eventually see a lower ATOM supply on Binance, allowing room for some arbitrage opportunities.
Also, interesting to note that the amount of ATOMs on Poloniex's sell order book has increased by another 300,000 ++ ATOMs. It also has a large sell wall (142 BTC) blocking out 74k sats.
Speaking of sell pressure, the crowd is starting to realise that large amounts of ATOMs may eventually find themselves into the markets once the unbonding period ends.
One particular ATOM holder of interest is Polychain Capital, the infamous crypto hedge fund, who holds quite a large amount of ATOMs and are also a validator. Based on the unbending stats on B-Harvest, Polychain will have 90,667 ATOMs ($346K USD) will be unbonded on 12th May and another 1M ATOMs ( $3.82M USD) on 14th May.
So, what's going to happen then? Well, the crowd believes that Polychain will do the same as it did to 0x.
That they will seek to de-risk their position in ATOM given that it's currently 38x from ICO price.
etrade (105+ mentions)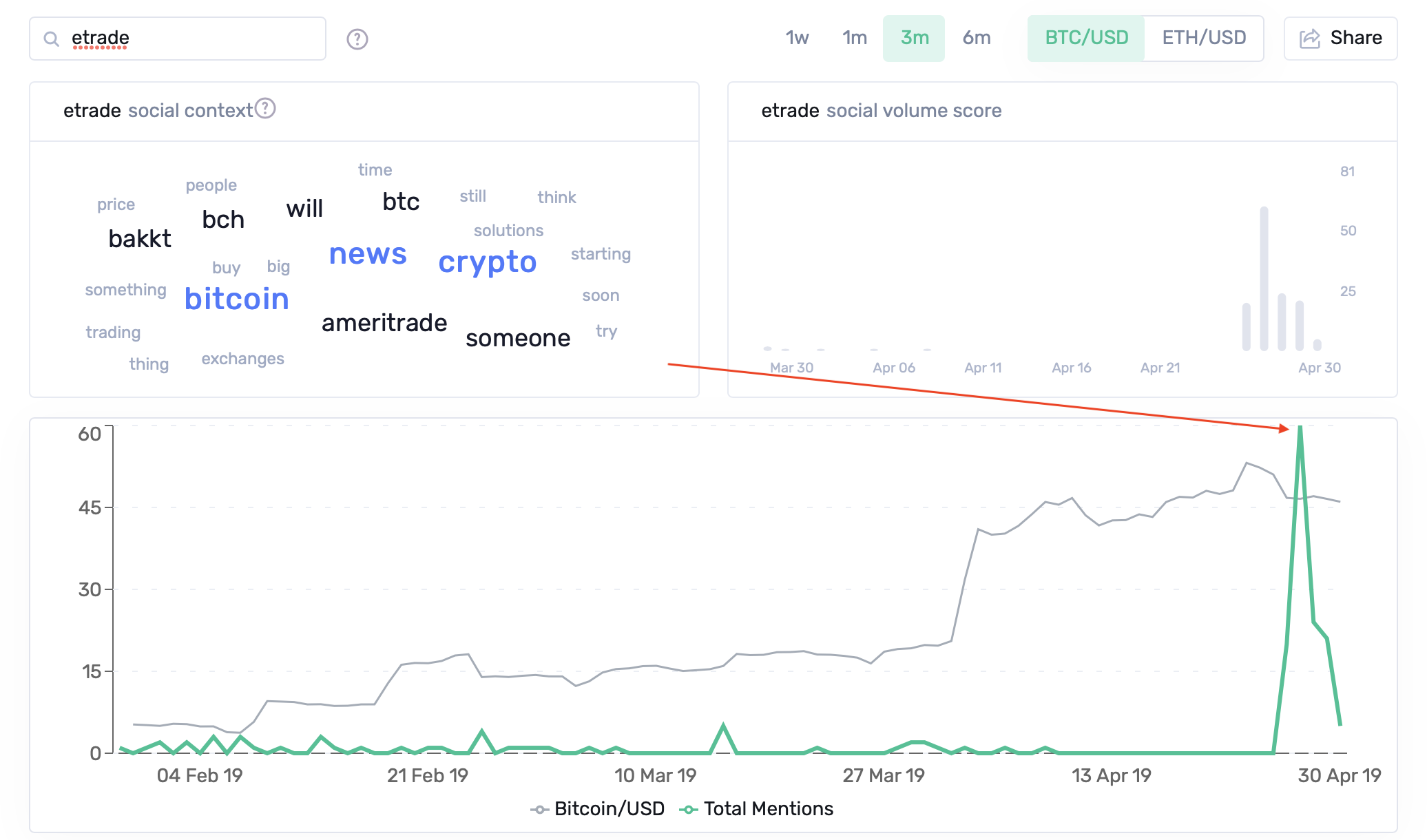 Brokerage giant E*Trade is reportedly close to launching cryptocurrencies on its platform, allowing its 5 million customers to have exposure to the crypto asset class. And to start, they will launch with Bitcoin (BTC) and Ethereum (ETH).
This comes just after news of TD Ameritrade and Nasdaq testing bitcoin trades, making the road to mainstream adoption a closer reality.
Needless to say, such news are a delight to the crypto community. In r/Cryptocurrency , the Etrade announcement post has seen 1,000 upvotes and 99 comments so far, with most feeling bullish on the news.
As always, head over to our Social Trends page for the latest updates!
Assets from this insight