Top Social Gainers for Monday, May 20th, 2019
Here are Monday's biggest developing stories in crypto based on Santiment's data:
At least half of today's list involves Binance-related projects, be it the exchange's previous IEOs (FET, CELR, MATIC), their upcoming IEO (Harmony) or projects that recently migrated to Binance Chain (MITH). In fact, all of these assets mustered quite a price rally over the last few days, one that isn't easily explained with auspicious TA or specific project announcements.
The rallies might have even been helped by CZ himself, who just recently bragged about the ROI of his 4 IEOs to date:
Either way, here's why all these (and other) words are trending in the cryptoverse today:
MATIC (1830+ new mentions in last 24hrs)
What a week it's been for the latest Binance IEO coin. Oblivious to market-wide trends, MATIC has gained 322% in the past 7 days and currently sits at an all-time-high 284 Satoshi.
No one seems quite sure about what's behind MATIC's monster rally, tho some have pointed to the project's recent collaboration with Decentraland, its previous backing by Coinbase Ventures, as well as the fact that the coin's become somewhat of a staple of various PnD groups in the past few weeks.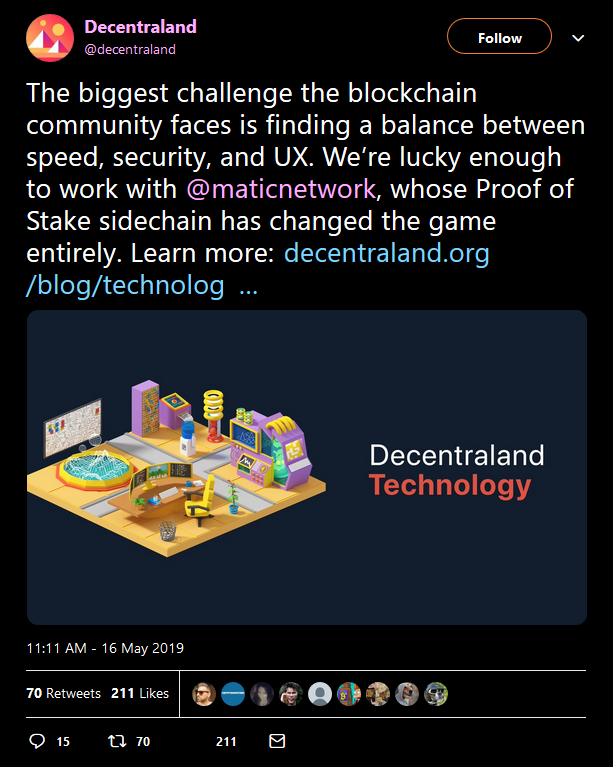 Regardless of the cause, the crowd - and particularly the main Binance telegram group - has welcomed the MATIC uptrend with open arms and bullish sentiment:
Matic up +600% I was told by cc shills that matic is the coin to hold right now mark my words. sleeping giant waking up. going all in. prove me wrong.
Matic moonnnnnnnnnn
Matic won't stop dump.. It will continue its uptrend until it reach top 50 by cmc then will be stable like the rest of market
Over on crypto Reddit, however, not everyone's as ecstatic about the incessant MATIC chatter as of late:
This coordinated shilling of Matic of late is a joke. Go back to your day jobs.
Just f$#king Matic shillers and bots. Every second Post is about this shitcoin. Bye bye i will be back in a few weeks
Matic is just one of those 'we are going to replace Bitcoin hypes'. Hundreds tried it, noone succeeds.
Although not quite MATIC-impressive, CELR is in the middle of its own odds-defying run. The penultimate Binance IEO coin has gained over 95% over the past week, ballooning to a month-high 233 Satoshi earlier today before retracing slightly.
Among proposed explanations for the CELR rally were the project's attendance at ETH New York over the weekend, where the team shared a sneak preview of Celer's upcoming mainnet:
As with MATIC, the crowd (especially the Binance chats) was all over the CELR rally:
Time for celr
Celr and matic all in it will pump again
CELR have a lot room to grow
Celr good to buy now
Lol market makers so happy pumping CELR to Matic levels..Celr will follow matic..has been for a while, you know the target
Celr mainnet & staking in June. Load up!!
Despite a majority positive sentiment, however, some believe the speculative interest in CELR is waning, and the money will soon leave for other Binance-related assets:
Now celr, fet and matic money will come in BNB
Matic and celr drama over, time for BTT to 🚀🚀🚀🚀🚀
Sell matic and celr buy BTT for good profit now
FET (250+ new mentions in last 24hrs)
Mirroring other Binance Launchpad offspring, FET has improved over 86% in the past 7 days, hitting a month-high $0.24 earlier today.
As we mentioned in yesterday's report, Fetch has recently announced a new collaboration effort with Deutsche Telekom's T-Labs, which has been mentioned as one of the possible reasons for the rally.
Per the announcement, "the agreement will see T-Labs and Fetch.AI research, build and deploy autonomous economic agents on the Fetch.AI test network. They will look at how such agents can be built into Internet of Things (IoT) devices to provide them with the authority and autonomy to organize themselves free of human intervention."
For the most part, the crowd seems pretty bullish about FET's uptrend, with some expecting a prolonged rally:
FET is just going parabolic at the moment
Fet 4k next
People who doesn't buy FET now, will watch the new ATH at 15000 sats next month
That's nice, the last i was here ppl are insisting fet is rekt lols
Just like i predict, people start to jump on fet train after celer train..
Last call for ppl missed FET train
Mith (320+ new mentions in last 48hrs)
About a month after becoming the first project to migrate to Binance Chain, MITH is finally beginning to swing upwards, which has some in the crowd giddy.
The project first announced the Binance Chain integration in an April 18 blog post which caused an immediate spike in the price of MITH, followed by a month-long downtrend. And while the action's been fairly choppy over the past few days, it has generally trended upwards, causing MITH to gain over 28% in the past week.
The rally has served as validation for some, and even though the coin is currently -5.7% for the day, the majority sentiment still leans positive:
Mith chart looks so good
Sell everything and buy Mith
MITH bull flag
MITH, doji candle, pump!!
Buy mith now and thank me later
Mith big pump coming
As we mentioned in yesterday's report, Mithril's initial rally on Thursday prompted virtually no reaction from spectators; it was not until this 'second leg' that the crowd started to take notice.
It will be interesting to track MITH's trajectory from this point forward. The coin is now roughly at about the same level it was before the Binance Chain announcement: will it retract again, or will it find a way up? Watch this space.
Harmony (120+ new mentions in last 24hrs)
Confusion abounds as Binance begins taking daily BNB snapshots for the upcoming Harmony IEO.
The token sale for Harmony (ONE) will follow a similar lottery format to the one implemented in the MATIC sale, with a few tweaks likely prompted by community feedback:
The first snapshot of lottery hopeful's BNB holdings was taken yesterday at 23:59:59 UTC, and already many seem lost. The main Binance telegram group has been inundated all day with questions about the sale format, participation requirements and IEO date:
Guys if I missed today's snapshot on harmony ieo it means it's gone ? There is no point to deposit and hold any BnB now ?
So to participate in the harmony ieo, i need to have a certain amount of bnb in my wallet from the 27th to the 29th?
Can I still participate in harmony I did not have any BnB in my binance. When is first snapshot
Can i buy bnb now and hold for 7 days will i get tickets for harmony ieo?
When $ONE (harmony) trade will be open publicly?
Administrative issues aside, some are already convinced that Harmony will mirror the recent upstrends of all previous Binance IEOs, once it finally gets listed on CZ's exchange:
Harmony next matic
Moon time for harmony
Harmony mustnt be missed
Harmony will go 20x mith?
Others still predict the Harmony (ONE) listing will signal the end of IEO rallies:
Just wait after harmony ieo done.. i think all ieo coin will dump..
Matic, cler and fet will run till harmony listing..me thinks
The snapshot period for daily BNB holdings is between 19th May - 26th May.
A well-known staple of CBS programming, 60 Minutes ran a short, 13-minute (?) segment on Bitcoin and cryptocurrencies yesterday.
In it, Anderson Cooper interviewed a variety of crypto pundits and personas, including:
-Charlie Shrem (founding member of the Bitcoin Foundation)
-Neha Narula (Director of the Digital Currency Initiative)
-Marco Streng (CEO of a BTC mining company)
-Lael Brainard (member of the U.S. Fedeeral Reserve's Board of Governors)
-Laszlo Hanyecz, which paid 10k BTC in 2010 for two Papa John's pizzas
Prior to the segment airing, the community was prepping for yet another mainstream hit piece about Bitcoin:
Preparing to be disappointed.
Probably gonna be a hit piece on the entire sector.
I doubt this will be a glowing summary of bitcoin. Establishment is pro-fiat.
However, seems like CBS pulled a fast one on them and actually produced a fairly neutral, objective segment on the crypto industry. For the most part, the community reactions were surprisingly positive:
-It was a fairly balanced take actually.
I watched the full video and the "afterhours" section. It was well-balanced, well-researched and presented simply. There was no bias.
Not so bad
Just watched it. A surprisingly neutral and fair appraisal of Bitcoin
For a MSM show that a bunch of people watch, it seemed pretty unbiased to me.
I did say 'for the most part' though, as some still had various quarrels with the piece:
The two best people to represent Bitcoin were a felon and the guy who paid 10,000 Bitcoin for two pizzas? Really CBS? No talk of Bitcoin's unique qualities or possibilities. What a garbage piece, in my opinion…
I also question the choice of interviewing Charlie Shrem. I don't understand why this guy is still relevant or what contribution he's made to Bitcoin. There are so many other people they could've interviewed
Totally missing the facts about where we are going. This entire interview made no projection about the path forward.
Finally, as it happens whenever he gets mentioned, memes and sympathies for the (in)famous Pizza guy aplenty:
Pizza guy pump
Grey hairs will never understand a 10,000 BTC pizza
What if the guy held on to the pizza
Poor guy who spent 10,000 bitcoin on pizza
And i buy pizza and coffee with btc all the time
As always, head over to our Social Trends page for the latest updates.
Assets from this insight