Top Social Gainers for Monday, May 13th, 2019
Here are recent biggest developing stories in crypto based on Santiment's data.
The source of buzz is this:
Spotted at the Consensus conference in New York, the banners suggest eBay is about to enter the cryptocurrency arena in what would be a major mainstream breakthrough.
It has yet to be confirmed by eBay.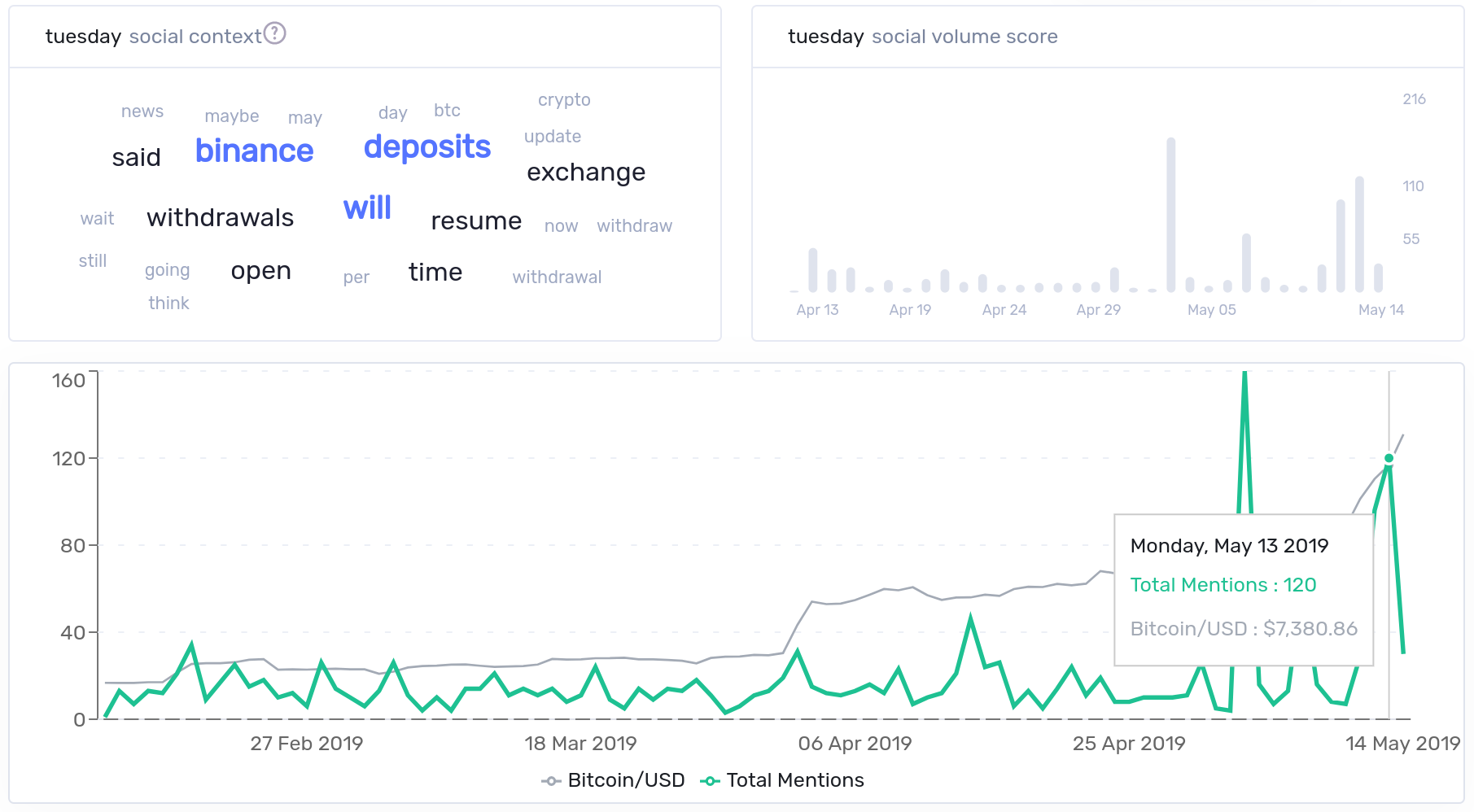 Binance closed all deposits and withdrawals after recent hack.
Tuesday May 14th is the day when exchange aims to open it back:
Some consider this may shake market a bit:
By the way the first and more significant spike in social volume for the word "Tuesday" is about BCH. On May 3rd a regular weekly pattern on Bitcoin Cash transactions was discovered - reddit.
On Monday a spike of negative sentiment on XRP was detected.
Thanks to SAN Clan member @bahari for bringing this great find.
How did the price respond? Charts saying it all.
Bitcoin stays the king and continues the bull run on Monday: another 12% up in 24 hours (+40% in a week).
BTC also hit 60% dominance level. First time since December 2017.
Moods:
Long now ? BTC losing momentum
Anyone else longing btc 20x or 10x?
Going long on btc 20x leverage 🔥😎
Too late to buy some btc???
News headlines:
BNB did a nice 15% recovery on Monday:
No BNB related news found except recently covered expectations of soon deposits and withdrawals opening.
Moods:
BNB $30 soon or what ??
bnb mooning :)
People will buy BNB for the Harmony launchpad. Announcement Wednesday.
Bnb pumping why?
BNB is being a total ass right now Agggghghghh
Why the hell js BNB pumping while unable to deposit or withdrawal right now? Sometimes this market is very counterintuitive.
As always, head over to our Social Trends page for the latest updates.
BTC
BNB
XRP
Thanks for reading!
If you enjoyed this insight please leave a like, join discussion in the comments and share it with your friends!
Assets from this insight

Bitcoin
BTC
Binance Coin
BNB

Ripple
XRP