Top Social Gainers for Monday, March 11th, 2019
Here are today's biggest developing stories in crypto based on Santiment's data:
Xlm (530+ new mentions in last 36hrs)
Stellar's native asset improves by 9.2% today before retracing, propelled by both news and announcement rumours.
The initial rally started last Thursday, after a German media company Börsenmedien AG acquired stake in SatoshiPay, which utilizes Stellar's blockchain to enable its micropayment services.
There are also rumours of an announcement to be made at the Money 20/20 Conference held 19-21 March, where XLM's cofounder will be the keynote speaker.
Grs (670+ new mentions in last 36hrs)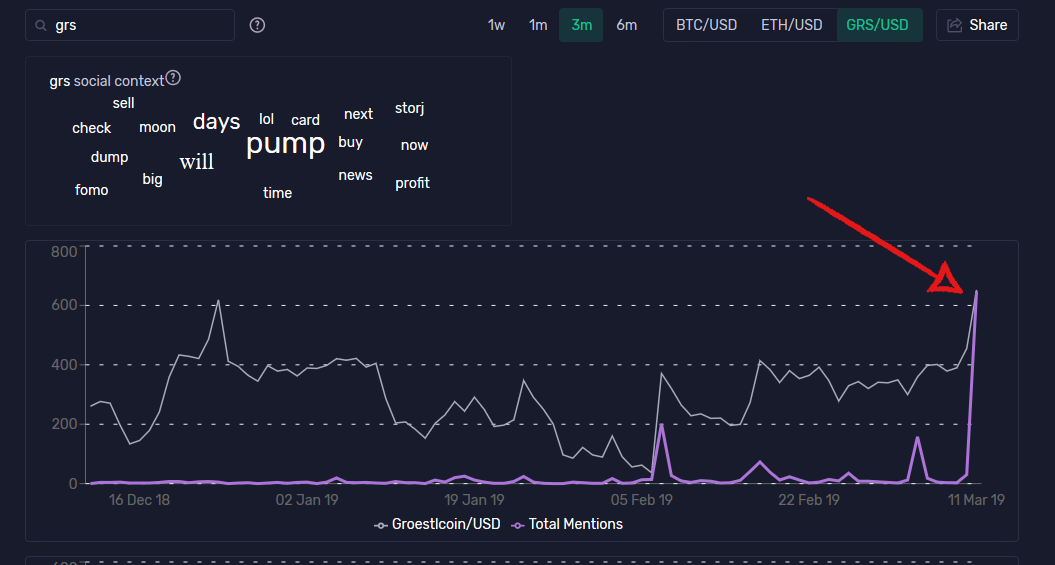 Groestlcoin balloons to a 4-month high $0.446 after the project announces a Mastercard-backed debit card.
According to the announcement, the new Groestlcoin Card by PolisPay can be used online and at "any brick and mortar retailer that accepts MasterCard® debit cards", or at MasterCard-compatible ATMs.
Xrp (1100+ new mentions in last 36hrs)
Good news for Ripple, as Switzerland's primary stock exchange SIX may soon list another exchange-traded product (ETP) which will track the price of XRP.
At the same time, r/cryptocurrency is scoffing at people that thought Ripple's recent website outage may disrupt the entire XRP network.
Qlc (260+ new mentions in last 36hrs)
An eventful 24hrs for QLC, as the coin reached a 4-month high 910 Satoshi just before dropping by more than 12%.
While no QLC-specific news broke, the project's mainnet launch has been tentatively scheduled for March 2019. Some Telegram users have also been spreading rumours about a potential QLC - Huawei partnership.
Mda (140+ new mentions in last 36hrs)
Supported by no actual news or murmurs, Moeda's Loyalty Points pumps to a 4-month high $1.39 earlier today before retracing south.
Despite the latest resistance, the coin is still up 41.6% for the week and 22.2% for the day.
Btt (700+ new mentions in last 36hrs)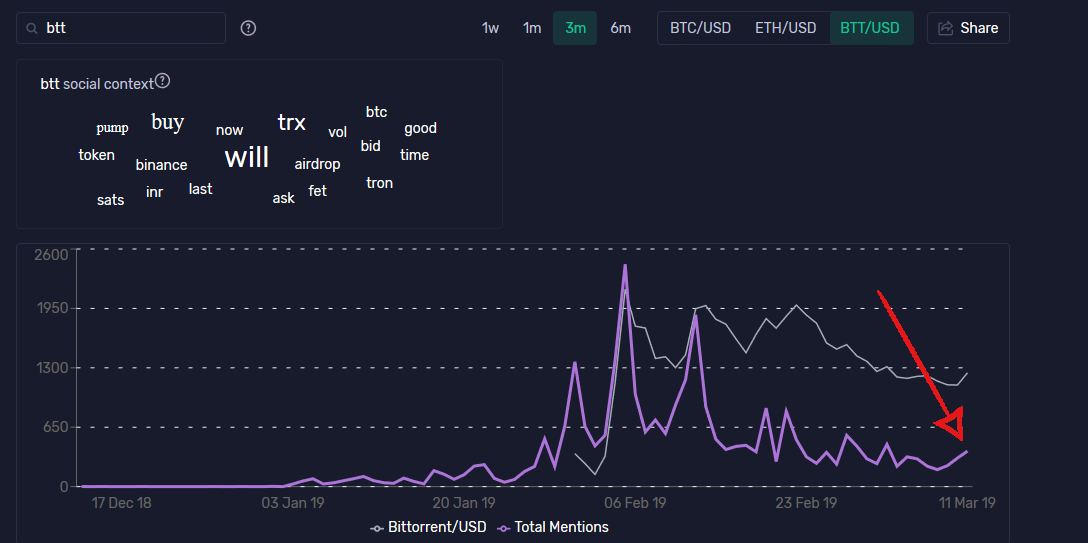 A second in what's supposed to be a 6-year series of monthly BTT drops occured today, with 990,000,000 BTT distributed to TRX holders.
The BitTorrent airdrop was supported by several popular exchanges including Binance (duh), Huobi, and OKEx. The next airdrop is scheduled for April 11th.
Csw (90+ new mentions in last 36hrs)
drama in r/btc as Gavin Andresen - former lead maintainer of Bitcoin Core - loses commit access to a Blockstream github.
Some believe Gavin lost access because he was "deceived" by CSW (Craig 'Satoshi' Wright) , while others point to Andresen advocating solutions incompatible with Blockstream's business model. You can catch up on the gossip here.
P.S. Theta is still trending for the same reason, which you can read in yesterday's post.
As always, visit SANbase to explore these and other trends in more detail!
Assets from this insight