Top Social Gainers for Friday, May 3rd, 2019
Here are Thursday's biggest developing stories in crypto based on Santiment's data:
Interesting thing here on this social volume chart - Friday's BTC's price action was accompanied by smaller social volume spike. A month ago higher social volume spike was printed along with stronger price movement.
So on Friday BTC made a "green" move up +6%, first time in 4 weeks, setting this year new high at around 5,840 USD.
News coverage:
Moods towards BTC itself:
Current $BTC price has nearly doubled from its 2018 low of $3,150 – does such growth suggest that the bear market bottom is actually behind us?
the right time to buy long BTC is yesterday
i just sold all my btc on local btc and could not be prouder f**** you bull run you can *** my *** im not joking seriously *** my ***
The best investment is in front of us and very obvious! Just buy btc.
I'm guessing ETH is the tortoise and BTC is the hare.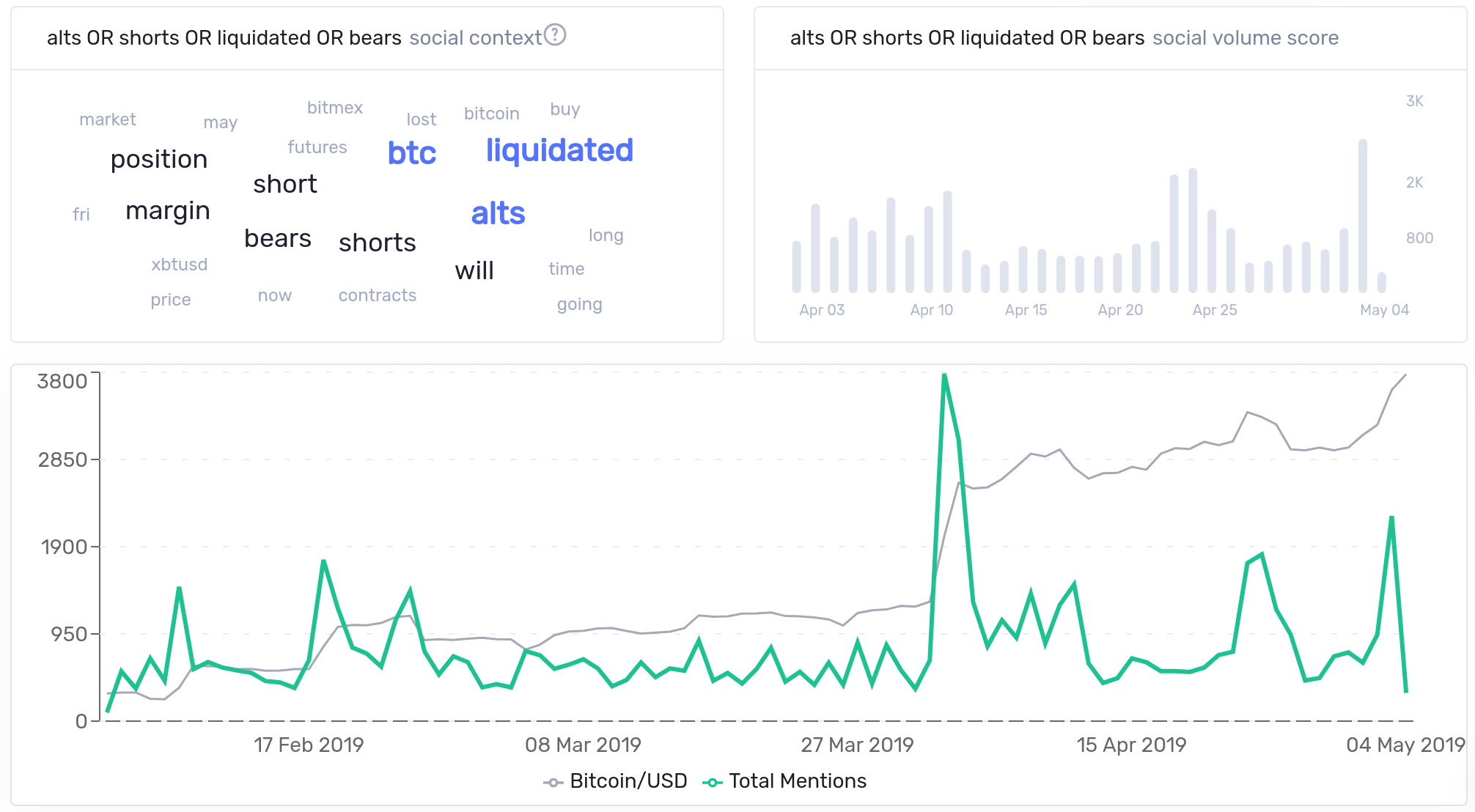 This set of words is heavily connected to BTC itself. It can be seen on this social volume chart.
Not that much news coverage here except Will BTC's 'price vs shorts' anomaly hold? based on @AlexSaundersAUpointed found anomaly in BTC charts: the shorts rise along with the price.
Moods:
Usual thing... BTC UP - ALTS DOWN…
The bitcoin market is more manipulated than the stockmarket. The whales will liquidate all the shorts then dump Again. Back to 3k within a months
Only an idiot shorts a year out from the halvening
A sustained break through $6,000 area will be what most bears are looking for in order to switch sides. It'll be extreme.
News coverage:
Moods:
remember November? same Tether FUD, same crazy pump as people exited Tether to get into BTC with total disregard for price
Btc will go to 4600 usd. The only reason for this short pump is everyone getting out of tether to bt mc and off Bitfinex.
Bitfinex needs to die. End of story.
So we trust Bitfinex again?
Bitfinex added stable coins for EUR and CHF today. All this will lead to a gradual diversification and a loss of USDT dominance – I assume we can agree on this – is a good thing crypto
As always, head over to our Social Trends page for the latest updates.
BTC
USDT
Thanks for reading!
If you enjoyed this insight please leave a like, join discussion in the comments and share it with your friends!
Assets from this insight

Bitcoin
BTC

Tether
USDT