Top Social Gainers for Friday, May 24th, 2019
Here are Friday's biggest developing stories in crypto based on Santiment's data:
PHB (1250+ new mentions in last 24 hours)
Red Pulse Phoenix (PHX) has completed its token migration to Binance Chain, and has updated their name and ticker to Red Pulse Phoenix Binance (PHB) in the process. The tokens were swapped at a 1 PHX = 1 PHB ratio.
Binance has suspended trading, deposits and withdrawals of PHX back on Wednesday and (re)opened trading for 5 PHB trading pairs at 04:00 (UTC) today, including PHB/BNB, PHB/BTC, PHB/USDC, PHB/TUSD and PHB/PAX.
At about the same time PHB was added to the recently-launched Binance Dex, all of which caused the new/old coin to soar ~24.5% earlier today, before retracing.
Even though the coin's action remains choppy since, some in the trading crowd believe PHB will follow in the footsteps of MATIC and CELR, and are hoping for a prolonged rally going forward:
PHB new Matic 🚀🚀🚀🚀
Binance is definitely gonna pump its first coin on binance dex, phb gonna pump like crazy
Phb 😍😍 x2 im coming
phb to all time high
The new ticker/rebrand caught part of the trading community by surprise, so some thought Binance added a brand new coin to the platform, which likely contributed to PHB's rising popularity throughout the day:
Either way, the trading volumes remain high across PHB's new trading pairs:
US telecommunication and media giant AT&T is now accepting crypto for paying phone bills online. The crypto payments will be processed via BitPay, a platform that converts cryptocurrencies to fiat and currently serves more than 20k businesses.
For now, AT&T customers will be able to choose between Bitcoin and Bitcoin Cash as payment options.
"We have customers who use cryptocurrency, and we are happy we can offer them a way to pay their bills with the method they prefer." said Kevin McDorman, vice president of AT&T Communications Finance Business Operations in the official press release.
Judging by the official announcement and early reports, the option to pay with crypto is still not being introduced to other AT&T services (like buying phones or new contracts), nor will BitPay work in AT&T's brick-and-mortar shops. At the moment, the partnership extends only to paying phone bills online.
The news was generally well received within the crypto community:
...although it did prompt the age-old debate about if companies converting crypto to fiat counts as 'real adoption':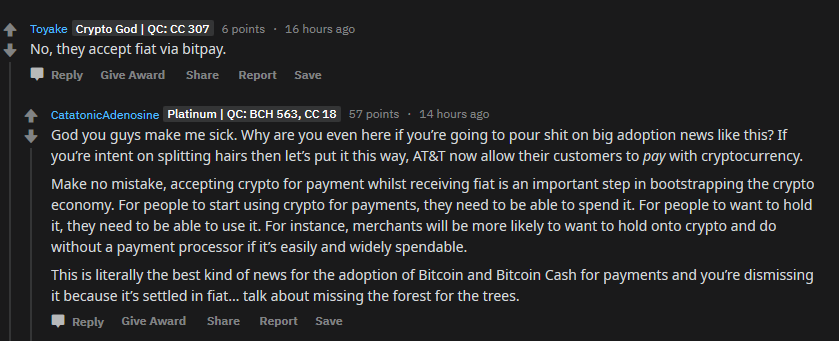 Some also considered the fees-upon-fees to make the entire premise unviable:
And as always, the BCH>BTC brigade was in full swing:
Theta Fuel gained over 140% in about 3 hours following the Binance listing announcement, surging to an all-time-high 256 Satoshi before retracing: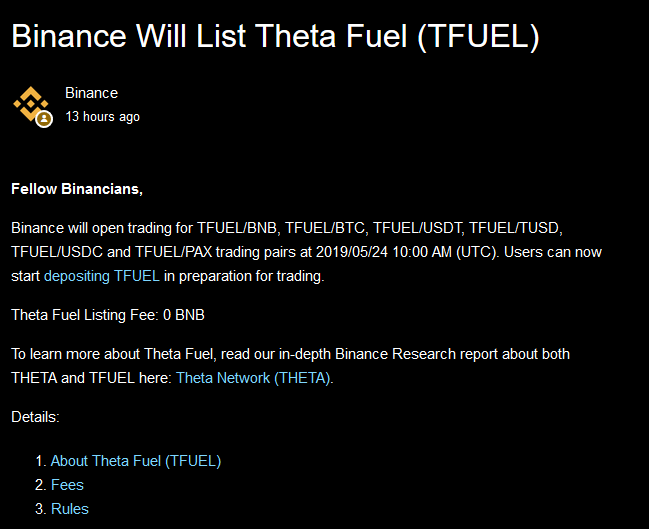 And while it's price has been see-sawing since, the coin is still up 103.7% for the day.
TFuel is the Theta network's equivalent to Ethereum's GAS. The project's main coin, THETA, has also experienced a pump by attribution, soaring by 25% earlier today before heading back south.
Interestingly enough, both THETA coins began pumping almost simultaneously, which doesn't seem all too organic. Another notable tidbit, reported by Hacked, is that both THETA and TFUEL were recently added to the Trust mobile wallet, which was acquired in Binance in 2018:
It could be the case that some anticipated TFUEL's imminent addition to Binance as a result, allowing them to act early to the listing news.
Binance immediately added 6 TFUEL trading pairs, none of which are against ETH, which some interpreted as a subtle way to incentivize BNB trading pairs in Ethereum's stead.
DAI (250+ new mentions in last 48 hours)
Coinbase has added support for MakerDAO's stablecoin DAI to its exchange platform, as well as its iOS and Android apps. According to the announcement, Coinbase's users can now "buy, sell, convert, send, receive, or store DAI."
DAI will be made immediately available to customers in most jurisdictions, with the exception of New York. While the company hasn't elaborated as to why, it could be that they're waiting on approval from the state's Department of Financial Services, which reserved the right to approve new token listings on Coinbase in the past.
Coinbase already provides trading support for USDC in 85 different countries, which prompted quick comparisons between the two US dollar-pegged stablecoins:
For the most part however, the news was considered particularly bullish for MakerDAO's governance coin, MKR:
Some were even, ahem, bullish on DAI:
As always, head over to our Social Trends page for the latest updates.
Assets from this insight

Theta Fuel
TFUEL
Theta
THETA
Multi-collateral DAI
DAI