Top Social Gainers for Friday, May 17th, 2019
Here are Friday's biggest developing stories in crypto based on Santiment's data: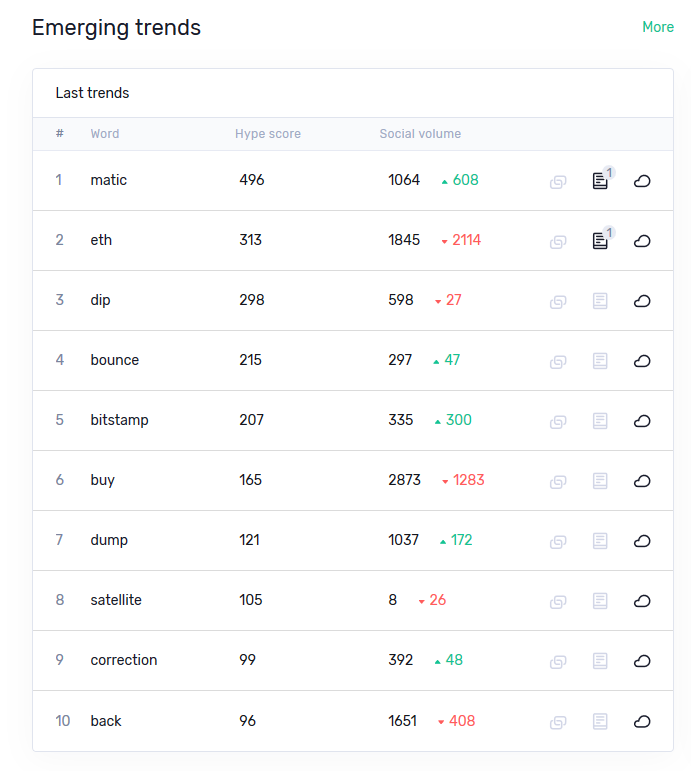 MATIC (1200+ new mentions in last 24 hours)
One of the few coins going against the grain today, MATIC experienced a 63.1% upswing since yesterday morning, currently sitting at an all time high 202 Satoshi.
MATIC's latest rally makes it one of the few market-wide outliers in a day where most of the high and mid-caps mirrored BTC's retraction. Quite peculiar for a coin that's virtually traded sideways since its IEO until earlier this week.
"The entire crypto market just dumped except for $MATIC. Never a dull day in crypto. Congratulations to those that got in."
This is the second time this week that we see elevated MATIC chatter, with over 1200 social media messages mentioning the coin in the past 24 hours.

Just like with the initial uptrend, however, the crowd remains split on what's pumping MATIC. Some are pointing to the project's recent integration with Decentraland as the catalyst for the rally:
While others claim the coin's become a staple of Pump and Dump groups as of late:
Whatever the case, there's been a healthy amount of MATIC FOMO all over crypto social media. Those that missed the first leg are now hoping for a decent correction so they can join the party:
MATIC is not alone in pumping though. Interestingly enough, most Binance IEO coins are having a good 24 hours, including FET, which is currently up 23.7% for the day:
CELR, with a cool 15% spike in the last 24 hours, and 75% (!) for the week:
Even the OG coin of Binance Launchpad is recording 50% gains for the last 7 days
Of course much of this is in line with the recent market-wide trends, tho Bitcoin's latest retraction does make the sustained uptrends a tad more noteworthy.
Bitstamp (370+ new mentions in last 24 hours)
A massive 5,000 BTC dump on Bitstamp was the likely culprit of a Bitcoin flash crash that happened earlier this morning. Apparently, somebody put up a giant sell order of 5,000 BTC at a low-ball price of $6,200 which in turn caused BTC to nosedive to as low as $6,250 (-20%) on the exchange:
While the king coin quickly recovered to the $7350 range, the dump sent shockwaves through the market, toppling BTC to an average of ~7100 in a matter of hours.
So what the hell happened? There are three main theories circling around. Some say the dump was nothing more than a system glitch:
...while others believe the whole thing to be a horrible case of fat fingers:
The majority of the crypto community, however, is of the opinion that this is clear-cut whale manipulation.
Many seem to think that whoever set the sell order could've held high leverage short bets on another exchange like BitMEX. In theory, the dump would've then caused a massive liquidation of long positions, putting the whale safely in green. And speaking of BitMEX longs:
And while the crowd is convinced the dump is just whales frolicking, some point to the same being the case with most of this week's market-wide uptrend:
In the meantime, Bitcoin managed to recover to the $7400 range, though it's still currently -7% for the day. But hey, better than -20%, right?
Bounce (340+ new mentions in past 24 hours)
Has this week been just a prolonged dead cat bounce? That's what some in the cryptoverse are saying, as BTC's latest retraction paints the whole town red:
For those uninitiated, a 'dead cat bounce' is used to refer to a temporary recovery from a prolonged decline or a bear market, which is then followed by the continuation of the downtrend.
Given BTC's ~7% dip over the past 24 hours, some believe we're now officially in the second leg of a downtrend:
While some are pretty matter-of-fact about it, others have already gone into full panic mode:
Many, however, refute the DCB claim by pointing to the market-wide trends leaning bullish for a while now:
As DCB has turned into a big point of contention in today's price discussions, there's at least as much disagreement about BTC's intraday bounces. The big kahuna retested several support levels earlier today, bouncing successfully off of $6950, $7000 and $7200 levels, respectively.
And while some have been fairly optimistic about BTC's support levels:

Others are a bit more skeptical about a sustained uptrend:

Safe to say that both bulls and bears have been well represented in today's price discussions.
As always, head over to our Social Trends page for the latest updates!
Assets from this insight
Matic Network
MATIC