Top Social Gainers for Friday, April 5th, 2019
Here are today's biggest developing stories in crypto based on Santiment's data:
Binance AMA pumps are back!
After winning a vote to be featured in an AMA hosted by Binance, Enjin co-founders answered questions about the
project's roadmap, dropped hints about working with Binance Chain, shared updates on the Minecraft plugin and more.
They also praised the Samsung S10 Enjin Wallet integration, calling it "a marvel from both a software and hardware perspective", and predicted that it will make "hardware wallets like Trezor and Ledger nearly obsolete."
During the AMA, the project also distributed 'MFTs', ERC-1155 collectibles each worth a certain amount of ENJ.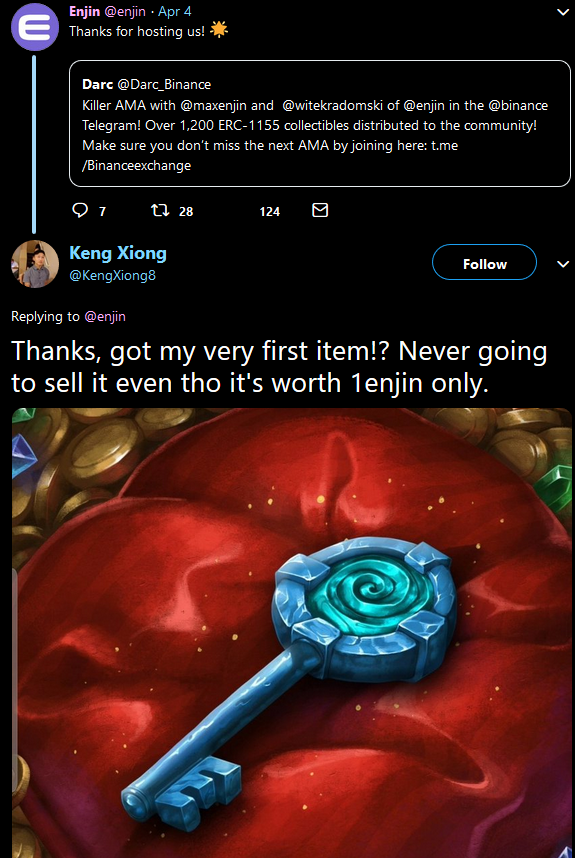 As with previous Binance AMAs, this one also prompted a quick rally, as ENJ spiked 10.8% in about 3hrs, tho the action has been rather choppy since.
To be fair, the rally could also have been prompted by the recent USDT-ENJ pair listing on Bittrex:
"Wow 😍 xrp"
Ripple fans are already predicting a new flippening, as XRP spikes 10.9% in a matter of hours. Still, the coin was a bit late to the party compared to most of the market, leaving many to wonder - why now?
As usual, there was no shortage of theories:
"It's been losing value against BTC for the last few months so maybe this is just a correction."
"I think it went live on the Swiss Exchange today."
"Anyone in xrp community will tell you news doesn't move xrp the charts do"
NPXS has its best day in the last 3 months, gains 31.2% after the NPXS-KRW trading pair gets announced on Upbit.
The rally might have also been propelled by the recent airdrop of NPXS tokens, which boasted an 11% dividend to its token holders - tho some have already claimed they've received less (the project did respond saying the tokens were 'still delivering').
There was a fair share of uncorroborated rumours trying to help the pump as well. Some claimed a mysterious Huawei partnership, while others, not bothered to make up anything specific, simply proclaimed 'big news from NPXS team' right around the corner.
The rally did catch at least one unlucky trader by surprise:
The Binance IEO craze continues, as the exchange takes the first snapshot of BNB holdings for the upcoming Matic token sale.
ICYMI, Binance recently switched to a lottery system for all its future IEOs, after tens of thousands of people were left empty-handed during the recent BTT, FET and CELR coin offerings.
A minimum of 50 BNB is needed to be eligible for the Binance lottery, and the snapshots will be taken each day at 0:00 AM (UTC) over the next 20 days.
Playtable, an interactive gaming console developed by Blok.Party will run on VeChainThor Blockchain.
Playtable is a giant 24-inch touchscreen that serves as the game board, built with the aim to augment the classic board game experience and tabletop play. It also lets users create their own RFID-enabled pieces that incorporate blockchain tech.
While some were quick to praise VeChain for the news, others questioned if the product even requires blockchain integration:
"I don't understand why this need consensus. Why not just operate your own private database on AWS. It would surely be cheaper."
As always, visit SANbase to explore these and other trends in more detail!
Assets from this insight