Top Social Gainers for February 8th, 2019
Here are today's biggest emerging stories in crypto, based on Santiment's data:
Seems like the crowd is still processing many of yesterday's biggest news, with several repeat words from our February 7 list, including BTT, BNB, BAT, Jack, Bitcoin etc.
There is, however, one notable addition to today's list. Let's break it down:
Grs (#2 on our list, 180 new mentions in the past 24hrs)
The crypto crowd took a short break from shilling BTT to discuss the latest pump and dump:
Groestlcoin had a turbulent 24 hours, leaping by 61.4% to a month-high $0.306 in about 6 hours. It shortly depreciated before bouncing back up again, but has met a sturdy resistance at the $0.3 level.
The coin is down 16.14% for the last 24 hours.
On tuesday, Ledger announced that it added support for Groestlcoin to the Ledger Nano S and Ledger Blue.
Shortly after the Ledger announcement, Paytomat also revealed it has integrated GRS to their payment processor.
Paytomat is an infrastructure platform designed to be used with the merchants' existing point-of-sale equipment. It is purportedly being used by over 300 merchants.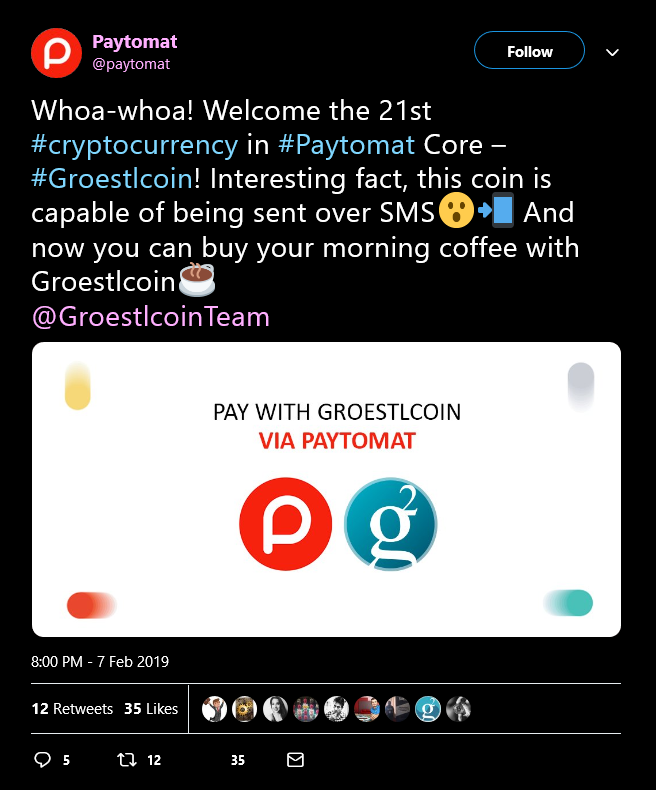 The project then released an updated progress report to reflect the recent developments and showcase what's to come.
Launched in March 2014, Groestlcoin is a privacy-oriented coin with very low (as they claim - 'almost zero') fees and anonymous transactions. It was the first coin that activated SEGWIT and is Lightning Network ready. The team published comprehensive development updates every 3 months, and even have a countdown on their site until the next development release.
As always, visit SANbase to explore these and other trends in more detail!
Assets from this insight
BNB
BNB
Groestlcoin
GRS