Top Social Gainers for February 6th, 2019
Here are today's biggest emerging stories in crypto, based on Santiment's data: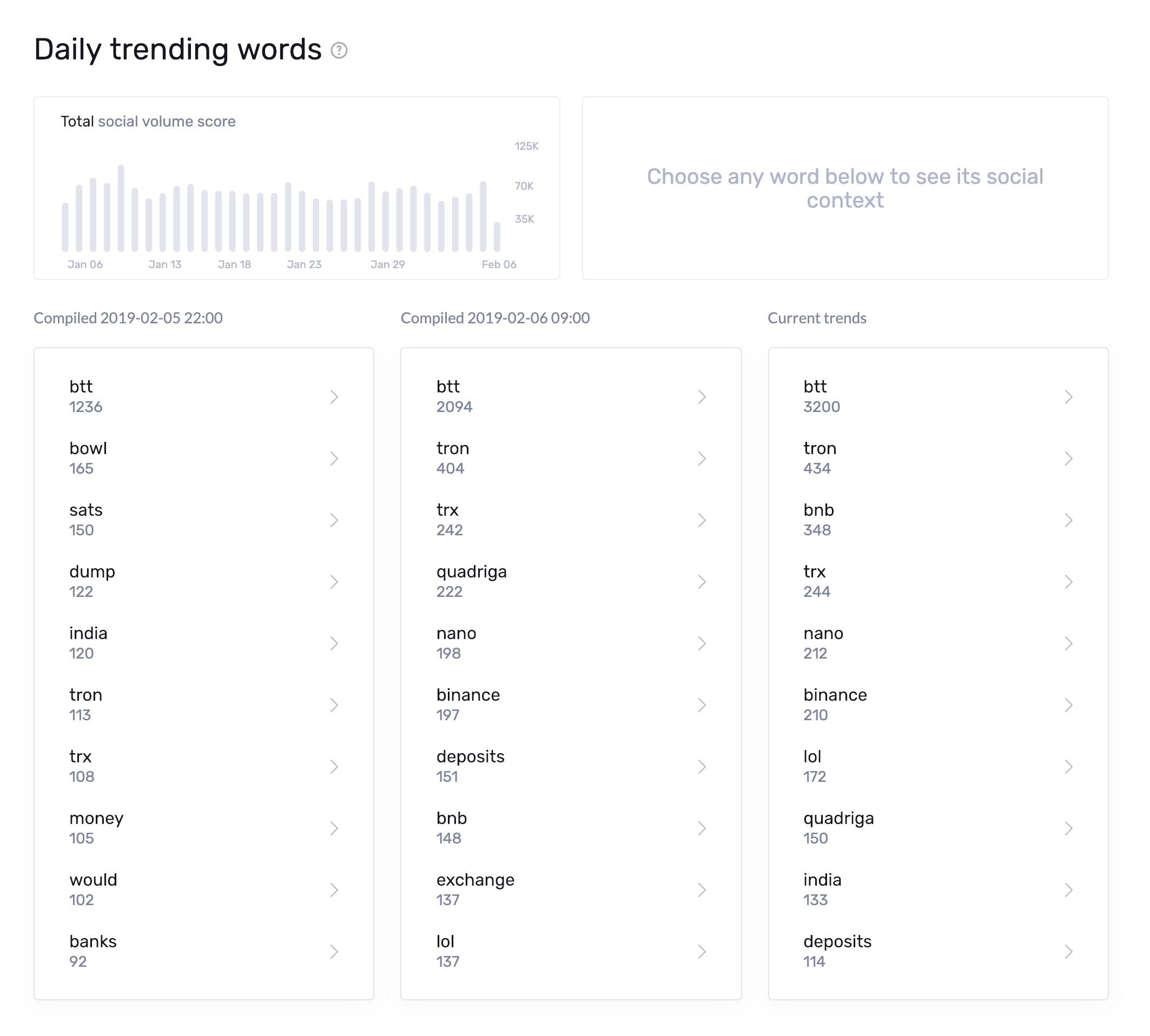 Want more crypto insights?
Join our telegram channel for daily commentary and analysis of Santiment's latest on-chain and social signals!
BTT is still on everyone's lips, as the BitTorrent coin finally began cooling off following a red-hot week (which saw it record gains of 870% at one point). The coin has been mostly treading water for the past 24hrs, and is currently down 1.56% for the day:
Meanwhile, Justin Sun is not pumping the brakes on the BTT hype train. The Tron CEO revealed a 'secret campaign' for BitTorrent and Tron scheduled for Valentines Day, which will apparently include 'a 4-time Super Bowl champion, 3-time golden globe award winner and one of the main character in Friends.
I don't know about the first two, but my money is on Janice as the 'Friends character'. She always did look like a shill that Janice.
Some in the crypto community are starting to doubt the official story that QuadrigaCX's CEO died with sole access to private keys to an exchange wallet with $190M worth of assets.
The ordeal has prompted extensive community research into Quardiga's cold wallets, some of which are calling the whole thing an elaborate exit scam. Some have even asserted to have tracked down Quadriga's Litecoin storage, and observed funds moving out of exchange's wallet. At this point, most of the community analysis is still speculative at best.
The latest news is that Cotten has apparently signed his last will and testament on November 27th, 2018 before his sudden death while on a trip to India.
Cotten, whose sudden death left C$190 million (US$145 million) in bitcoin and other digital assets protected by his passwords unretrievable, signed his last will and testament on November 27, 2018. He reportedly left all his assets to his wife and made her the executor to his estate.
Of course, this proves nothing, but it was enough to spark additional theories about the Quadriga controversy. Here's just a snippet of the discussion surrounding the Canada-based exchange on social media:
Seems that Binance accidentally airdropped Nano on some of their users.
Several Nano holders reported receiving double their Nano in their wallets if they had made the deposit within a certain time frame:
From what I gather, Nano recently launched their Boulton 17.1 version, which, according to Nano "contains a fix to prevent an issue where transactions could be replayed in rare circumstances."
They listed the upgrade path as 'recommended', though it was supposed to be a 'required' upgrade. As a result, Binance did not upgrade to 17.1 in time, leading to some users receiving double their nano.
Withdrawals and deposits were suspended for a time, until the issue was addressed. Nano says the problem was localized to 'a small number of nodes that were not upgraded to v17.1'.
Binance CEO also sounded off on Twitter, saying that Nano has notified them of the issue shortly thereafter and the situation is now 'under control.'
As a result, Nano pledged to work to "standardize and improve our method of communicating with services going forward since at the moment this is done in an ad-hoc fashion."
As always, visit SANbase to explore these and other trends in more detail!
Assets from this insight