Top Social Gainers for February 10th, 2019
Here are today's biggest emerging stories in crypto, based on Santiment's data:
#6 and #9 on our list, respectively
200+ new mentions in the past 48 hours
A gumball machine has spurred a lengthy debate about transaction handling in BTC and BCH.
Roger Ver, one of the most prominent evangelists of the Bitcoin hard fork, recently posted a video on reddit featuring a BCH-operated candy dispenser.

'Just wanted to show everybody just how fast Bitcoin Cash is' he says in the video before executing a 40c transaction which releases a slew of M&Ms in a matter of seconds.
Some users were quick to point out that this was actually a '0-conf', or a zero confirmation transaction, meaning that said 40c transaction has yet to be included in a block, mined and confirmed by a node.
This makes 0-conf transaction inherently more risky, which is what much of the discussion was about. BCH proponents argued that 0-confs are less risky than on Bitcoin Core, as Bitcoin Cash doesn't allow RBF, or 'Replace-By-Fee' transactions, which introduce a risk of double spend in case of 0-confs.
Bitcoin purists rebutted by saying RBF is an opt-in feature rather than a default network solution, provoking a long, technical flame war between the bitcoin fractions. Here's just a snippet of said discussion:
If you're interested in the full discussion, check out the original thread (at your own risk).
#10, #6 and #2 on our list, respectively
860+ new mentions over the last 24 hours
Is the crypto market waving a bull flag?
That's what some are seeing on technical charts for BTC, BTT, LTC, and even the total crypto market cap chart.
The 'bull flag' is a colloquial term for an upward price trend which resembles a pole (quick spike in price) with a flag (choppy price action) on top of it. Some believe this pattern to indicate a pervasive bullish pattern for the upcoming time period.
Others, however, see the current market state as a setup for the infamous 'Bart' pattern; a bearish trend which sort of looks like Bart Simpson's hair on the graph - up, then choppy, then down. In other words, they think the market is due for a downward correction.
Which side is right? Who knows! Seriously - who knows? And can somebody ask him?
#1 and #4 on our list, respectively
1500+ new mentions in the last 24 hours
Don't know about the whole market, but Litecoin has been unapologetically bullish this week.
The coin has been riding the green wave for the past few days, most likely due to two noteworthy recent announcements:
The Litecoin Foundations is partnering with Beam to explore integrating the mimblewimble protocol to Litecoin for increased privacy.
Coinbase has added the Litecoin Lightning Network to its 4500+ merchants
As a result, the coin improved 3 spots on the list of top 10 cryptoassets, and is currently sitting firmly at #4.
LTC is currently up 40.8% for the last month, 38.7% for the last seven days, and 5.43% for the past 24 hours.
Of course, the big question is - how sustainable is this upward trend? For now, the coin still seems to be on everyone's minds, which certainly helps Litecoin's bullish case.
#3 on our list
1000+ new mentions over the last 48 hours
Finally, Binance coin has had a pretty good week itself, gaining 29.9% over the last 7 days and ~3% in the past 24 hours.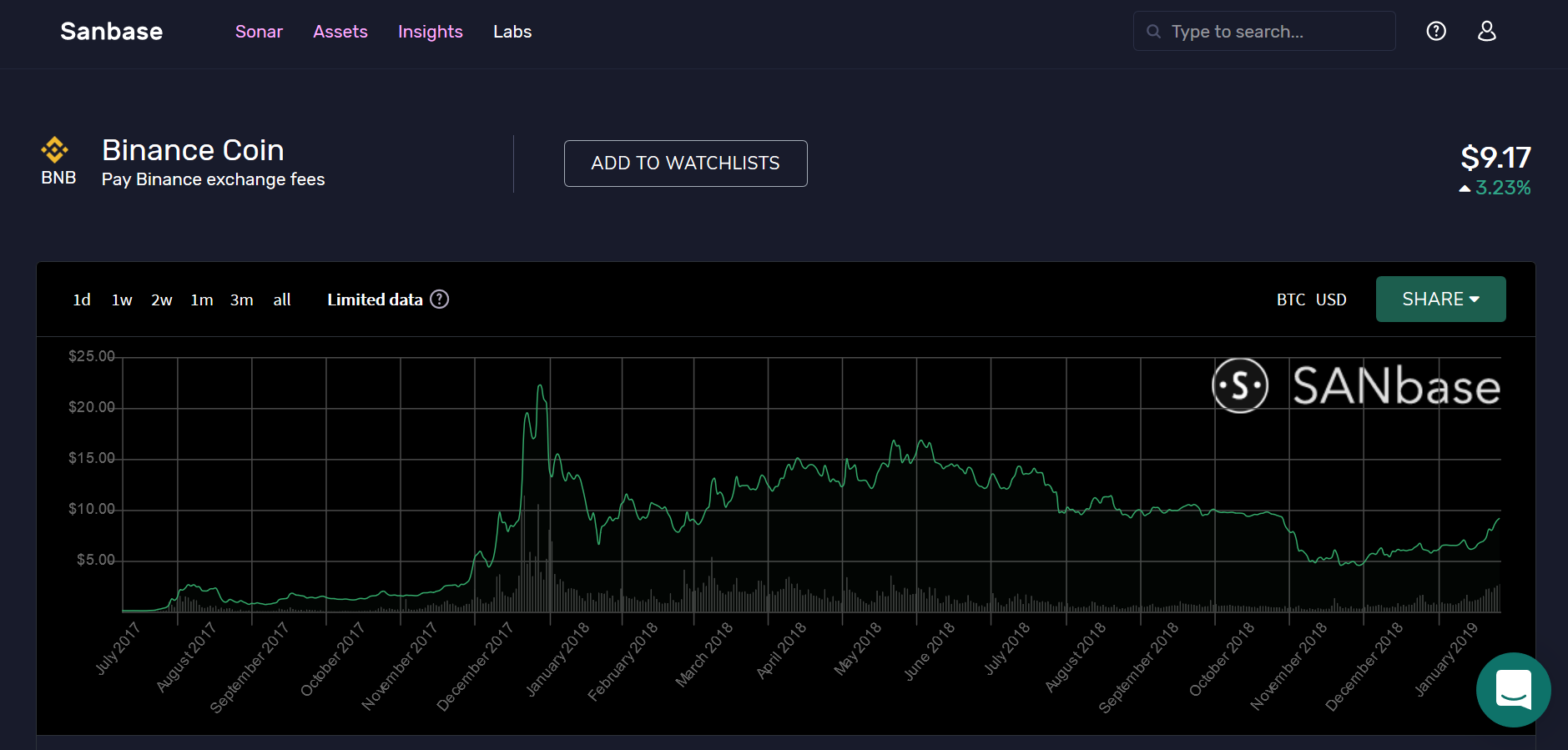 The biggest ERC-20 coin also partook in some flippening of its own, recently dethroning Bitcoin SV to become the 10th biggest cryptoasset by market cap.
Binance is coming off of several high-punching weeks, spearheaded by the highly-successful BitTorrent ICO which took place on January 27th. As we wrote on Thrusday, the exchange has also recently announced the Fetch.AI token sale that will take place on February 25th and will only accept BNB.
As always, visit SANbase to explore these and other trends in more detail!
Assets from this insight
Binance Coin
BNB

Bitcoin
BTC
Litecoin
LTC