The SEC sues Kik over its 2017 KIN ICO
The biggest story in crypto today - as so often happens - comes to us courtesy of the SEC. The infamous US Securities Exchange Commission has filed a lawsuit against the messaging app Kik over its 2017 ICO that raised a total of $100 million.
It is the SEC's belief that the tokens issued in the initial coin offering - KIN - qualify as a security, which in turn means that the sale should have been registered with an appropriate government agency. Should the Securities Commission successfully make their case, Kik could be forced to offer the money raised back to their ICO participants.
Going into the legal intricacies of the suit would take ages and should definitely warrant a better source than me. For those interested, I suggest this thread by Jake Chervinsky, a lawyer and popular crypto pundit.
One important thing to note, however, is that Kik has consciously invited the SEC's scrutiny, even launching a crowdfunding campaign last week to fight the upcoming case, all reportedly in the hopes that "a lawsuit would eventually result in a new Howey test for crypto tokens, to determine which ones are a security."
The Kik drama spurred intense discussion within the cryptoverse, with more than half of today's Top Social Gainers relating to the case:
As a result, there has been an immediate and all too predictable uptrend in pseudo-regulatory analysis and half-baked legal arguments on crypto social media today. Here's a few of my personal favorites.
Looking for a silver lining, some in the Kin subreddit point to the fact that the Kin Foundation has not been personally named in the suit as proof that the SEC is not interested in investigating the Kin ecosystem as a whole:
While others (including Chervinsky) believe this to be mostly a moot point, as it's likely that the SEC was simply opting for brevity/clarity:
The anti-Kin crowd, on the other hand, claims the lawsuit is about much more than just a failure to register KIN as a security, and was actually prompted by Kik deceiving and/or defrauding their investors:
Again, Jake and a few other experts (including Nelson Rosario, a principal at Smolinksi Rosario Law) seem to disagree:
There were also shouts of selective justice:
...answered by various possible interpretations of why the SEC chose to traget Kin specifically: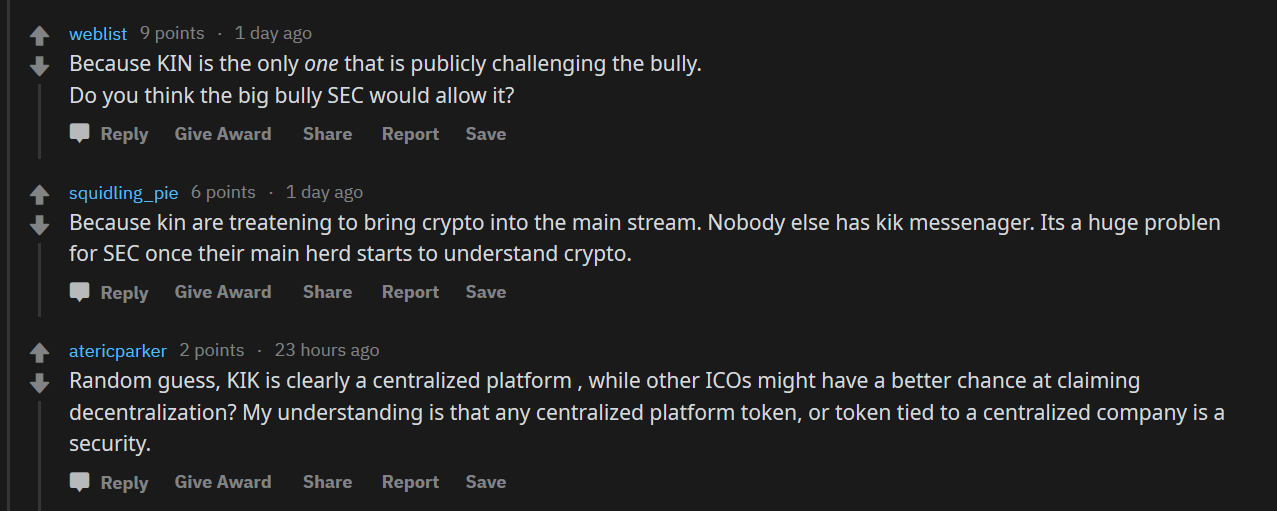 Legal exhibitionism aside, some in the crypto community were generally worried about the impact this case might have on the rest of the ecosystem, from specific projects:
...to the ICOs at large:
And while the community is still trying to gauge the potential ramifications of an SEC-favored ruling, some have already declared open season on accumulating KIN:
Looking at KIN's on-chain data, we can see a couple of significant spikes in Daily Active Deposits - one on May 31st (day after it was announced that Kik raised $5 million to fight the SEC) and another on June 4th, after the lawsuit was announced. It seems increasingly likely that these are both panic sells, prompted by the series of bearish news.
As you might expect, the price of KIN has taken a wallop since the SEC announcement, dropping over 42% in three hours yesterday on its way to a 4-month low. That said, it has in fact managed to bounce back slightly since, and is currently sitting at a deceptively average -0.3% for the day.
Assets from this insight
Kin
KIN