The Fallout of Binance USD
The SEC is reportedly suing the native stablecoin on Binance, known as Binance USD ($BUSD). They are referring to this asset as an "unregistered security".
This news has led to BUSD no longer being issued, with only redemptions being provided to users going forward. The frequency of discussions related to the asset has understandably jumped significantly:
As a result of this news, traders have been moving their stablecoins and fleeing from the asset. BUSD's price, which is designed to hover around $1 at all times, has also very mildly de-pegged. It's something to keep an eye on if the SEC lawsuit really begins to take off and cause mainstream concerns:
The spike in BUSD's supply on exchanges has brought its current ratio, 58.9%, back to its highest level since December 22, 2022. These kinds of moves are typically only made when there is an intention for the crowd to dump the asset: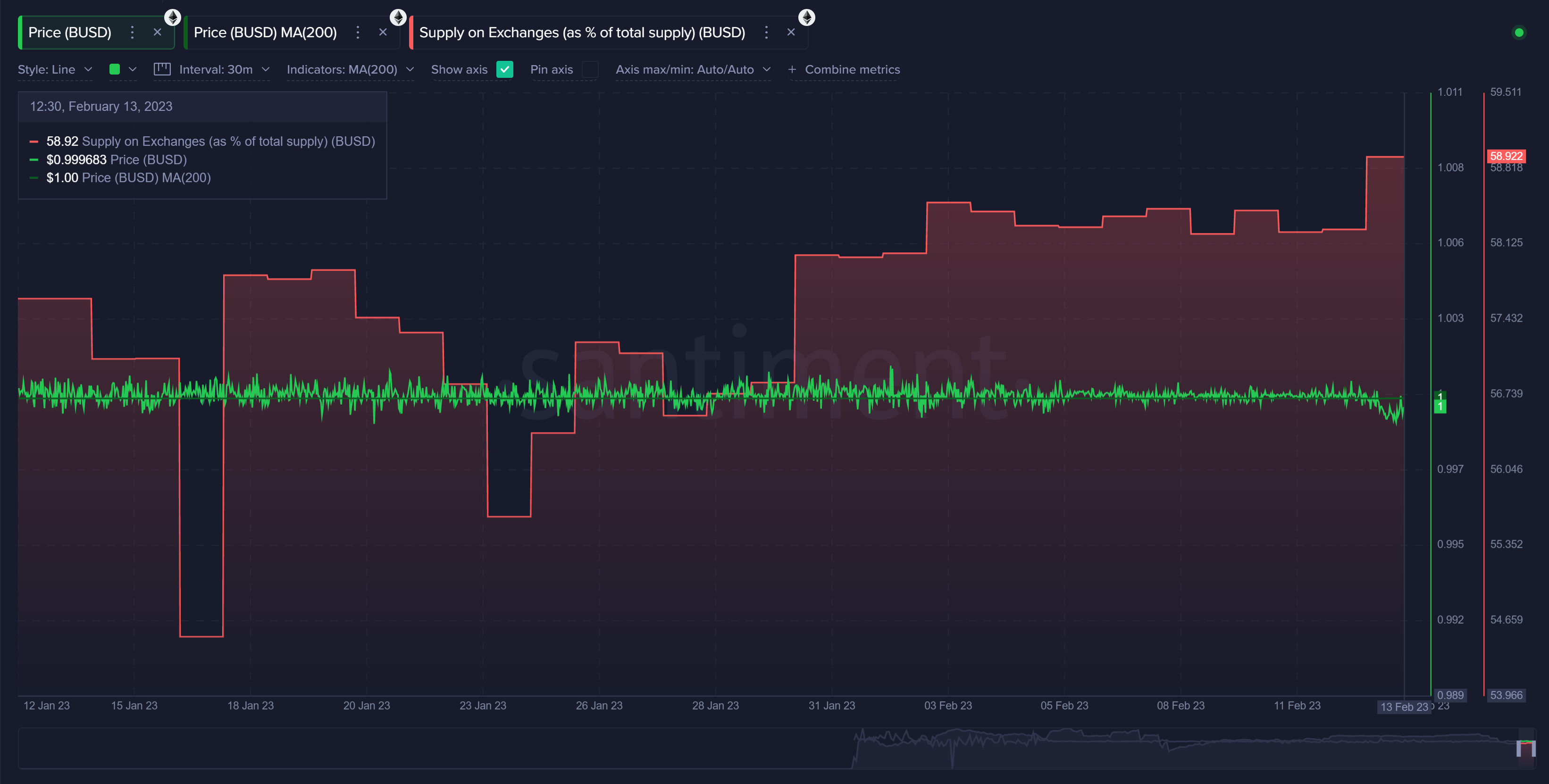 Whale and shark BTC addresses have been, in particular, aggressively moving their coins out of their wallets. The addresses holding 1,000 to 10,000,000 BUSD have been aggressively dropping, as we can see. In total
These $1,000 to $10,000,000 BUSD addresses have collectively dumped $602.38M since December 13th. And just in the past day as the news has broke, they have dumped $207.49M. This is an astounding level of stablecoin dropping, especially while the other three stablecoins (Tether, USD Coin, Dai) have been seeing big holder accumulations.
And the ramifications of this SEC lawsuit, of course, doesn't just end with BUSD. Binance Coin ($BNB) has taken a sizable immediate hit, dropping -8.2% in the past day and falling back below $290. It also is seeing a month-high in trading volume as its price has dropped, meaning there is a higher probability of the plummet potentially continuing:
The native token of Binance is currently being shorted on Binance and other exchanges, and it's currently seeing its most negative crowd sentiment week since July, 2021:
We have heard about several crypto-related SEC lawsuits in the past, and its correlation with temporary price drops that turn out to be nothing but a short-term FUD event. Yes, it's possible that this is one of those instances where people panic, and everything returns to normal for Binance by Friday.
But for the largest exchange in the world to go through this kind of scandal, we could expect a bit more of a lasting shockwave, especially if the non-issuance policy for BUSD continues for an indefinite amount of time.
-----
Disclaimer: The opinions expressed in the post are for general informational purposes only and are not intended to provide specific advice or recommendations for any individual or on any specific security or investment product.
Thanks for reading!
If you enjoyed this insight please leave a like, join discussion in the comments and share it with your friends!
Never miss a post from brianq!
Get 'early bird' alerts for new insights from this author