Tether's and USD Coin's Relationship With Bitcoin's Price
Bitcoin teased traders for another day as its market price continued its dance between $29.7k and $31.1k, as it has continuously done since June 21st. There are several reasons to be optimistic about this resistance level being broken to the upside, in the near future. But one facet that is sitting under the radar is the behavior of stablecoins.
Particularly Tether (USDT) and USD Coin (USDC) have historically shown some very helpful correlations to hint that a pump (or dump) may be happening to the entire crypto sector. The top 2 stablecoins by market cap play a major role in where markets will head next. Here are a few examples of metrics you should keep an eye on:
Mean Dollar Invested Age:
Mean dollar invested age is what we would call a "validator" metric. When the curve of this line begins moving down, it's indicating that any upswing in crypto markets is being validated by dormant coins moving to push up prices even further in the future.
And in the case of stablecoins, movement of older coins that had been stagnantly sitting in wallets is generally a very good sign. ESPECIALLY when it's dormant movement coming from a top stablecoin. Because this typically means coins are being moved for the purposed of buying crypto.
Absolute Holdings of Wallets With $100k to $10m in Stablecoins:
We also should be mindful of what key shark and whale tiers are doing with their stablecoin holdings. In most studies, we like to hone in on the wallets that hold between $100k to $10m of USDT or USDC. There are a few different ways to study the behavior of these stablecoin sharks and whales:
When stablecoins are moving down and BTC prices are moving up, it usually is reflective of large stakeholders converting their stablecoins to Bitcoin to push up the price and make money. This is a bullish sign.
When stablecoins are moving up and BTC prices are moving down, it usually means large stakeholders are selling off their BTC (or other coins) and getting back into stablecoins. This is a bearish sign.
When stablecoins are moving up and BTC prices are moving up, this is SUPER BULLISH because it implies that more fiat may be coming in, and prices are moving up without much aid from shark and whale stablecoin injections.
When stablecoins are moving down and BTC prices are moving down, this is SUPER BEARISH because it implies that crypto is being sold off, and it isn't even being preserved back into stablecoins. It increases the likelihood that assets are being completely taken out of crypto and moving back into shark/whale fiat bank accounts.
Supply on Exchanges (as % of Total Supply):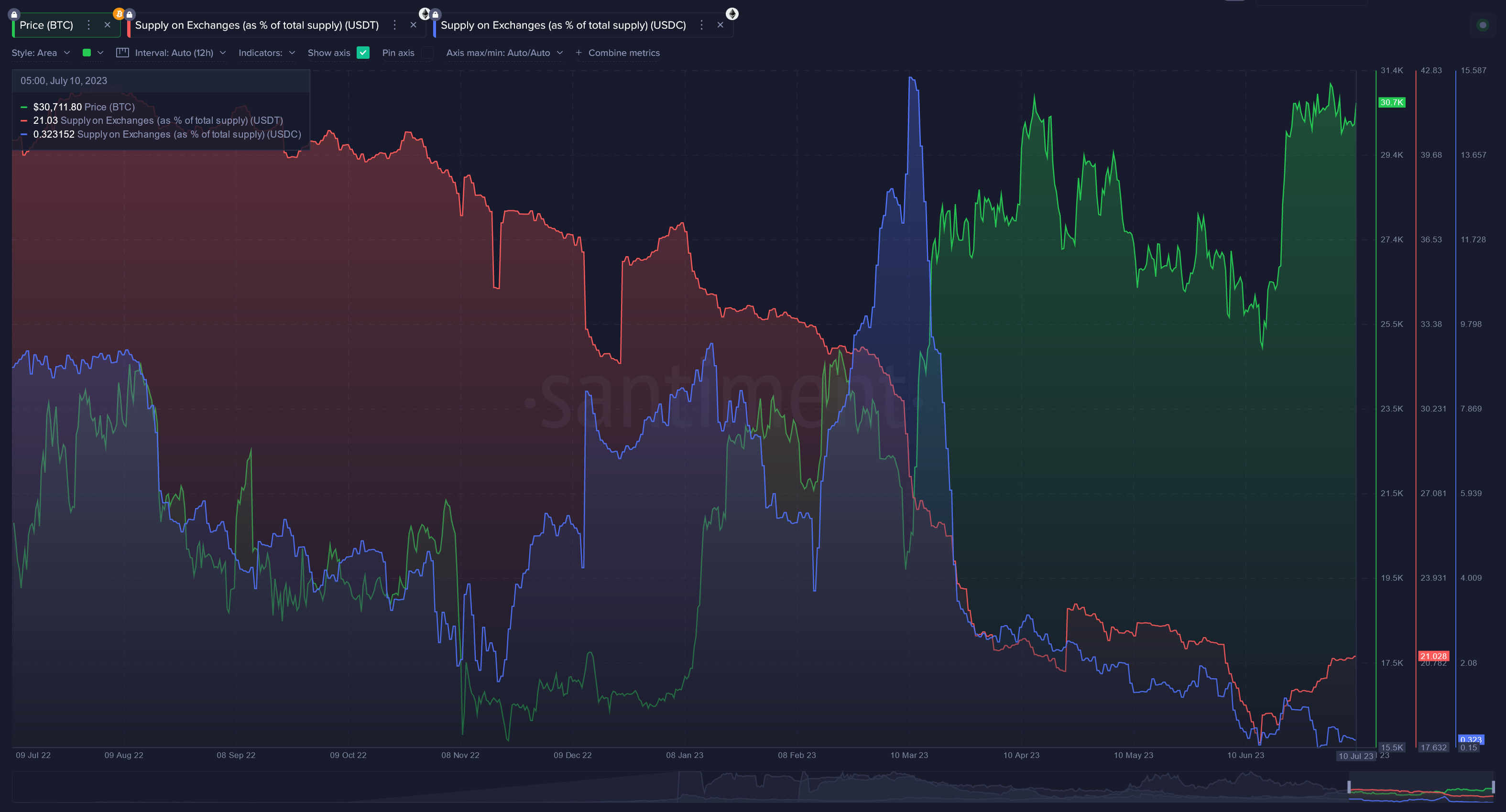 The percentage of stablecoins' respective supplies sitting on exchanges can usually be a great foreshadow of something brewing with upcoming crypto prices. Especially when USDT and USDC supplies are being moved rapidly to exchanges, as we saw with USDC in March right before the market-wide price surges.
Supply Held By Top Exchange Addresses:
Similar to the overall percentage of supply, we can look at just the top 10 largest USDT and USDC addresses to see if big injections of stablecoins are going into their hands. Contrasting just how similarly the top 10 largest addresses for both assets match up with the overall supply on exchanges, it's safe to say that most of the largest addresses sit on exchanges at the moment.
Stablecoins may be a bit boring to analyze for most of a given year. But when anomalies on these kinds of metrics for USDT and USDC suddenly appear, they can be some of the most vital alpha signals that you can be alerted of in crypto. Stay in tune with these, and you'll be sure to find some wonderful opportunities to profit while nobody else is watching.
-----
Disclaimer: The opinions expressed in the post are for general informational purposes only and are not intended to provide specific advice or recommendations for any individual or on any specific security or investment product.
Thanks for reading!
If you enjoyed this insight please leave a like, join discussion in the comments and share it with your friends!
Never miss a post from brianq!
Get 'early bird' alerts for new insights from this author