SUSHI - Chefs are preparing but supply side remains a concern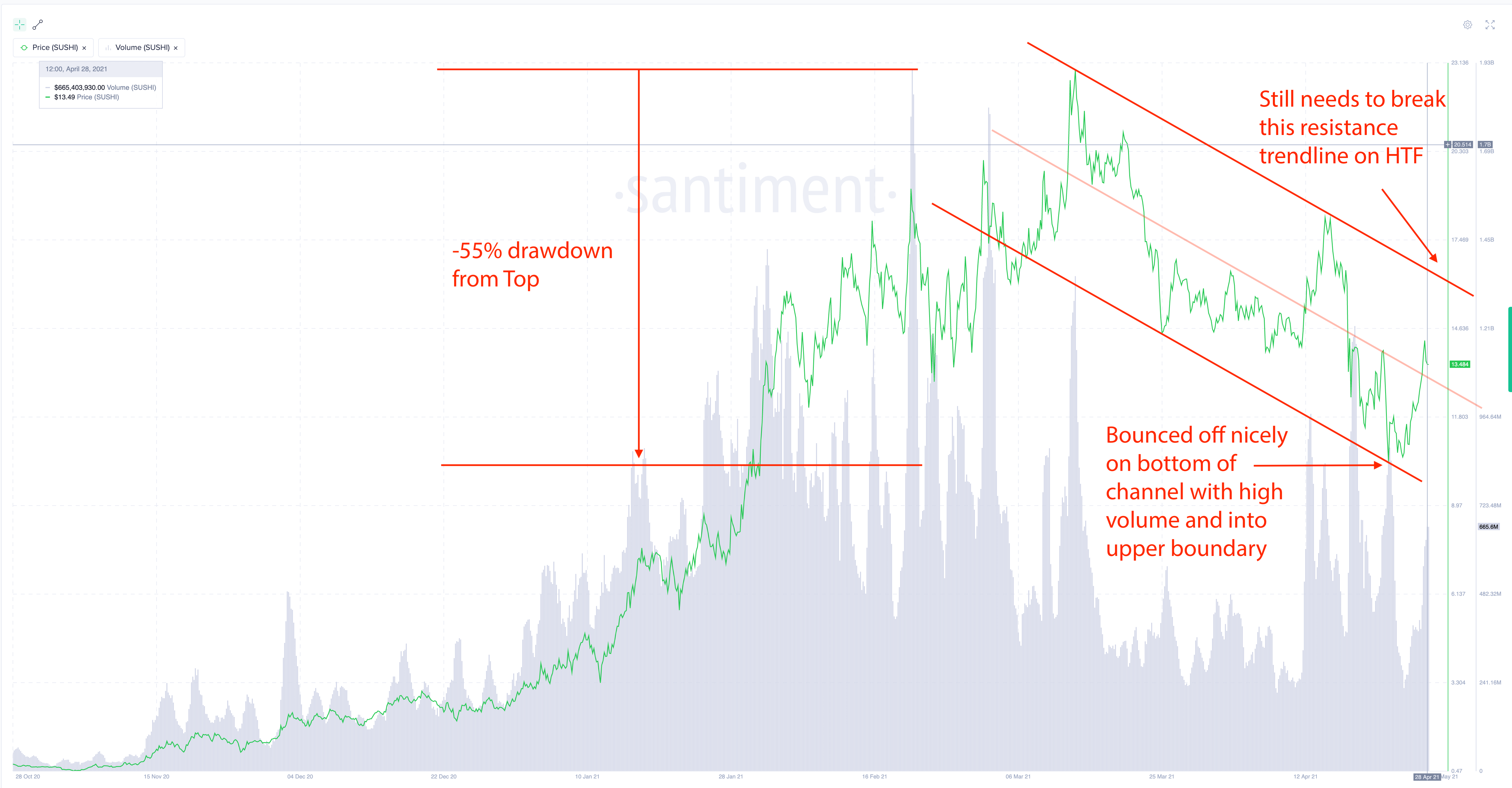 SUSHI, one of the major Defi pillars for the past year lost its allure, topping out at $22.91 and experiencing a major -55% draw down to $10.30 USD - barely holding the important $10 psychology mark.
On a high timeframe (HTF), it's currently still in a downward channel but strong buyers came in to defend the $10 region as can be observed by the strong trading volume (perhaps some folks capitulated into them too).
Did I mention this was right at the bottom of the channel too?
The risk/reward for folks that came in to scoop up SUSHI at this range is pretty decent, specially after SUSHI had such a major drawdown.
Nice bounce so far, which saw SUSHI head into the upper boundary of the channel but challenges still remain. It has yet to break the resistance trendline but if it can spend more time spent in the upper boundary, it'll be a good sign as it attempts to break the resistance.
We are seeing first signs of strength and momentum, whether it can continue is largely dependent on whether BTC dumps aggressively or ranges. Given that we wiped out huge amount of leverage traders over the course of the April 15th dump, the probability favours the latter.
Looks like the SUSHI devs been pretty active in the month of April. This is usually a good sign as the project is certainly not dead and quite active in shipping new features/products.
Here are some of the notable releases this year so far:
So what might they be up to?
In the latest interview with Sushiswap's core dev @LevxApp, he revealed the following:
Some CT folks are also starting to observe SUSHI's dev activity, which made suggest market is starting to speculate on any future release.
Some concern around SUSHI is that the Supply on Exchanges have been increasing since March 10th and since then, price has behaved as expected with the gradual increase of supply on exchanges.
This is largely thanks to the 2/3 vested tokens released on April 6th, which enables LPs to claim the rewards every Friday. Meanwhile, current LPs do not have their SUSHI vested and have 100% access to them.
So far, all these are acting as significant sell pressure and it's important to note that some of these vested tokens were in 2020, which means they are way up in profit and will continue to take profit since they are highly incentivised to do so.
Sushi's Daily Active Deposits (DAD) seems to support the sell pressure noted above as more holders are participating in transfers towards exchanges.
There were also a cluster of DAD spikes when SUSHI hit the $10 region, suggesting this might be first signs of capitulation.
Going forward
After having a major drawdown, SUSHI sits at a critical spot for that chance of reversal to kickstart the next uptrend but there continues to be challenges ahead.
Especially with the supply side concerns, there's constant sell pressure occurring. SUSHI will need to see increase traction and demand that overshadows the past few months else risk a lackluster performance.
Assets from this insight
SushiSwap
SUSHI