Stablecoins Staying Stable as Their Market Caps are Anything But
Stablecoins may be staying put at their appropriate $1 price, for the time being. But this certainly doesn't mean that all has been quiet on the on-chain front. Illustrated below is the past 3 years of the combined market cap of the top 5 stablecoins, USDT, USDC, BUSD, DAI, and TUSD.
This combined market cap peaked in March, 2022, about 15 months ago. There are really two different ways we can look at this in terms of measuring the health of the markets:
More stablecoin market cap means that there is increased buying power to purchase future Bitcoin or altcoins. If BTC and alts are dropping, but stablecoin market cap is going up, it raises the likelihood of a market recovery whenever those stablecoins are injected back into BTC and alts. This was exemplified well in June through August of 2021, when BTC dropped fast but stablecoin market cap was rising. September saw a massive recovery in prices, en route to new all-time highs all over crypto.
More market cap means that Bitcoin and altcoins are being sold off. It can be a sign that large addresses have taken significant profits, and are no longer propping up the markets like they were during the previous bull run.
Regarding the latter point, large addresses can be a complicated topic when it comes to stablecoins. We like to look at what stablecoin sharks and whales holding between $100,000 and $10,000,000 are doing with their assets at any given time. And for most of the stablecoin sharks and whales, it appears that they're moving in the right direction: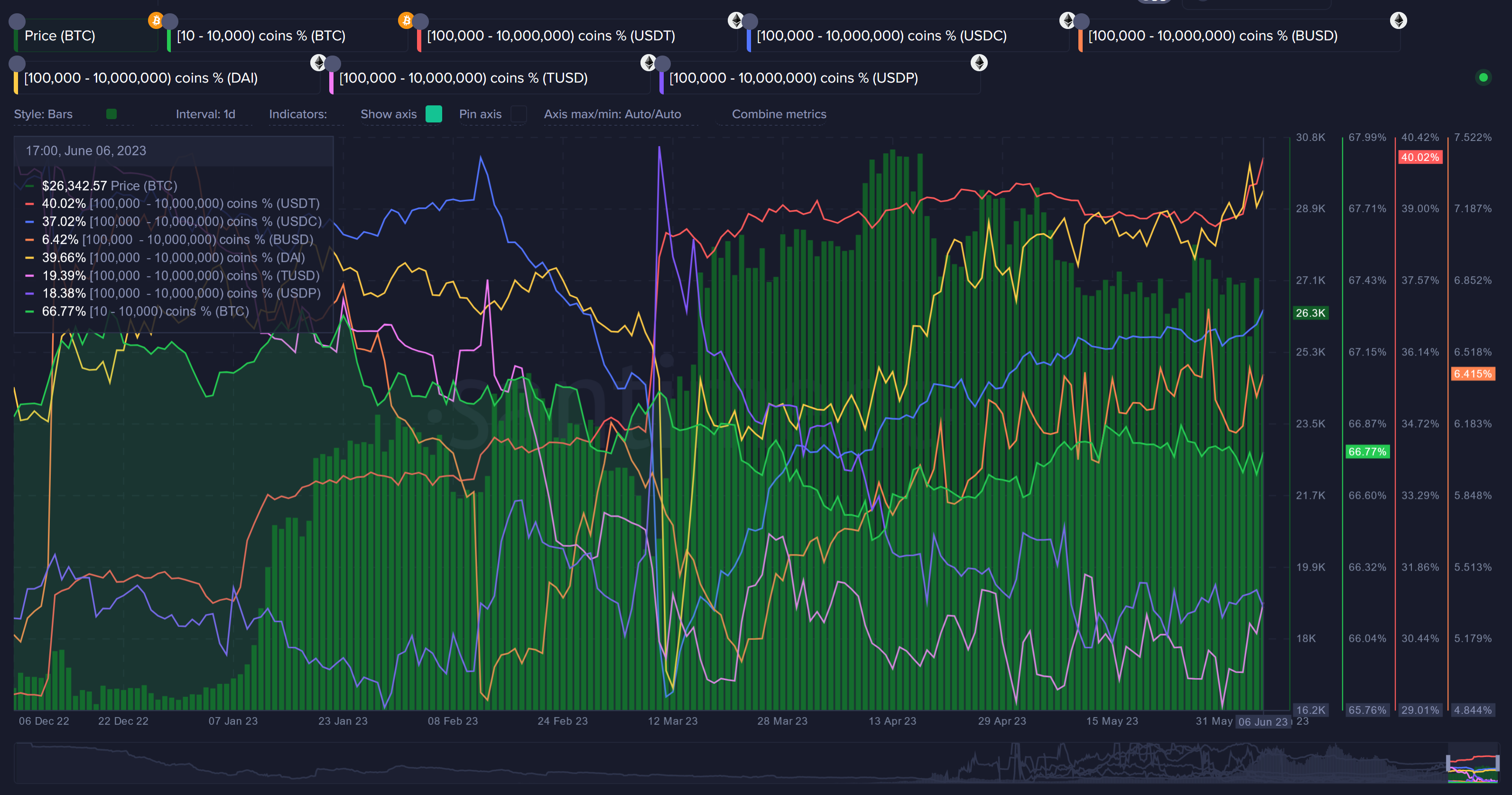 Sharks and whales holding Tether (in red) are up above 40% of the supply held again, their largest amount since November, 2021.
Sharks and whales holding USD Coin (in blue) hold above 37% of the supply held again, their largest amount since February, 2023.
Sharks and whales holding Dai (in yellow) are just under 40% of the supply held again, their largest amount since December, 2020.
These are pretty staggering numbers, indicating that large holders haven't exactly cashed out of crypto. They're just holding much of their assets in the form of stablecoins while waiting for the ideal time to jump back in.
And this accumulation has been pretty steady thus far. Looking at whale transactions below, we're not really seeing any outliers in sudden major stablecoin moves. If we do, especially while markets are declining, it would be a great sign that a bottom is in.
Lastly, we can check to see if there have been any dormant stablecoins moving in recent weeks. When the mean dollar invested age of an asset goes down, it indicates that older addresses are about to be moved, which can in turn ignite the markets and reveal that some major buys of BTC or altcoins are happening.
It does appear that USD Coin (in blue) had some encouraging dormant movement at the end of May. But overall, there is nothing that resembles the explosion of stagnant stablecoins moving the way they did in mid-March, which in turn ignited the long bull rally.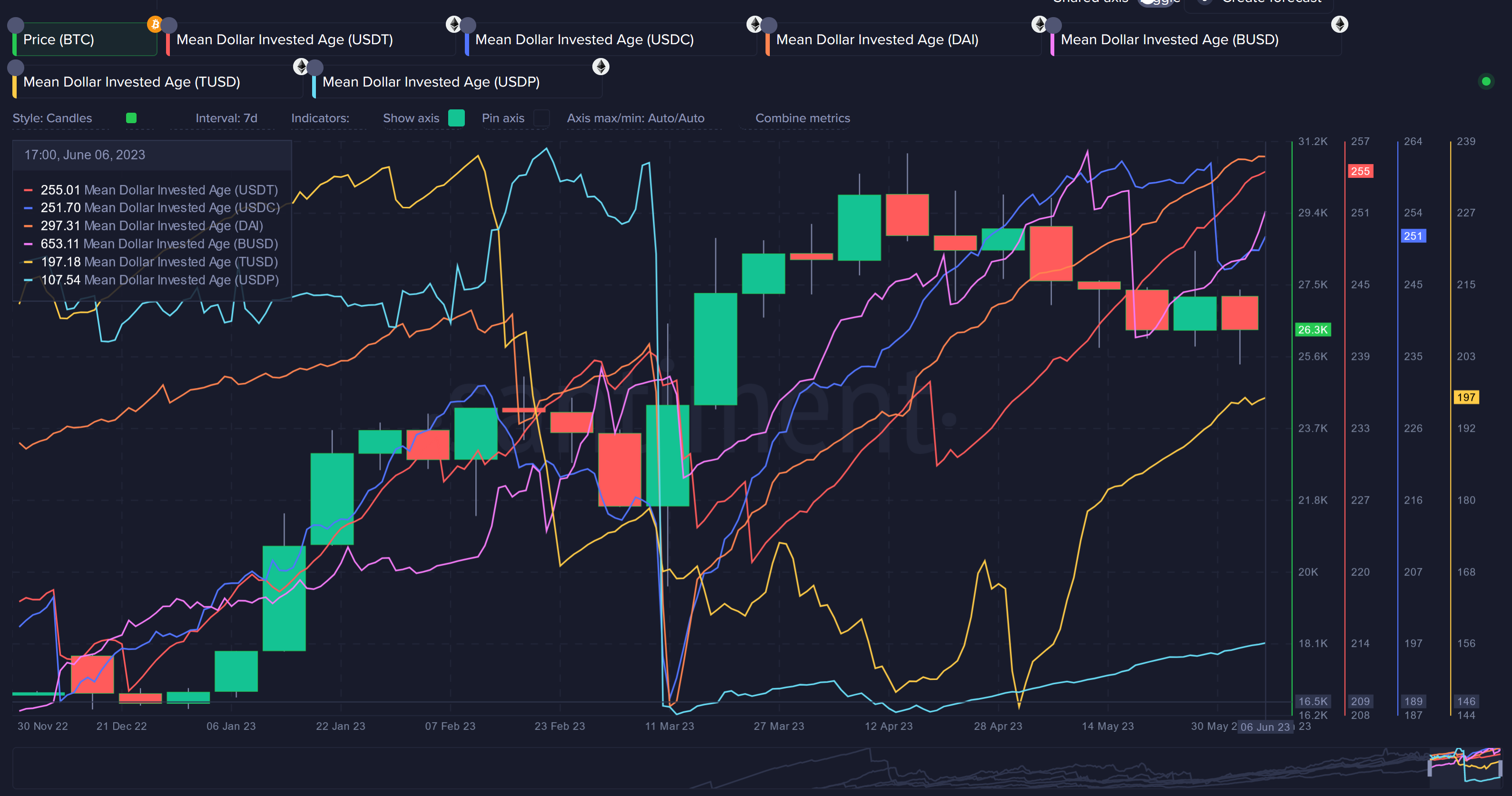 Stablecoin market caps may be declining a bit lately. But it doesn't look like sharks and whales are the ones making them sink. Therefore, we have encouraging signs that show that the key stakeholders with the most power in the markets are still ready to boost crypto whenever the time is optimal for them.
-----
Disclaimer: The opinions expressed in the post are for general informational purposes only and are not intended to provide specific advice or recommendations for any individual or on any specific security or investment product.
Thanks for reading!
If you enjoyed this insight please leave a like, join discussion in the comments and share it with your friends!
Never miss a post from brianq!
Get 'early bird' alerts for new insights from this author